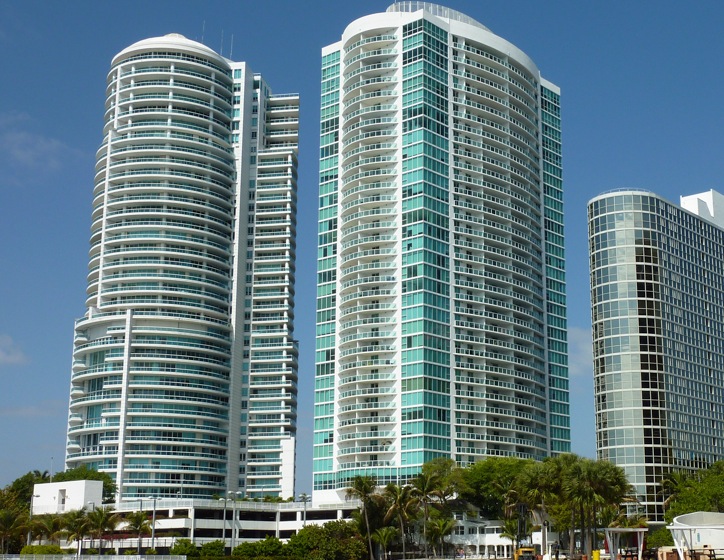 2 Amazing Brickell Condo Views
We all know Miami Beach Condos have awesome views, but why do so many South Americans and Europeans buy in Brickell? For one, the views are just as amazing (some may even say better), and you have the incredible Brickell night life. But most of all, location is beyond convenient with proximity to everything, including downtown Miami, airport, Coral Gables and Key Biscayne. In the 80's, there was a South American Brickell Condo craze and that died down with all the economic and political issues we don't like to discuss here in Miamism – if you want politics….Miamism.com is NOT the place 🙂 Somehow Ugo Colombo had a vision when he decided to build The Bristol Tower and later Santa Maria Condo – and I'm happy to say….. BRICKELL IS BAAAACK!! Here are 2 incredible examples of Brickell Condos with those Amazing city and Bay Views that take you all the way to Miami Beach and beyond – both by Ugo Colombo, with my expected commentary on design.
Santa Maria Condo – 1643 Brickell Ave #4702 – Miami, FL 33129
Listed for $5,250,000

Santa Maria is another Ugo Colombo Brickell Condo. When everyone thought he was crazy for building his white towers, he was just fattening his already hefty wallet. I have to admit that the scale of the building bothered me a bit at first and the proportion of the common areas with regards to the actual density of the building were off quite a bit, but the amenities and undeniable comfort of this tower are worth its price. This 47th floor penthouse has over 2,000 square feet in terraces with views of the city and Biscayne Bay – but don't take my word for it, just look at the photos. The MLS description reads screams in all caps:
STUNNING VIEWS FROM THIS 47TH FLOOR 5 BEDROOM, 6 BATHS UNIT AT SANTA MARIA. UNIT HAS MARBLE FLOORS AND WOOD FLOORS THROUGHOUT, EXPANSIVE TERRACES WITH EAST VIEWS OF KEY BISCAYNE, BAY AND MIAMI BEACH AND WEST VIEWS OF DOWNTOWN MIAMI, COCONUT GROVE AND CITY SKYLINE. UNIT HAS NEUTRAL TONES AND HAS BARELY BEEN LIVED IN.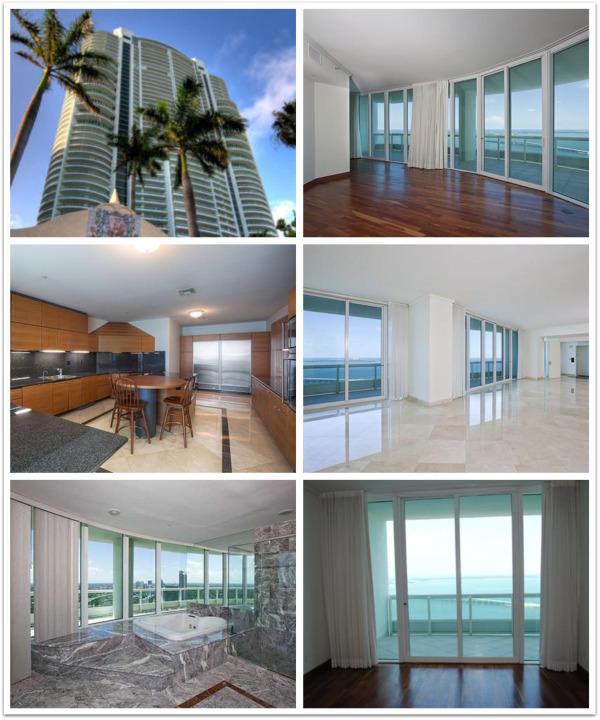 Condo features:
6,300 sq.ft. of living space
built in 1997
5 bedrooms / 6 bathrooms / 1 half-bath
3 parking spaces
valet parking
marble and hardwood floors
boat dock available
Maintenance fees = $4085/month
The Bristol Tower – 2127 Brickell Ave #702/31 – Miami, FL 33131
Listed for $3,950,000 (expired listing as of 8/15/2010)

Here's an iconic building that set the pace for the rest of the new developments on Brickell. I was a bit upset about the phallic quality of the building when it was first erected (no pun intended). It was a skyscraper in the middle of Brickell's residential towers! Its placement was off and was destroying the scale of Miami's Skyline. The tower was cylindrical and interior spatial arrangement left a lot to be desired. I visited a few penthouse units in 1993 before the building was finished (including El Puma's unit) and all my architectural logic went out the window when I sat there mesmerized by the views. I sat there in silence taking it all in and instantly understood that my architectural romanticism was less important than the experience of a space like that. This particular condo is on a lower floor, which only means you are closer to the water level and although the views are not as broad, the ambiance of this residence is unreal. MLS also screams in all caps:
SPECTACULAR 2 STORY ULTRA MODERN CONDO. THIS IS A UNIQUE 3-UNIT COMBO. VAST ENTERTAINMENT AREAS AND WRAP AROUND BALCONIES. ELEGANT ITALIAN DESIGN FEATURES AND FINISHES. DRAMATIC 2 STORY BAY-FRONT WINDOWS IN LIVING ROOM. LARGE GOURMET KITCHEN OPEN TO FAMILY ROOM. A MODERN MARVEL WITH EXQUISITE ELEGANT FUNCTIONAL SPACES. INCREDIBLE VIEWS OF THE BAY AND THE TREE TOPS FROM EVERY ROOM. MAGNIFICENT DETAILS PERFECTLY EXECUTED. MAGNITUDE AND SCALE OF A LARGE FAMILY HOUSE WITH THE AMENITIES OF A LUXURY CONDO.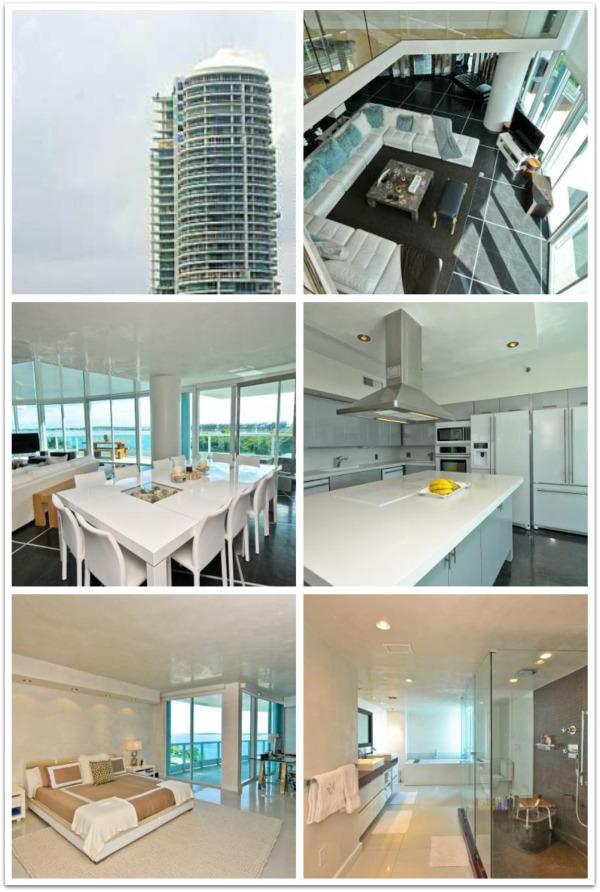 Condo features:
7,620 sq.ft. of living space
9 bedrooms / 6 baths / 1 half-bath
2-story residence
5 parking spaces
built in 1993
valet parking
marble and hardwood floors
maintenance = $5000/month
*information courtesy of Southeast Florida multiple listing service, Luxury Living Realty and Re/Max Elite Properties, Inc.*