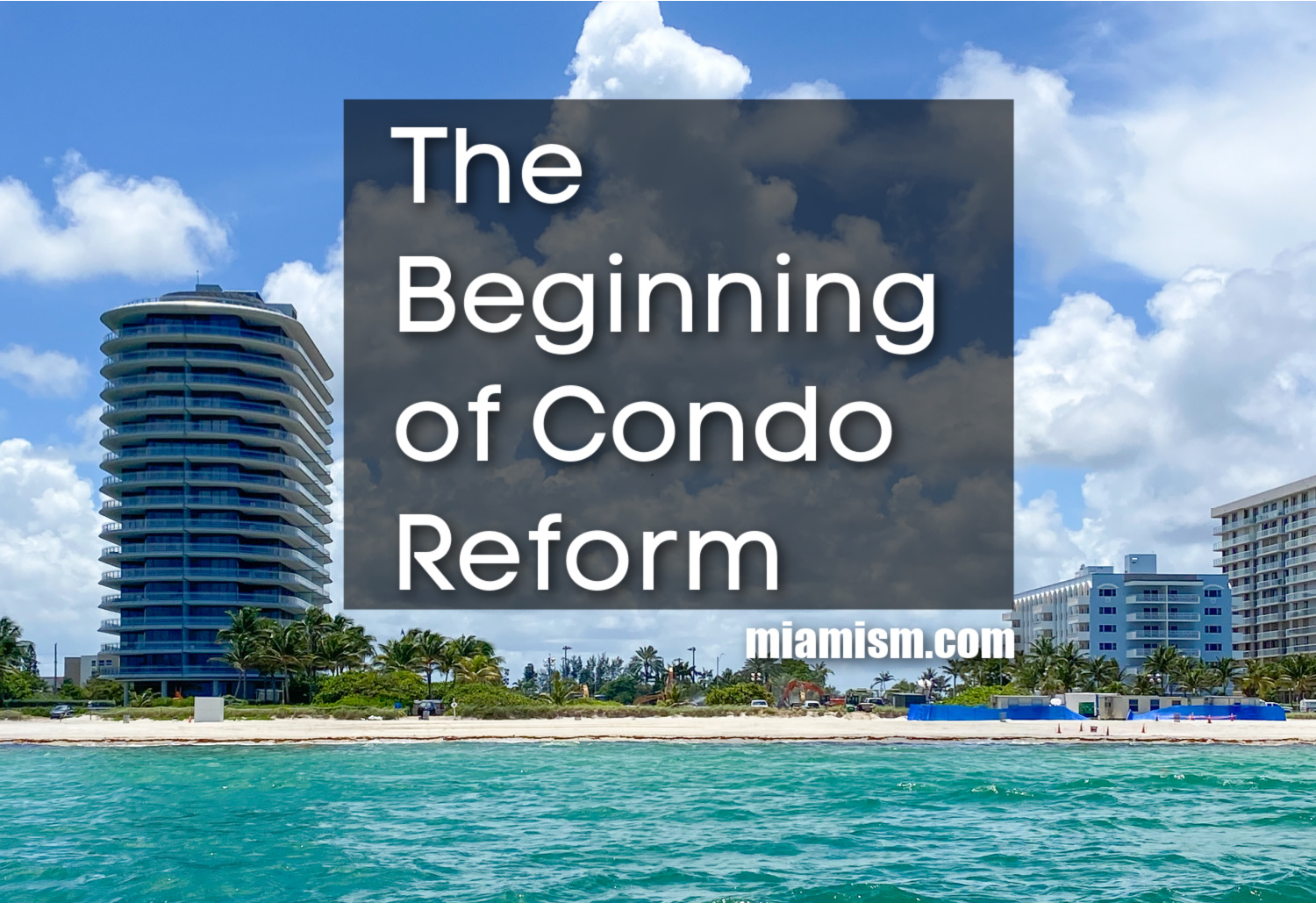 Condo Reform Big Win in Miami-Dade
We cannot allow tragedies to be forgotten without learning from them.  The Surfside Collapse forever marked our hearts and we are now starting to see positive changes.
Back in July of 2021, I wrote a post titled: After Surfside: What Should You Know about your Condo?  In that article, I point out how "I'd love to see more regulation by the state that forces transparency of condo associations: from easily accessible condo docs, financials, board minutes, reserves, as well as necessary safety inspections."
Guess what!!  We had a HUGE win this past week
Condo Reform in Miami-Dade
Condominium associations are now subject to disclosure rules in Miami-Dade County under a law passed Tuesday, March 1, 2022. The county law requires disclosure of financial statements and other documents that will be posted on a county database.
Even condo residents can have trouble getting hold of their buildings' financial records, documents that are supposed to be readily available under Florida law to both owners and buyers under contract.

Now those records may be opened for anyone to scrutinize under a proposed Miami-Dade County law that would require associations to file key financial and maintenance documents into a public online library.

That includes engineering reports and other documents related to long-term maintenance and structural concerns about buildings — records now in the spotlight after the June 24 collapse at the Champlain Towers South complex in Surfside that killed 98 people.

While Surfside brought political momentum to the effort, disclosure rules have been a target of condo-law reformers for years.
Florida REALTORS Advocacy Efforts Pay Off
This past February, I also told you about GARD (Great American Realtor Days) and how one of our advocacy efforts in Tallahassee was Condo Transparency:
"The June 2021 collapse of the Champlain Towers in Surfside, Fla., killed nearly 100 people and left survivors with significant financial hurdles.  The severity of the tragedy has highlighted the need to review current laws governing the construction, maintenance and daily operation of these residential buildings.  We urge lawmakers to seek solutions that provide greater transparency regarding the official records of community associations. Prospective buyers should have the information necessary to make informed decisions about their purchases."
New Miami-Dade HOA Database
It's a done deal! The MIAMI Association of REALTORS and the South Florida real estate industry scored a major legislative victory this week when Miami-Dade County commissioners passed an ordinance requiring condominium, co-operative, and homeowner associations to file financial and governing documents into a public online library. This database, which will be made available after the submission deadline of February 2023, means buyers will have access to these documents before submitting offers so they can make more informed decisions.
We have been advocating for this transparency for years and love that Miami-Dade County is the first county in the state to pass this type of ordinance to set an example for the rest of Florida.
Being a REALTOR is not just about selling pretty houses, it's about advocating for our customer's rights and this one legislative win is an example of what we do for you that goes above and beyond. I look forward to many more wins that will help our customers.