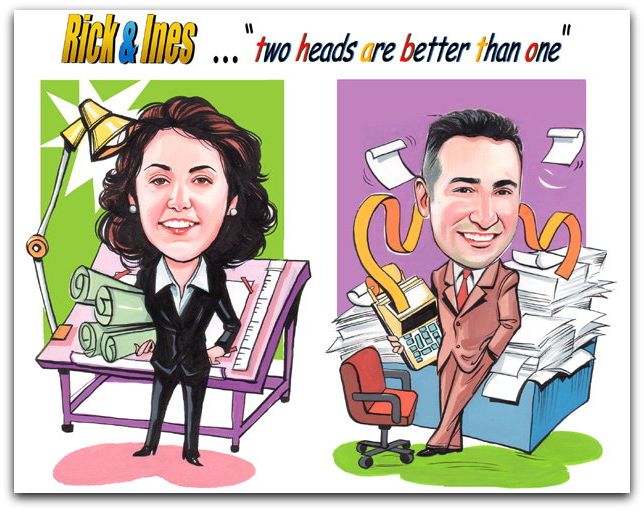 The Evolution of Miami Beach Real Estate Marketing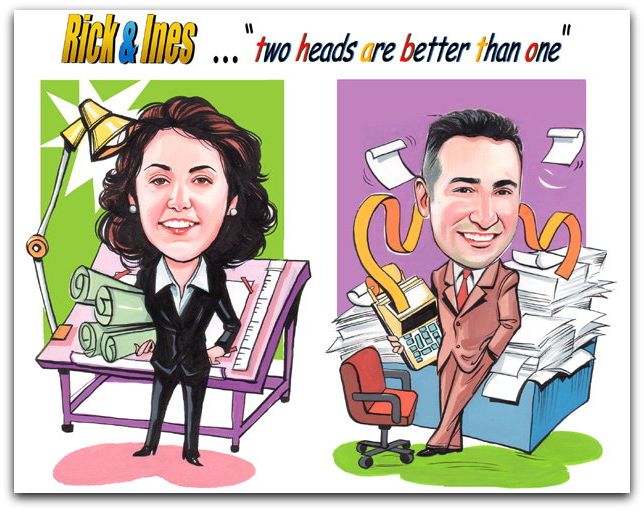 Miamism – Miami Beach Real Estate Resources
Time to be thankful for so many things! And although we are thankful for our families, for our business, for our lives and our computer friends, we mostly wanted to Thank YOU, our readers for the constant encouragement and feedback that has helped us evolve and be who we are today.
This cartoon was one of our first marketing pieces when we started in real estate sales – we short circuited people when we changed carreers from architecture and accounting to real estate and had to find a way to make it all make sense. Talk about EVOLUTION!!
And here's where our marketing has taken us today (we're not patting our backs, it was prepared by the PR department at Majestic Properties)
Husband and wife, and partners in real estate, this duo packs a mean
punch of expertise, professional knowledge and exceptional service.
Since 1994, they have offered customers commercial and residential real estate services, including: buying, selling, leasing, lending, relocating, refinancing, and other support services.

"We consider our alliance with Majestic Properties an essential
strategic partnership, one that further guarantees our customers'
receive the attention, cutting-edge resources and exclusive information
they need," said Ines. "Majestic's brand in South Florida is synonymous
with innovation and superb customer service, for us it is a natural
fit," said Rick.

The proud parents of three boys, they specialize in multiple neighborhoods, from Fisher Island to Aventura, and know what each community offers. In fact, the Miami Shores residents know so much about these other neighborhoods they might as well call them home too.

Bi-lingual and credentialed, Rick obtained his Bachelors Degree from the University of Central Florida and then a Masters in Accounting from Nova Southeastern University, while Ines received her Bachelors Degree in Architecture from the University of Miami. Rick is a licensed mortgage broker, a certified Relocation Specialist, CCIM Candidate (Certified Commercial Investment Member), and both are Luxury Property Specialists. Additionally, the magnetic duo are members of the Miami Shores Chamber Board, RAMB, FAR, NAR and NAHREP (National Association of Hispanic Real Estate Professionals). Ines is Co-president of The Womans Cancer Association of The University of Miami Miami Shores Heidi Hewes Chapter. Plus, they are proud parents of three boys.

Team Miamism, under the leadership of Rick & Ines, consists of a team of Industry professionals to supplement their unparalleled service – including designers, lenders, title companies, building inspectors, attorneys and specialized buyers agents.
Happy Thanksgiving! Look around and reflect, we do it all year round, not just today.