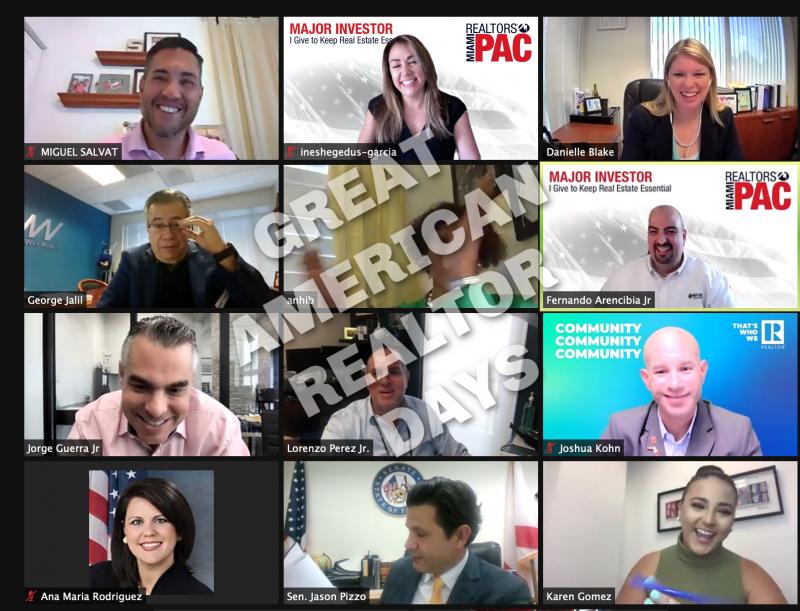 Florida Realtors' advocacy efforts to protect the dream of homeownership.
Great American Realtor Days, aka GARD, was held virtually this year and was as powerful as ever.  Each year, a few dedicated REALTORS visit Tallahassee for legislator visits, to meet face to face with state house representatives and senators, and advocate for property rights.
As much as I stay away from politics, this is one of the most powerful annual meetings because conversations are non-partisan and purely about issues that affect the real estate industry.
Although running through the House of Representatives and Senate trying to find legislators' offices is fun.  The virtual experience was just as powerful and representatives and senators from South Florida Districts opened up to listen to our issues and ensured some meaningful conversations.
Key Contact for Representative Dotie Joseph
It's always an honor and a learning experience to be picked as Key Contact and this year it's for Representative Joseph, in my own district, (District 108).
2021 Advocacy Talking Points
Covid-19 Business Liability Protections:  After businesses have taken extra-ordinary precautions to stay open, they are in constant fear of pandemic-related law suits.  The protection would take the burden off businesses from frivolous covid-related law-suits.
Property Insurance:  Rising insurance rates directly affect home ownership and affordability.  Rising insurance consts are directly linked to litigation issues.
Business Rent Tax:  Florida is the only state that charges tax on commercial leases.  Although legislature has slowly been nipping away at reductions to current 5.5%, we hope to eliminate this rent tax all together.
Water Quatlity & Environmental Funding:  This is one item I'm passionate about.  We can agree that water is Florida's major attraction.  We need to protect our natural resources and solve environmental problems including sea-level rise and address climate change.  Prioritizing environmental issues is key (from septic-to-sewer changes, to elevating homes, resilience consultants, the list is endless)
Workforce Housing: Florida continues to experience an affordable housing crisis and the pandemic has made it worse.  We ask that Florida fully funds money in the trust fund.
Private Property Rights:  here's a very controversial issue since vacation rentals are not liked by many.  The concept is to achieve a balance between what the community needs with owner's rights.  Create a statewide, uniform system of regulations for vacation rentals in order to even out the playin field.
Congratulations to everyone involved, it's a true team effort! And thank you to our State Representatives and Senators for taking the time to listen and understand our pains. And thank you Florida REALTORS and Miami REALTORS for having the best public policy team ever!