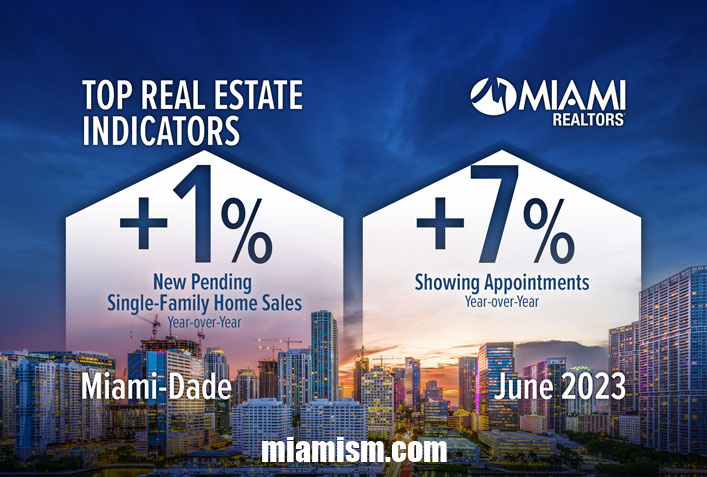 Miami REALTORS: Miami-Dade Single-Family Home Pending Sales, Showing Appointments Rise
MIAMI — Miami-Dade single-family pending sales and total South Florida showing appointments rose year-over-year, according to June 2023 statistics released by the MIAMI Association of Realtors (MIAMI) and the Multiple Listing Service (MLS) system.
Miami-Dade single-family pending sales rose for the first time since November 2021, increasing from 1,057 to 1,064 transactions. While a nominal change, it's noteworthy as it is the first-time pending sales are positive year-over-year in 19 months and pending sales are an indicator of future sales. South Florida showing appointments, meanwhile, increased 7% year-over-year, from 218,973 to 233,675. It is the second consecutive month showing appointments have risen.
"Buyers are adjusting to the new norm of 6-7% interest rates, but Miami-Dade's supply remains historically low, constraining sales in this high-demand market," MIAMI Chairman Ines Hegedus Garcia said. "We are keeping a close track of new listings to capitalize on the immense potential of Miami's thriving market, where a surge in supply would naturally result in increased sales."
Miami-Dade Single-Family Pending Sales Rise for First Time Since November 2021
Comparing today's home sales numbers to the roaring 2021-22 era, when mortgage rates hit a level likely not to be seen again at 3% or 4% and there was a pandemic-fueled housing boom throughout the country, is difficult.
Miami total home sales decreased 18.2% year-over-year in June 2023, from a historic 2,891 transactions in June 2022 to 2,364 in June 2023, because of elevated mortgage rates and lack of supply in certain price points.
Most of the homes purchased in June 2023 came to terms in May when mortgage rates peaked at 7.14%. Rates, in comparison, were at 5.27% on May 5, 2022.
Home sales are sensitive to mortgage rate changes. According to Freddie Mac, the 30-year fixed-rate mortgage averaged 6.96% as of July 13. That's up from 6.81% the previous week and 5.51% one year ago.
"Buyers seem to be adjusting more quickly to the reality of higher mortgage payments than sellers, making that home purchase if it is affordable," MIAMI REALTORS® Chief Economist Gay Cororaton said. "Buyers continue to compete for the limited supply, so we're seeing a market with prices still buoyed up by demand, modest price discounts, and properties still typically getting sold within a month."
Miami single-family home sales decreased 11.9% year-over-year, from 1,139 in June 2022 to 1,004 in June 2023 because of its comparison to a historic month and the current market has lower inventory in specific price points and higher rates.
Miami existing condo sales decreased 22.4% year-over-year, from a historic 1,752 in June 2022 to 1,360 in June 2023, due to lack of inventory and rising mortgage rates.
About the MIAMI Association of Realtors®
The MIAMI Association of Realtors (MIAMI) was chartered by the National Association of Realtors in 1920 and is celebrating 103 years of service to Realtors, the buying and selling public, and the communities in South Florida. Comprised of six organizations: MIAMI RESIDENTIAL, MIAMI COMMERCIAL; BROWARD-MIAMI, a division of MIAMI Realtors; JTHS-MIAMI, a division of MIAMI Realtors in the Jupiter-Tequesta-Hobe Sound area; MIAMI YPN, our Young Professionals Network Council; and the award-winning MIAMI Global Council. MIAMI REALTORS represents nearly 60,000 total real estate professionals in all aspects of real estate sales, marketing, and brokerage. It is the largest local Realtor association in the U.S. and has official partnerships with 255 international organizations worldwide.
original news release link: Miami-Dade Single-Family Home Pending Sales, Showing Appointments Rise