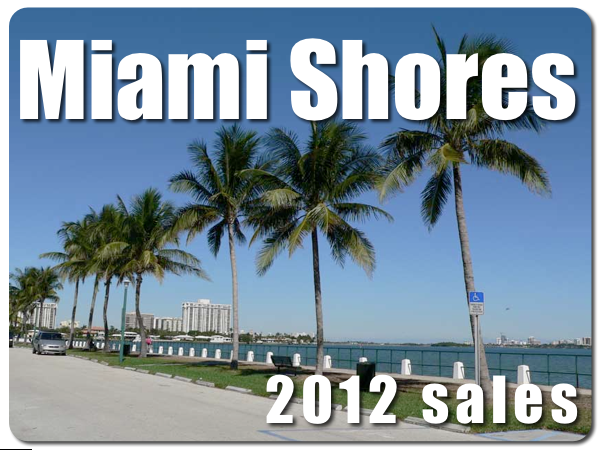 Miami Shores Real Estate Market Report for 2012
I hate to say this because I am a Miami Shores resident, but needs to be put out there, even if it rubs some people the wrong way.  For the most part, Miami Shores home sellers are not internet savvy, are not considered the "educated real estate consumer" and will probably never read this article.  Miami Shores sellers rely on traditional media and very localized print ads that totally do a disservice to their pocketbook.  Based on the fact that buyers will do internet research and will educate themselves on market trends, you will be one step ahead of the game when it comes to buying a Miami Shores home.
If you happen to be one of those Miami Shores sellers that does do their homework, please make sure the agent you choose at least has an internet presence!  Putting a sign on your lawn with a pretty brochure just won't cut it in today's real estate market.  Getting a call from a local agent telling you they have a buyer for your home, is a tactic and you need to recognize that.
Miami Shores has already recuperated and numbers have been showing an upward trend in increasing home values for over a year already.  If you bought at the height of the market, you may still be under water, and prices are not increasing at the crazy rates they were a few years ago, but with the right marketing and home preparation, you will come out on top.
Average Price per square foot in past years are as follows:
2009 – $153/sf
2010 – $159/sf
2011 – $166/sf
2012 – $181/sf
The best improvement evidenced in Miami Shores in 2012 was the mid to high-end market where 25% of all homes sold were above $500,000, compared to 20% in 2011 and 18% in 2010.
Click here to search for Miami homes for sale
Miami Shores Homes sold in 2012
Here are the general figures for the Miami  Shores real estate market in 2012 (click HERE to see 2011 figures):
There were 163 Miami Shores homes sold in 2012.  The median listing price was $380,000 and the median sale price was $355,000.
The highest sale in Miami Shores in 2012 was $2,450,000 for the completely remodeled bay front home at 1480 NE 103 St– This amazing mid-century modern home was originally listed for $2.999 Million in October of 2011 and sold in only 5 months.
The lowest sale in Miami Shores in 2012 was $66,000 for a short sale at 78 NW 95 St.  It was a handyman special on a very busy street on the NW side of Miami Shores.
In 2009, 60% of the properties sold were under $200,000 – In 2010, only 28% of the properties sold were under $200,000 – in 2011, 16% of the properties sold were under $200,000 – and in 2012, 12% of the properties sold were under $200,000.
59 out of the 163 Miami Shores homes sold in 2011 (36%), sold above $200/sq.ft. with the highest sale for a dry-lot home (non-waterfront) at $426/sq.ft.  The average price per square foot in Miami Shores coming in at $181.
To see (and download) all Miami Shores homes sold in 2012, click image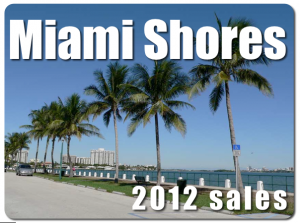 *Data obtained from SEF MLS*  – we provide monthly market reports for Miami Shores at the beginning of each month.  Come back or email us for a copy of the report at info@miamism.com