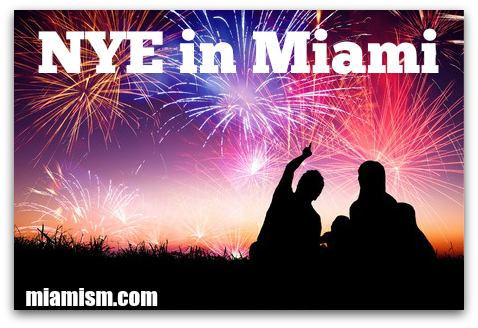 10 ways to receive the New Year in Miami
I confess I am not the type to hang out in huge crowds to receive the new year.  I like to be with my kids and family and in the past few years, Rick and I have taken a drive to the beach to watch the first sunrise of the year.
With that said, it doesn't mean Miami is not full of amazing things to do and original ways to receive the new year.  Here are 10 things to do in Miami for NYE and follow links on the bottom to find out more from other exciting sources.
1.  City of Miami Beach New Year's Eve Celebration
Enjoy free fireworks at midnight on the beach at Ocean Drive and 8th Street as Miami Beach rings in the New Year. There will be entertainment between 9 p.m. and 2 a.m.
2.  Watch the Orange Bowl at Sun Life Stadium
Mississippi State (No. 7) and Georgia Tech. (No. 12) will meet at Sun Life Stadium on Dec. 31 to face off in the 2014 Capital One Orange Bowl.
3.  PHISH Concert at American Airlines Arena
This year Phish will celebrate New Year's Eve at AmericanAirlines Arena in Miami, FL. The show will be the first of a four-night stand that will run through Saturday, January 3. The festivities will mark the third time Phish has rung in the New Year at AmericanAirlines Arena, following multi-night celebrations in 2003 and 2009. The Sun Sentinel hailed the 2009 New Year's Eve show as "triumphant," noting that Phish "showed off its versatility early — and all night, really…[fans] loved every second of the show; almost no one left the arena before the final note was played."
4. World Crawl Miami
Club Crawl – Our New Year Eve bash will be starting at Eden Rooftop located in the Townhouse Hotel. Start your night off with a 2 hour hosted open bar featured beautiful bartenders and beautifully mixed drinks. The Rooftop will also feature appetizers and a great chance to get to know your fellow crawlers as you take in the sights and sounds of the most beautiful city on Earth.
The festivities begin at 8:30pm when the doors open to the ballroom and we begin seating for dinner. DJ Michael Sarz will be spinning lounge style music for the arrival of the guests. An exquisite dinner will be presented along with a Premium Open Bar and a Champagne Toast at the stroke of Midnight.

The stage will be shared by the high energy band Higher Ground as well as DJ Michael Sarz from Sarz Entertainment playing a mix of musical styles throughout the evening.

At midnight, Fireworks will light up the sky over the golf course and cigars will be hand rolled on the Terrace. Guests celebrating in Fontana or Palm d'or may purchase entry at a discounted rate, but are not guaranteed seating.
It's time to ring in the new year and Bayfront Park is the place to be for the largest FREE party in South Florida! Join us for a Dance Party with Funky Frank and count down to midnight with Miami's own "Big Orange"! At the south end of the park, this New Year's Eve icon will slowly ascend the side of the InterContinental Hotel, reaching the top at midnight in conjunction with a grand display of fireworks shot over beautiful Biscayne Bay.
7. Rusty Pelican Toast to 2015
8.  Nikki Beach Peace Love Music 2015

Nikki Beach Miami invites you to celebrate the arrival of the New Year with an exciting vintage-inspired soiree.  This not-to-be-missed affair will feature mouth-watering haute cuisine designed uniquely by Chef Brian Molloy and thrilling live entertainment including a private fireworks display at midnight.
9. Five Star New Year's Eve at PAMM
Five Star New Year's Eve second edition is here, establishing itself as the most awaited and trendy new years eve party in the city, where friends, jet setters, celebrities and VIPs come together to enjoy this magical moment in a breathtaking scenery.
10.  Pitbull's NYE at New Thompson Hotel in Miami Beach
Check out these other recommendations:
**And after you party and feel renewed – call The Miamism Sales Team and schedule a listing appointment << yes… shameless self-promotion on our own blog, because we can 🙂