When it comes to Miami Luxury Condos, The 1800 Club is at the top of the list.  Its location is perfect with endless bay views that take your breath away.  It's in the Performing Arts District, within walking distance to Bayside Marketplace, The Miami Airlines Arena, restaurants, cafes and nightlife.  Designed by Bermello & Ajamil, and although I'm not a fan of their architecture, the small design flaws are made up by the views, views and more views of Biscayne Bay, The Port of Miami and Downtown Miami.  The building is located across the street from Margaret Pace Park recently developed by the City of Miami with tennis courts, exercise stations and pedestrian walk-ways, basketball court, soccer fields, cricket fields, playground and barbeque facilities.  (because of the park, the views will never be obstructed).
The 1800 Club is an exclusive 41-story tower with 469 residences – full service with:
concierge staff
24-hour valet parking
mail room and package receiving desk
2-story-high recreational floor with Bayfront veranda
heated pool
state-of-the-art gym with spectacular views
yoga/aerobics studio
steam and massage rooms
shallow pool area with chaise lounges and landscaping
billiards room with large screen plasma tv
party/events room
There are a number of different floor plans and options for every budget and living style.  From smaller 1 bedroom residences to 2-story townhomes and mixed-use lofts.  Although you would have the tendency to think that the units directly facing the bay would be the best ones, I have to tell you that it's worth taking a look at the others as well – with spectacular terraces and great ceiling heights, the South facing residences are also stunning.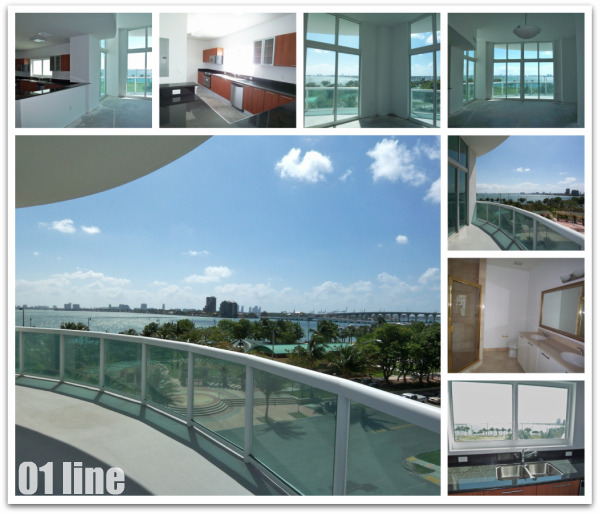 The 01 line is the Southeast corner of the building with rounded balconies and one of my favorite floorplans – These are 3 bedroom/3 bathroom residences with 2,189 square feet of living space and currently priced between $555,000 and $790,000 **new pricing!!

The 05 line is an open loft-style one bedroom / 1 bathroom residence with exposed ducts and direct bay views – these start at $174,500 to $205,000 **new pricing!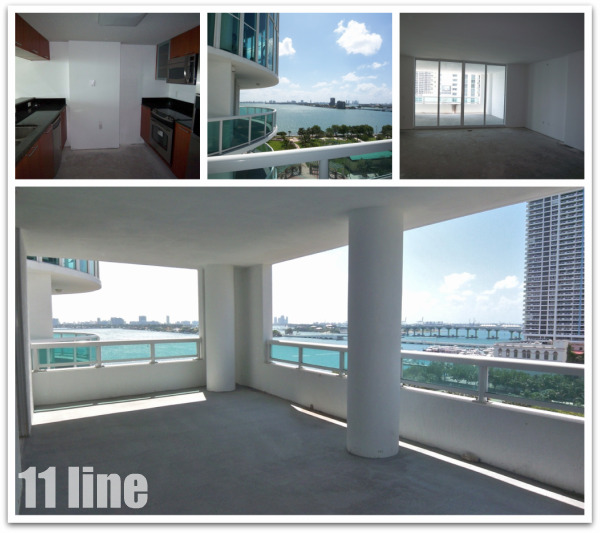 The 11 line had something I love, a covered terrace with amazing views – nothing like a porch to enjoy our South Florida weather – these are 1 bedroom residences with 1.5 bathrooms priced between $247,500 and $292,500. **new pricing! (The terrace alone is spectacular).
Majestic Properties has the left over inventory at The 1800 Club, the inside scoop is that prices were reduced over 30% and they are almost 70% sold and close to being Fannie Mae approved.  Majestic is also working on construction/lender financing with 20% down at a 5% fixed APR for 5 years and also will offer financing for foreign nationals with 30% down @6% APR for 5 years (which is unheard of!).
The noise in the street is that the developer is not very flexible with the current prices and buyers are choosing Quantum next door and other opportunities.  But I will be totally honest with you, if I was given the choice, 1800 Club is a superior building…..but that's only my opinion and many may disagree with me.
**AFTERNOTE:  I can't believe I forgot to mention this…..but…..can someone tell me what in the world was the developer thinking when he chose the finishes for the bathrooms?  Gold??  yes….gold fixtures??  GROSSNESS!!**
***UPDATE:  A lot has happened since April 29th, 2009 when this article was written.
The developer is now flexible and has reduced remaining inventory to very reasonable prices.
The 1800 Club is now FHA approved, requiring 3.5% down.
There are incredible opportunities for investors with tenants already in place, so you can begin counting on the income the minute you close.
Contact us for inventory and pricing – now THIS is something worth sharing with you!
Remember our team is ready to help you with your 1800 Club Condo Purchase or sale and of course surrounding condos as well. Call us for details 305.758.2323 or 1800club@miamism.com
Condo Name:  1800 Club
Arquitecture:  Bermello & Ajamil
Neighborhood: Arts & Entertainment District – Edgewater
Location: 1800 N Bayshore Dr – Miami
Contact: 1800club@miamism.com