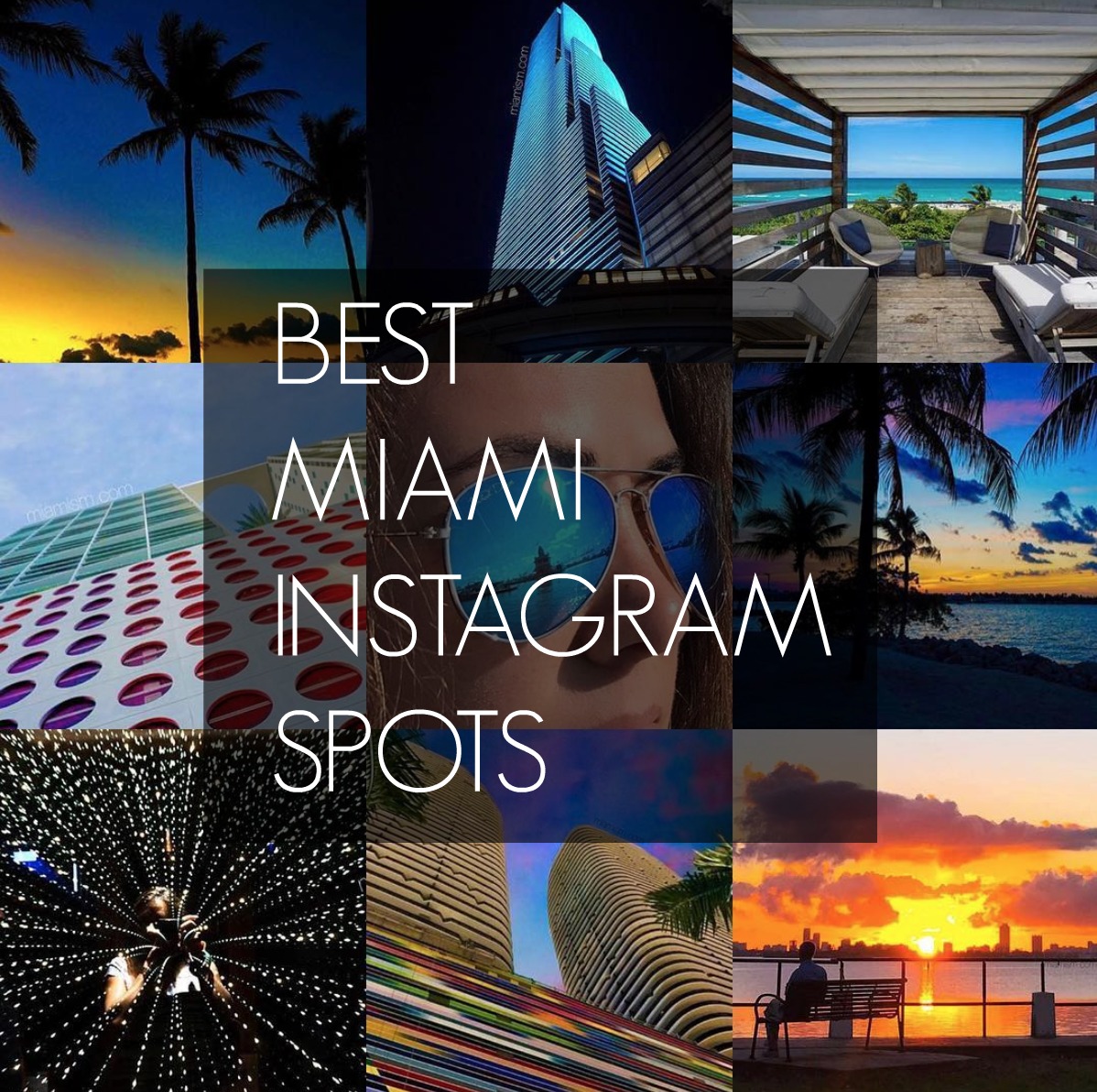 20 Best Instagram Spots in Miami
We can't deny that Miami is super photogenic but there are some spots that are way more instagram-worthy than others and you don't have to be a professional photographer to get a great shot. As Miami's Historic and Architecture REALTORS, we feature Miami and Miami's lifestyle and that's evident in our Instagram Account @miamism Please note that all the photos we feature are ours unless we give credit otherwise. We are not professional photographers and most of the photos you'll see in our instagram account have been taken with an iphone. Other than the obvious beach shots with pretty palm trees, white sand and clear ocean, we wanted to share Miami's Best Instagram spots. NOTE: Please don't copy photos that are not yours. Always give credit and don't assume you can take photos just because they are on google. They have intellectual rights and it's simply stealing.
Best Instagram Spots in Miami
In no particular order, here are the Most Instagrammable spots in Miami – we included a list of favorite Miami Instagramers at the end of this article.
1. Miami Tower in Downtown Miami (previously known as The Centrust Tower)
Located at: 100 SE 2nd St, Miami, FL 33131 Here's a post we wrote about The Miami Tower
Miami Tower on Instagram
2. Miami Marine Stadium
Located at:  3501 Rickenbacker Causeway, Key Biscayne, FL 33149 Here are a few articles we have written about The Marine Stadium
Marine Stadium on Instagram
3. Miami Skyline
So many places to take Miami Skyline photos – from the port, from Key Biscayne, from Brickell Key, from Miami Children's Museum, to name a few.
4. Brickell from Area 31 Balcony
Located on the 16th Floor of Epic's Hotel at 270 Biscayne Boulevard Way, Miami, FL 33131
Area 31 on Instagram
5. Stiltsville
Here's some history on Stiltsville
Stiltsville on Instagram
6. Biltmore Hotel
Located at:  1200 Anastasia Ave, Coral Gables, FL 33134
Here's a Mojito Review we did at The Biltmore. Biltmore Hotel on Instagram
7. The Coppertone Girl Sign
Located in Miami's Upper East Side (MiMO District) at: 7300 Biscayne Blvd, Miami, FL 33138 History on The Coppertone Girl Sign.
The Coppertone Girl Sign on Instagram
8. The Colony Hotel
Located in the Art Deco District on Ocean Drive at: 736 Ocean Dr, Miami Beach, FL 33139
The Colony Hotel on Instagram
9. El Farito
This is Bill Baggs Light House State Park, Key Biscayne or Cape Florida Light at: 1200 South Crandon Boulevard, Key Biscayne, FL 33149
Bill Baggs Light House on Instagram
10. 1111 Lincoln Rd Parking Garage
located at: 1111 Lincoln Rd, Miami Beach, FL 33139 Here's an article we wrote on The architecture of 1111 Lincoln Rd by Herzog & De Meuron.
1111 Lincoln Rd on Instagram
11. Government cut from South Pointe Park
Known at Cruiseship Alley, the best photos of cruiseships, sunsets and sunrises anywhere from the park. Located at: 1 Washington Ave, Miami Beach, FL 33139
South Pointe Park on Instagram
12. The Freedom Tower
Located at: 600 Biscayne Blvd, Miami, FL 33132 Some history on Miami's Freedom Tower.
The Freedom Tower on Instagram
13. Marlins Park
Located at:  501 Marlins Way, Miami, FL 33125 With beautiful walk-ways by famous Venezuelan artist, Cruz Diez.
Marlins Park on Instagram
14. The Wynwood Building
Located at: 2750 NW 3rd Ave, Miami, FL 33127
View this post on Instagram
The Wynwood Building on Instagram
15. Port of Miami Bridge
Port of Miami Bridge on Instagram
16. Buckminster Fuller's Dome in Miami's Design District's palm court
Located at: 140 NE 39th St, Miami, FL 33137
Palm Court on Instagram
17. East Miami's Elevators – Brickell City Centre
Located at: 788 Brickell Plaza, Miami, FL 33131
East Miami on Instagram
18. Frost Museum – port hole shots
Located at: 1101 Biscayne Blvd, Miami, FL 33132
Frost Museum of Science on Instagram
19. PAMM
Located at: 1103 Biscayne Blvd, Miami, FL 33132
Perez Art Museum Miami on Instagram
20. Fowey Rocks Lighthouse
Located seven miles southeast of Cape Florida on Key Biscayne.
Fowey Rocks on Instagram
Favorite Miami Instagramers
Here are some of my favorite Miami Instagramers – there are a lot more but if you follow their accounts, you'll discover they are real people with unbelievable talent. @tony_sarria @rachelle_vance @_danielita @she.smiles @dembymalibu @smadars @robe100 @cheo1392 @goldenduskphotography
**originally published 5/30/18