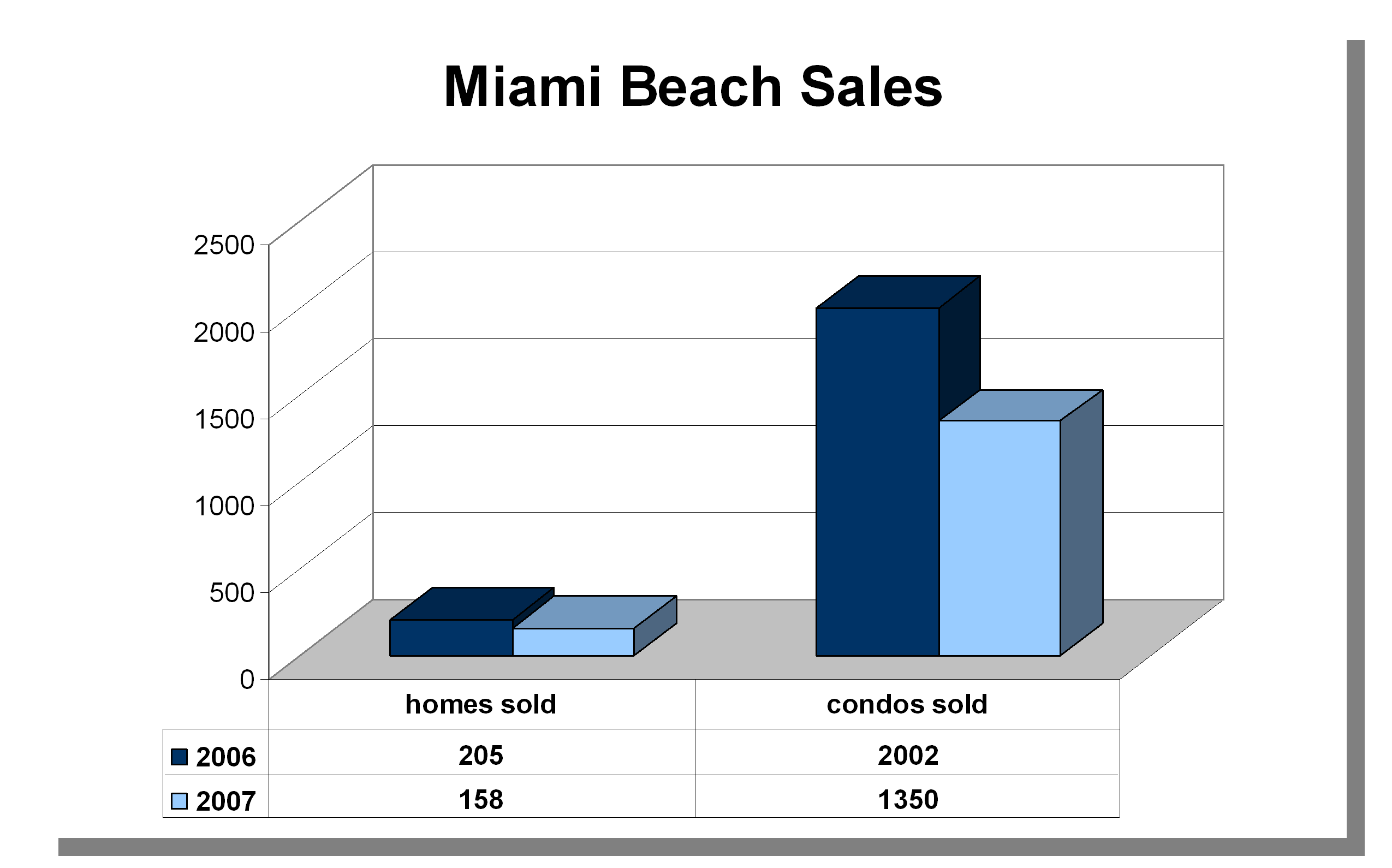 2007 Miami-Dade County Real Estate Market Conditions Summary – Miami Beach
Miami Beach Real Estate Market Conditions Summary for 2007
38.39% drop in home sales – 38.67 % in condo sales
Miami Beach Real Estate is made up of single-family homes and condos and it spans from South Beach all the way to North Miami Beach. Although a lot of the properties don?t compare to one another, I have pulled general numbers for you to see the global change in the market from 2006 to 2007.
The highest sale in 2006 for a single-family home in Miami Beach was $17,000 where in the highest was $16,400,000 in 2007. That is obviously Miami Beach Luxury Real Estate Market.  Here is the extreme ? the lowest sale in 2006 was $210,000 and $238,500 in 2007.
The Average price per square foot for a single family residence in Miami Beach in 2006 was $540.50 and that number dropped to $496.33 in 2007 (almost $50 / sq. ft).
Miami Beach's condo market is also very different ? it varies from oceanfront 10,000 square foot, luxury penthouses to studio apartments in old Historic Deco buildings with no parking. The highest condo sold in Miami Beach in 2006 was $12,140,000 and the lowest sold at $75,000.
The Average price per square foot for condos remained pretty constant from 2006 at $478.54 to $470.23 in 2007.
The decrease in sales in Miami Beach was 23% for homes and a 33% for condos where the average for Miami-Dade County as a whole was 38% for homes and 39% for condos. Miami Beach still under the radar, even when it comes to condos according to closed sales that appear in the Multiple Listing Service.
**all information derived from SEF Multiple Listing Service**