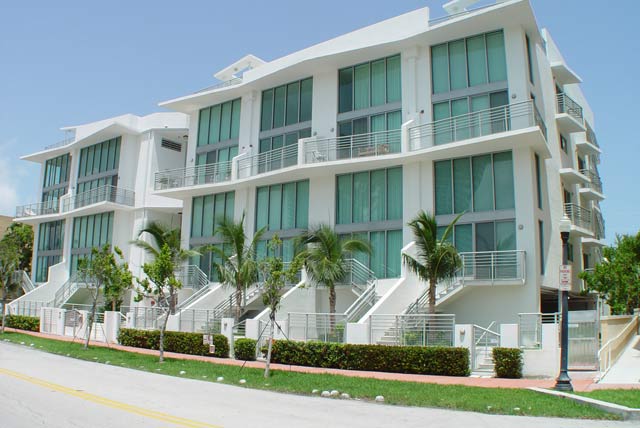 3 Amazing South Beach Lofts for sale
Do you know the feeling you get when you walk into a great building that just makes you feel good? Sometimes I want to announce certain properties to the whole world because they make sense – comfortable, great location and good bang for your buck. Small scale loft buildings in South Beach are my favorite, especially if you don't like high-rise living. Here are 3 of those South Beach lofts that I love and want to share with you.
South Beach Loft #1 – Absolut Lofts
245 Michigan Ave. #LG3 – Miami Beach, FL 33139 Priced at $518,000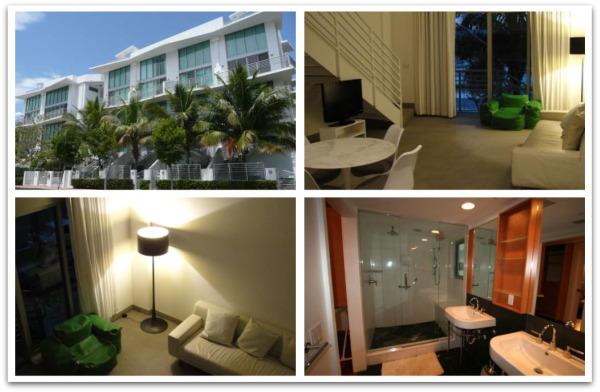 Absolut Lofts in the SoFI area of South Beach is a great complex. The Sunset from this particular unit are unbelievable! The fact that you have a public park across the street is a plus and what about being walking distance to everything! This unit in particular has gorgeous limestone floors and is really well taken care of. The Space distribution is done beautifully with a bedroom downstairs and the master upstairs with walk-in closet and gorgeous bathroom. The Complex only has 20 units, with a small pool and roof terraces. This unit has 2 basement parking spaces (under cover) and you have the choice of entering your residence via street entrance with a small private garden. (Too bad the second story lofts don't have this feature). Overall, it's a great price and can't beat the location, location, location! MLS description reads:
Impeccably upgraded South of Fifth Loft with true 18ft ceilings in The Absolut Lofts. Over-sized grey limestone throughout first floor and stairs, thick wood floor upstairs. Beautiful kitchen cabinetry with solid Italian wood doors and frosted glass, stainless steel appliances, granite countertops. Master suite in upper floor with large custom made walk-in closet, sumptuous black slate/white marble designer bathroom with Duravit fixtures and over-sized dual shower heads. 2 Parking spaces & private entrance.
Features:
built in 2004
2 bedrooms / 2 bathrooms
1,445 sq. ft. of living space
2 parking spaces
loft design with double height ceilings
limestone and IPE flooring
Italian kitchen with granite countertops
Master suite with walk-in closet, designer bathroom with Duravit Fixtures
Private Street Entrance
Maintenance = $407/month
South Beach Loft #2 – Sundance Lofts
828 3 St. #314 – Miami Beach, FL 33139 Priced at $655,900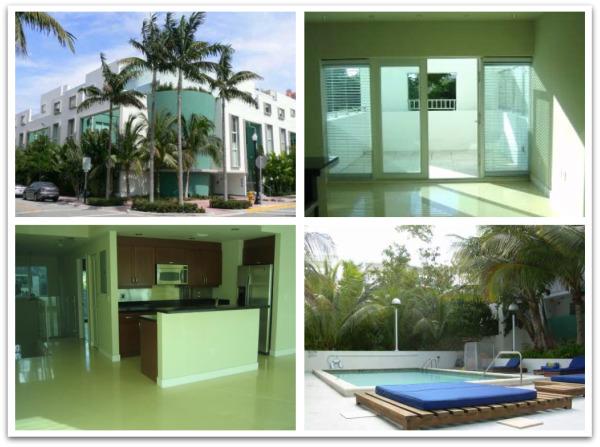 Sundance lofts, also located in the South of Fifth area of South Beach are townhome/loft style residences with high ceilings, floor to ceiling windows, European kitchens, large terraces and/or roof top gardens. The distribution is not your typical, clean loft style you may be used to, but developer achieved privacy with beautiful lush tropical landscaping and a great swimming pool and sundeck. MLS reads:
Contemporary Loft Building South of 5th Street. This charming 2-story townhouse offers a spacious living / dining surrounded by windows & natural light. Limestone floors, marble baths and recessed lightning. Open kitchen w/ stainless steel appliances & granite counter tops. Second floor living area features outdoor terrace with garden views, 2nd Bedroom downstairs at entry. 2 separate covered parking spaces. Charming tropical pool deck. Low maintenance fee. Pets friendly building. A must see!
Features:
built in 2003
2 bedrooms / 2 bathrooms
1,377 sq. ft. of living space
2 parking spaces
private garden
2-story
limestone floors
marble baths
European kitchen with granite countertops
Maintenance = $374/month
South Beach Loft #3 – Sobe Bay Lofts
1577 Bay Rd #207 – Miami Beach, FL 33139 Priced at $618,000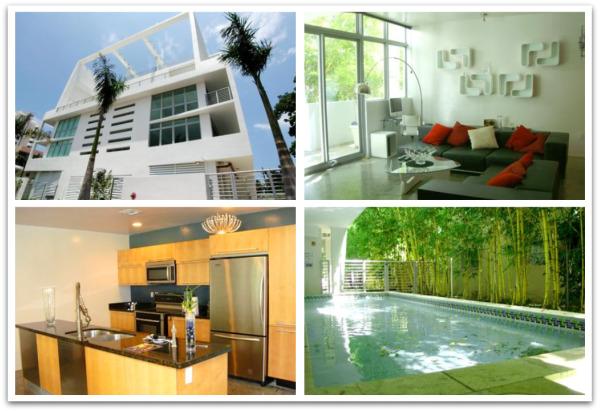 Sobe Bay is one of Chad Oppenheim's treasures (and if you've been paying attention, you know I'm a fan). With 9 total lofts with high ceilings, great kitchens and an amazing exterior spaces. This happens to be a very large one bedroom loft, but if you like space, you will love this residence. MLS describes it as:
Ultra modern LOFT located just two blocks from Lincoln Road. Dramatic space features private entrance, soaring 20-foot ceiling, walls of glass and three separate terraces, including private rooftop sun deck. This huge 1 BD / 1.5 BA features over 1,350 SQ. FT of interior living space. Sobe Bay was designed by Chad Oppenheim and built in 2006 and features just 9 LOFTS. Lush tropical bamboo landscaping, small plunge pool and indoor parking.
Features:
built in 2006
1 bedroom / 1 bathroom / 1 half-bath
1,335 sq. ft. of living space
1 parking space
concrete floors
3 terraces including private rooftop sundeck
20-foot ceilings
plunge pool
Maintenance = $525/month
**all information obtained from the Southeast Florida Multiple Listing Service**