3 Featured Miami Properties to start off 2016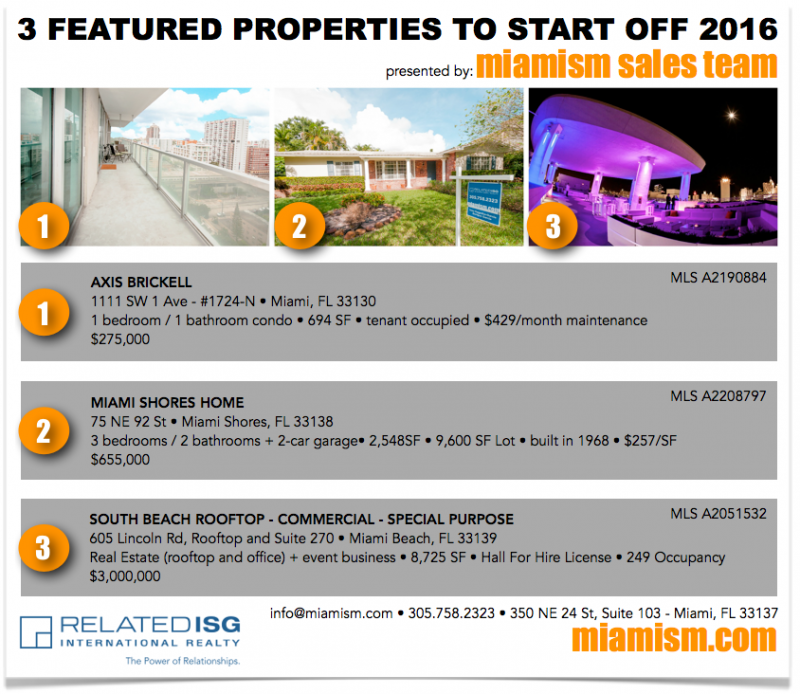 We would like to tell you about 3 Miami Properties currently for sale, to start off 2016 with a Bang! If you need additional information about any of these, or would like to arrange a showing appointment, please feel free to contact us.
AXIS BRICKELL CONDO
The first property is a condo at Axis Brickell which is located right next to Mary Brickell Village and within steps from the new Brickell City Centre that's under construction. It's in the middle of the action and offers immediate return for investors. The property is on a high floor, has 1 bedroom and 1 bathroom, washer and dryer inside, balcony facing north, and has public transportation just steps away (Metro-rail and Metro-mover). You will not find a value like this anywhere in the Brickell area. Axis Brickell – 1111 SW 1 Ave #1724-N, Miami FL 33130 1 bedroom / 1 bathroom condo – 694 SF – tenant occupied until August 2016 – $429/month maintenance – lowest priced listing in the building. offered at $275,000
MIAMI SHORES HOME
The second property is a single-family home in Miami Shores, east of North Miami Avenue, on a quiet street. The home is an L-shaped design with 3 bedrooms, 2 bathrooms and a 2-car garage in the back. The lot size is 9,600 SF and the house is 2,548 SF and 3,247 SF if you include the garage. It is priced at a very low $257/SF which is lower than the average price per square foot in Miami Shores. It's a perfect home for those looking for comfort and size and priced right to change finishes to your taste. 75 NE 92 St – Miami Shores, FL 33138 3 bedrooms / 2 bathrooms + 2-car garage • 2,549 SF • 9,600 SF Lot • built in 1968 offered at $655,000
SOUTH BEACH ROOFTOP – SPECIAL PURPOSE COMMERCIAL SPACE
The third property is the hottest rooftop in South Beach, right on internationally known Lincoln Road, steps from The Miami Beach Convention Center and The New World Symphony. The sale includes the real estate which is the rooftop of the former Sony Music Building, an office on the 2nd floor that houses audio and sound equipment AND the business which a profitable event and productions venue for private functions. The total square footage of the rooftop and office is 8,725. The business has a Hall for Hire License with 249 person occupancy and has been running a professionally managed, successful business for a few years. The price is negotiable and perfect for investors looking for immediate return and a property in prime location with amazing potential. 605 Lincoln Rd, Rooftop and Suite 270 – Miami Beach, FL 33139 Real Estate (rooftop and office) + event business • 8,725 SF • Hall For Hire License offered at $3,000,000 $2,500,000
---
For information on these and other properties, please contact us at info@miamism.com or call me directly at 305.206.9366 Remember we are on Facebook, Twitter, Instagram, YouTube, and other social media platforms.