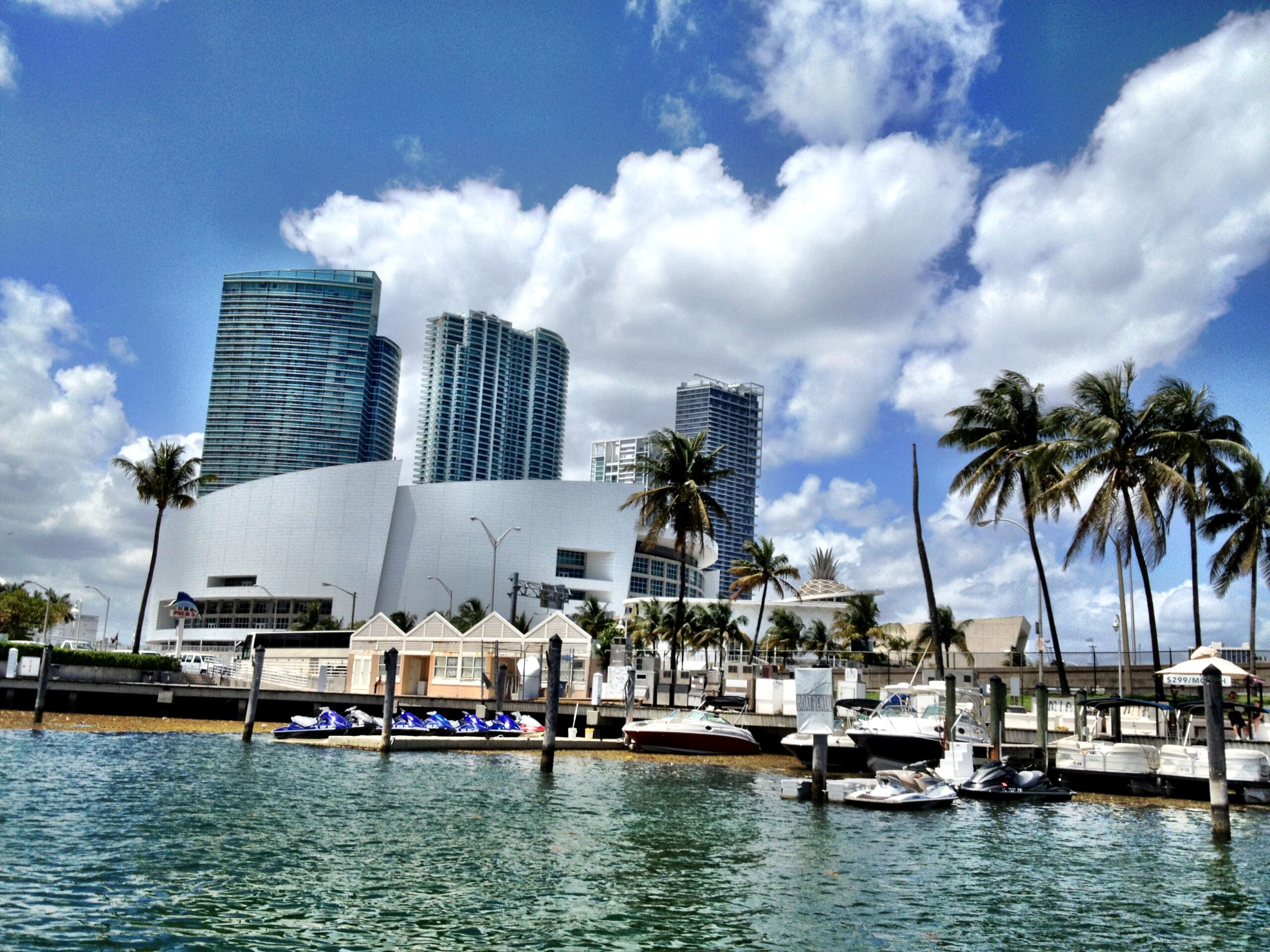 4 Miamism picks in the 4 Miami Heat Condo Towers
What else could you call the 4 Miami Skyscrapers across from the Miami Airlines Arena but the "4 Miami Heat Condo Towers"? Needless to say, The 3-kings (Dwyane Wade, Chris Bosh and LeBron James), have brought some movement into these 4 buildings, no matter what the developers are trying to make you think. So we wanted to give you our Miamism picks for each of these Miami condos. Starting from South to North, here they are:
Marina Blue Condo
888 Biscayne Blvd, #5708 – Miami, FL 33132 Listing Price $3,300,000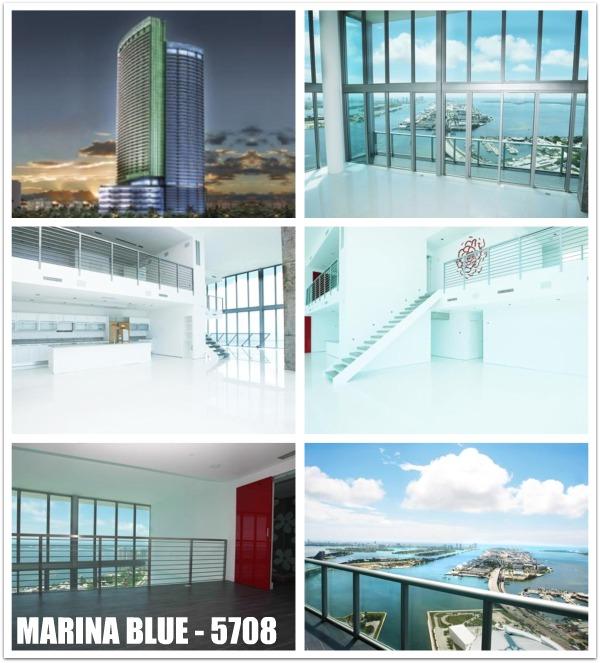 This magnificent condo defines the concept of "HOME IN THE SKY", with endless view of Downtown Miami, Biscayne Bay, The Port of Miami, Fisher Island and Miami Beach. Marina Blue was designed by Arquitectonica, built in 2008 and happens to be my second favorite of the 4 towers. This residence has 4,198 square feet of living space and almost 500 square feet of terraces. It has 4 bedrooms, 4 bathrooms and 4 parking spaces. MLS reads:
PH5: BEST CORNER UNIT IN THE BUILDING W/ MOST BREATHTAKING VIEWS IN ALL OF MIAMI FROM 20 FT FLOOR TO CEILING WINDOWS! 4,198 SF Modern Luxury Penthouse Residence with Unparalleled Views, Completely Upgraded 4 Bedroom 4 Bathroom w/ 3 Balconies, 2 Living Rooms, Dining Room, Huge Kitchen w/ SubZero Fridge, Sound System Throughout Unit, Master Bath w/ Mosaic Jet & Rain Shower, All Walk-In Closets Built Out, Designer Doors and more. Enjoy both Sunrises and Sunsets from this Palace in the Sky! 4 Parking Spaces
900 Biscayne Bay Condo
900 Biscayne Blvd, #3006 – Miami, FL 33132 Listing Price $1,085,000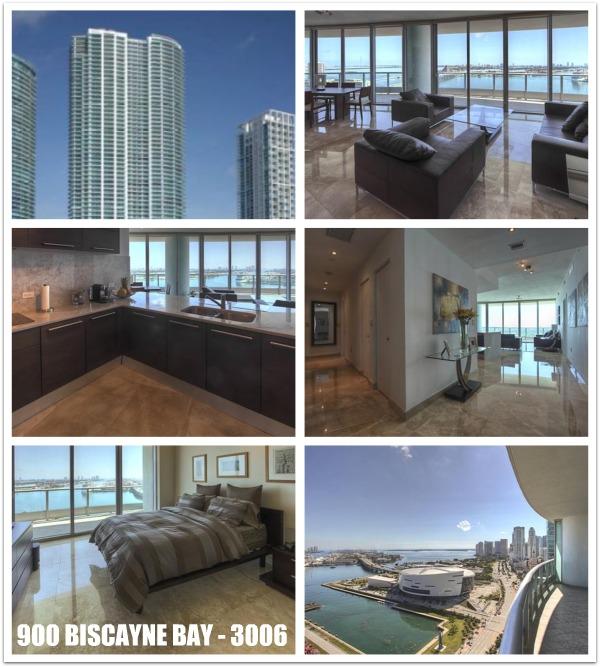 900 Biscayne Bay has its positives and negatives, the common areas are fabulous and make up for the really complicated floor plans and circulation, the views are incredible…..but expect this from all 4 towers. It was designed by Revuelta and also built in 2008. This residence is modestly priced considering it is a high floor unit with private elevator and designer finishes. With 2,335 square feet of living space, 3 bedrooms and 4 bathrooms. The MLS description reads:
Best line (D) in the hottest, most elegant building in the new Biscayne Corridor. N.E. Corner with 10′ ceiling and unobstructed Biscayne Bay and City views. Private elevator and foyer plus separate service entrance. 3 BD + Den & 4 BA. Subzero and Miele Appliances. Concierge, Valet, entertainment center, private theater, salon. Minutes from South Beach, Brickell and Miami International Airport.
Ten Museum Park
1040 Biscayne Blvd, #4202 – Miami, FL 33132 Listing Price $1,690,000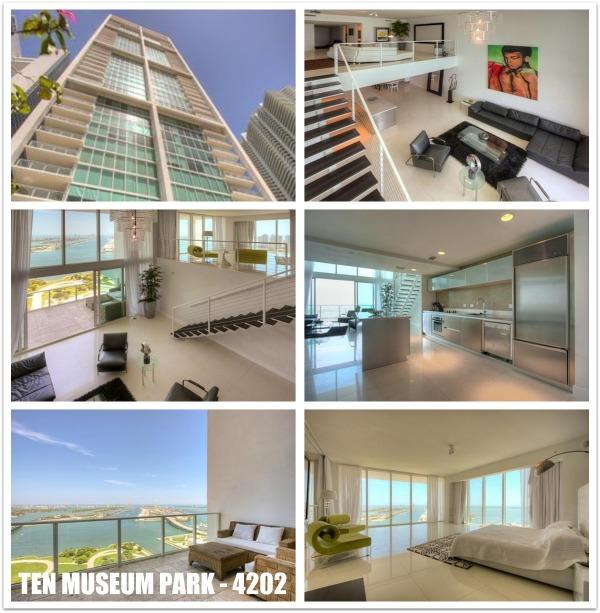 Ten Museum Park is unequivocally my favorite building of the 4 because of its clean lines, its scale and overall design. It was designed by Oppenheim and built in 2007 and the only negatives are those units that face West……don't like the floor plans or the views and are such a disparity from the gorgeous loft residences that face East. This residence happens to be a short sale which would be a great purchase for anyone with patience because of location, condition, floor plan distribution, size……you get the picture. It has 3,932 square feet of living space, over 500 square feet of terrace space, with 3 bedrooms, 5 bathrooms and 2 parking spaces. MLS reads:
Stunning 3 Story Penthouse soars above the city, looking over Venetian Islands, South Beach and the Ocean!Nearly 4000 sf of interior and another 530+ sf of balcony. Own private pool on terrace. 20 foot ceilings. 3 bed +Den/Office,5 1/2 bathroom.So many upgrades, must see to discuss in detail.World famous La Prairie Spa & 25,000 sf Garden w/8 pools.24 hour sec w Doorman,Valet w/2 Deeded Garage Spaces!! Commissions to be split 50/50 between agents.Subject to lender approval.
Marquis Residences
1100 Biscayne Blvd, #PH1 – Miami, FL 33132 Listing Price $2,600,000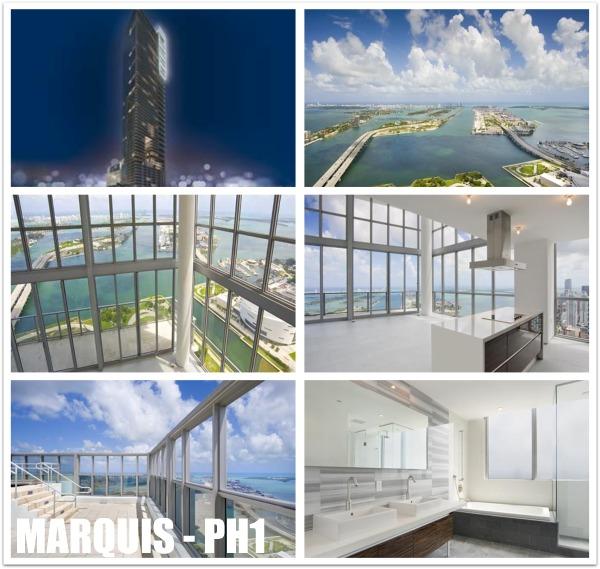 Another Arquitectonica Building and this one the last to be built of the 4 in 2009. The common area finishes of this building are RI-DI-CULOUS!! and by that I mean Jaw-dropping gorgeous! The pool area is a bit cramped, it happens to be next to the expressway and it has a really annoying light element that must be a pain for those that live right on it. The kitchens are small for my taste and they used the most ridiculous wooden handrails in the loft units. The Marquis also went through a brokerage representation change which cost them a lot of deals (me included), but it remains one of the most sought out of the 4 towers. This featured penthouse has 3,381 square feet of living space and over 1000 square feet of terraces which includes a rooftop sundeck and spa. It has 4 bedrooms, 4/5 bathrooms and private elevators. MLS doesn't lie:
3-Story Penthouse with majestic, panoramic views of the Ocean, Biscayne Bay, South Beach, the Port and Downtown Miami! Featuring 20-foot ceiling heights, private elevators, a rooftop sundeck & spa and smart building technology. Resort services and amenities by RockResorts including an 8,000 sf. full service spa, and fitness center, a 16,000 sf. pool deck, on-site Tempo restaurant & a cocktail lounge. A la carte services by RockResorts including dog walking, housekeeping, chauffeur & room service.
**all information obtained from the SouthEast Florida Multiple Listing Service**