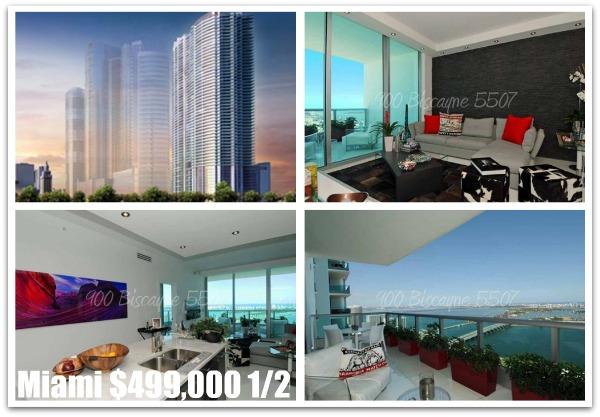 5 Miami Condos under $500k – August 2011 edition
There are great Miami condos for under $500,000, you just need to know what you want and where you want to live, vacation or invest. The rule of thumb is that the closer you get the ocean, the more expensive condos will be – so this price range will get you smaller places when directly on the ocean. South Beach will cost you more and the further North you go in Miami Beach, the better the selection and size. If you're looking in Miami, you will have a lot to pick from, but condos with views, will obviously cost more. Our advice is to do a list of wants versus needs and then prioritize and decide what is most important to you – is it views, size of unit, amenities of building, location? Once you prioritize, then you need to be realistic about pricing, which means there will not be 3 bedroom condos, in a newer building, with direct ocean views, in South Beach for under $500,000 … capisce?
1. SETTING
Picture this: downtown Miami, by The Miami Heat Arena, with free Metro-mover, walking-distance to shopping, restaurants, night-life, AND views!! I can't say enough about the 4 Miami Heat towers and there are incredible options for that under $500,000 budget. Here you have a 1 bedroom 2 bathroom residence with 938 square feet of living space and direct bay views. The building has all the amenities you need with 4000 sq.ft. Fitness Center, sauna, private theater, pools….you name it.
2. REPOSE
Miami Beach views and more views. yes you can be directly on the ocean in Miami Beach for under $500,000, but the place will not be very big. This condo in located in North Beach in a newer building (2004) and has 1 bedroom and 1.5 bathrooms with 667 square feet of living space. The residence does have marble floors, granite counters and stainless steel appliances and the monthly maintenance is $510, which is great for the area.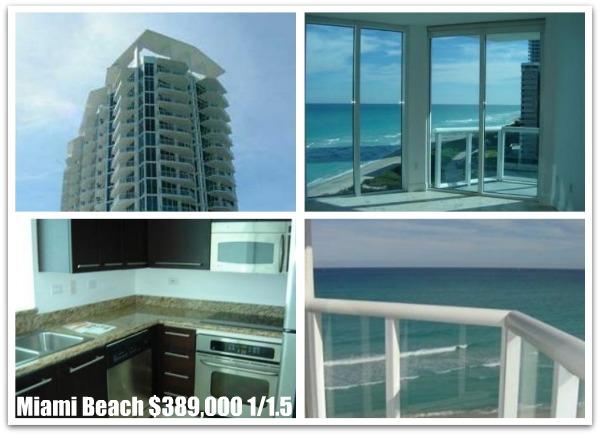 3. PURPOSE
Miami with direct bay views, spacious and gorgeous!! If a Miami Beach location is not important to you but space is, this is an amazing option in a lower density building (not a high-rise). The design is impeccable and the prices are great, although the inventory is almost gone. Here you have a 2 bedroom, 2 bathroom residence with 1,207 square feet of living space, close to shops and restaurants. One of my favorite buildings in Miami.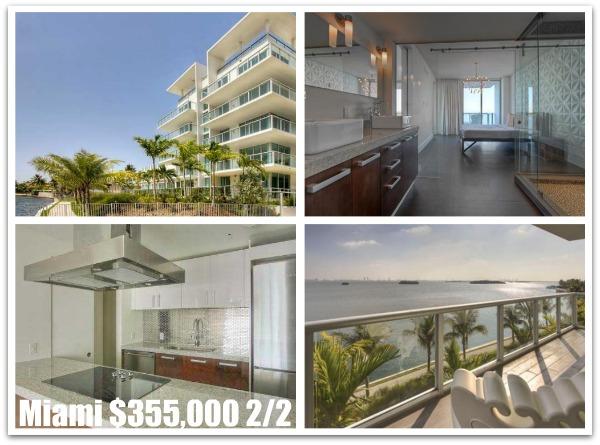 4. INDULGENCE
Bal Harbour at its best in a condo hotel that offers every luxury you need. If pampering in a home away from home is something that interests you, these residences come completely decorated and will have a choice to include in hotel program or not. The place is small at 511 square feet and it's a studio with 1 bathroom – but it's still luxurious and comfortable. The beach is superb!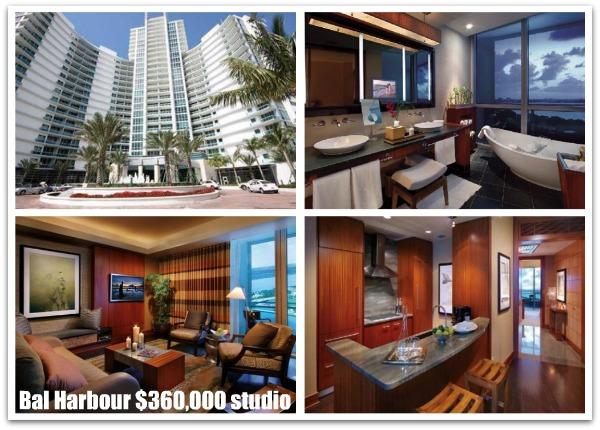 5. CHIC
South Beach Baby!! You can also get a 1 bedroom, 1 bathroom residence in one of the coolest condo-hotels on the Bay side in South Beach for under $500,000. These come already furnished and this particular one is 712 square feet. Amenities are ridiculous! (as in great) and even a 5-star restaurant on premises. This is the way to go for an investment property and not have to worry about management.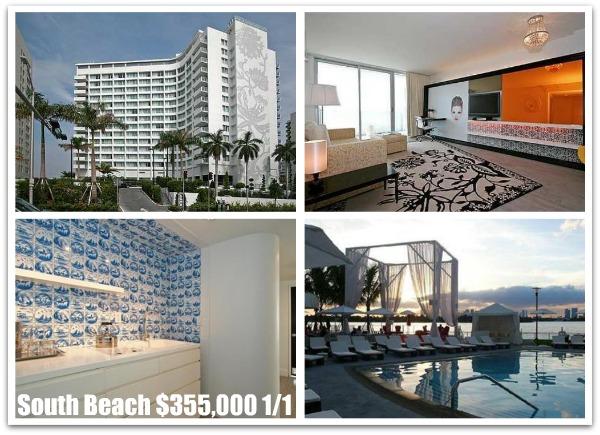 Another edition of 5 under $500 where you don't have to sacrifice design for price. This month's editions are in The Mondrian South Beach, 900 Biscayne Bay, Bel-Aire on The Ocean, One Bal Harbour and Ios on The Bay. Someone on our team will always be available to help you with all your Miami condo needs.