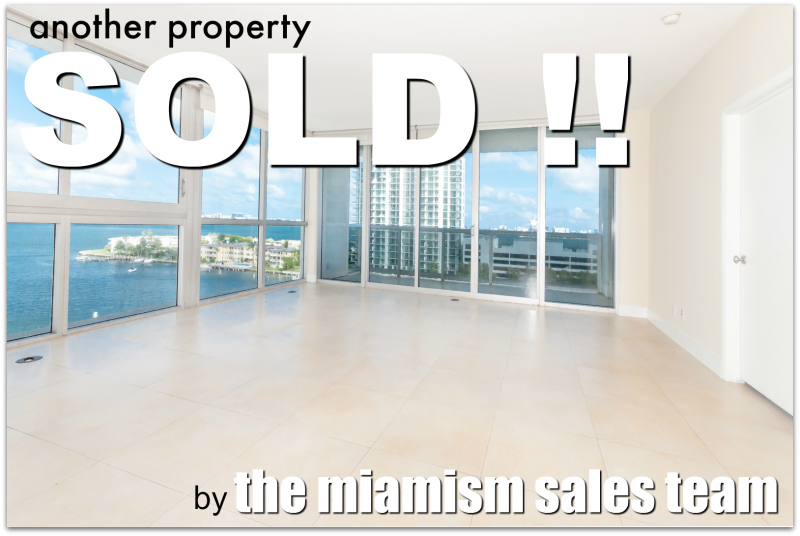 Absentee owner recommends Miamism Real Estate Sales Team
We wrote this 5 years ago and talk about a different market.  This condo residence would have flown off the market today.
We have to admit that not all real estate transactions are easy.  As a matter of fact, very few of them are.  Having almost 13 18 years of Miami real estate experience definitely helps because you get to foresee hiccups and obstacles before they happen and can be ready to attack and come up with solutions that work for all parties involved.
Miamism Sales Team is determined
One of our best traits, by far, is  persistence and not giving up.  In a correcting market, this is key because properties are taking longer to sell and many areas are seeing price drops.  North Bay Village is one of these areas – it remains one of the least expensive waterfront areas in Miami with a nice diversity of condos and single-family homes.  But because the area remains "unknown", many buyers are still hesitating to buy and this means working harder and diligently to get things accomplished.
Blue Bay Tower – North Bay Village
We recently sold a condo at Blue Bay Tower and spent 6 arduous months marketing and personally showing the property (we don't do lock boxes) and finally procuring a buyer at the very end of our listing agreement.  The seller had already made up his mind to rent the residence if it did not sell in the allotted time and to top it off, there had not been any sales in the building in the past 15 months! We want to thank the sellers for giving us the opportunity to market and sell their property and for having faith in us.  Living in Pittsburgh and not seeing the changes in the market first hand and having to rely on media and our communication, cannot be easy.  Here's what they had to say about me – and I remind you to check all client testimonials above.
Ines is superb. She had a marketing plan that she shared with us and kept us informed throughout the time when the condo was on the market. She has excellent communication skills and easy to relate to. She is very professional, my wife and I highly recommend her.
Thank you Dr. Srini!! It was a real pleasure to work with you and your wife.  You are a true gentleman and made it a joy to work with.  We also congratulate the new owners of that amazing condo – we know they will really enjoy living there. And to conclude this post, I want to share a marketing video we did for this building, Blue Bay Tower, in North Bay Village.  It shows how we go above and beyond the regular call of duty.  And for the record, we LOVE this building and think the price is fantastic for the location and views.
Feel free to contact us for a seller consultation – no obligation and no pressure … it's how we roll!