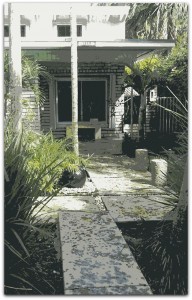 Alfred Browning Parker Architecture in Miami Shores
Had to republish this article because of the amazing response we are getting about listing architecturally significant homes in Miami.
It makes a huge difference that you, as a home owner, recognize the architect of your home.  You also must recognize the need to hire a REALTOR that knows what they are selling and can market your property to an audience that appreciates and values your home.
So I visit many homes because I'm a Miami Realtor – I see all kinds of styles, interiors and price ranges…..but today was a different day.
I walked into an amazing Alfred Browning Parker home in Miami Shores and had goose bumps from the time I laid eyes on the exterior. Most people don't get me and why good architecture totally heightens my senses but I have to tell you that it makes such a difference to see and experience a well designed space.
These home owners bought a modest Browning Parker home and were able to restore, modernize and make it their own.  All the important MiMo features were untouched and the elements that were added were carefully thought out to compliment the existing architecture.  (And the amazing modern classics throughout  made the house complete).
Alfred Browning Parker was not only a modernist, but a green mid century architect – to think that these homes were built around our humid and hot weather to incorporate the organic nature of exterior spaces into interiors – using massing, wide overhangs, local materials and clerestory lighting to take advantage of our climate without air conditioning!
I commend the home owners for having had the vision to acquire a decrepit, tired and dark house and turning it into the magnificent space that Alfred Browning Parker envisioned back in 1949 when he designed it. Goes to show that these gems do exist, they are hidden amongst us and there are people that appreciate them and see their worth. From Miami Beach to Coconut Grove, Miami Shores and Miami's Upper East Side, if you have a Browning Parker gem, let me know…..some of these can even bring tears to my eyes (I'm not kidding).
*originally published Oct, 2008