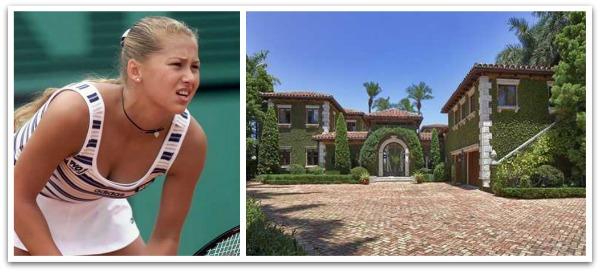 Anna Kournikova sells her Miami Beach Home
You may remember us telling you back in May of last year, that Anna Kournikova's Sunset Island home was for sale.
Yes, sexy tennis star Anna Kournikova is selling her Miami Beach home for $9.4 Million. The home is not open bay and is located on Sunset Island number 3 in Miami Beach and unlike what you may think, it doesn't have a tennis court either. We love to get the scoop on Miami Celebrities and their crash pads and I have to add that Anna seems to have great taste, based on her choice of finishes, decor, and boyfriend. (cough….Enrique Iglesias….cough).
The Wall Street Journal just published that,
Russian tennis player Anna Kournikova has sold her 6,630-square-foot home on Miami Beach's exclusive guard-gated Sunset Island for $7.4 million.
The property does not appear as closed or even under contract on the multiple listing service, but we will take the WSJ's word for it. Anna Kournikova bought back in 2000 for $5 Million…and sold at $2 Million under asking price. What does that tell you? It's not about the low ball offer, it's about getting comps and paying what the home is worth!
We told you in our yearly real estate analysis for Miami Beach waterfront homes, that the average price per square foot in The Sunset Islands was $924 and this celebrity home sold at $1,116 …. which means the home sold at comparable market value and the $2 Million discount just means the house was overpriced.
Congratulations to Kournikova and the new lucky home owners!