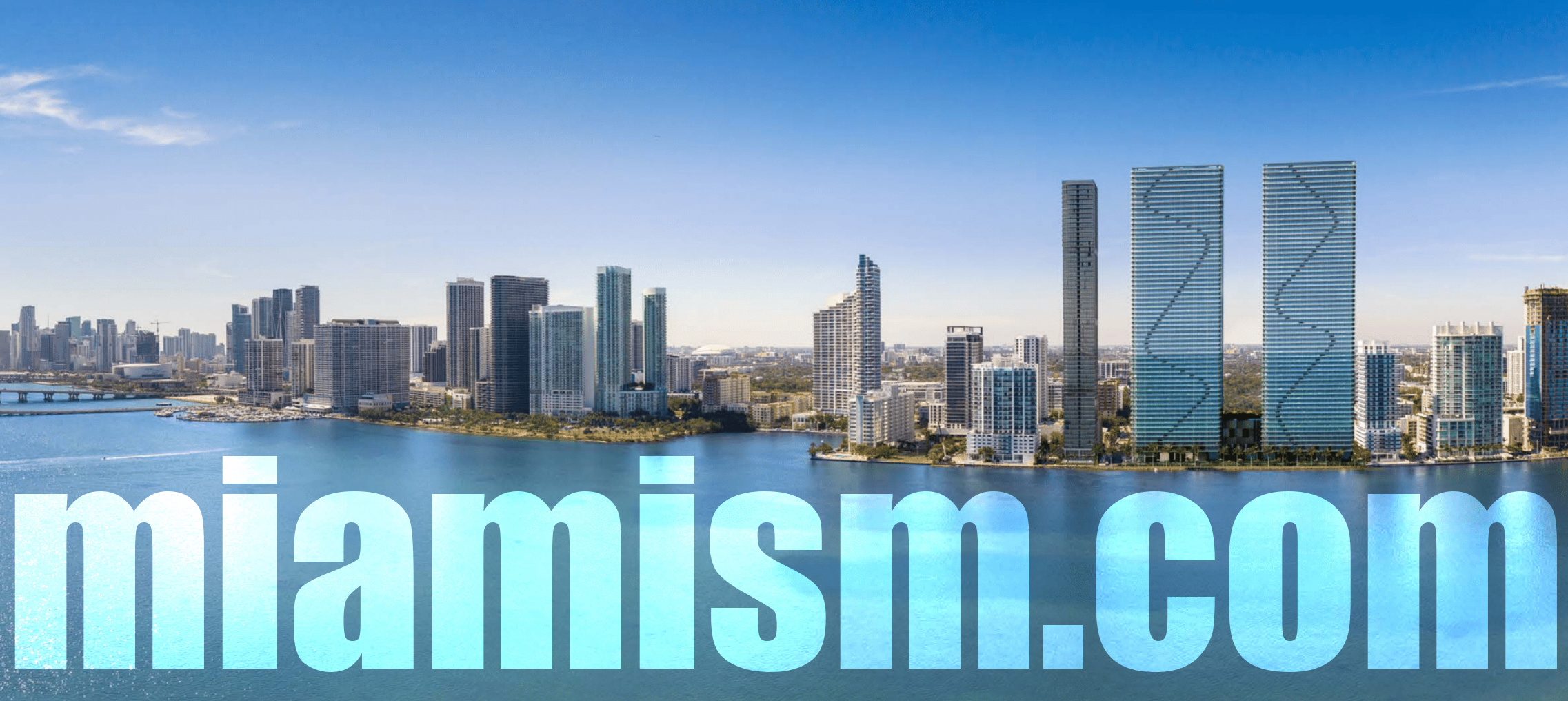 Miami's pre-construction is back, for the simple reason that there is barely any new projects right now and super low inventory at a national level. So why am I writing about Aria Reserve in particular?
Not just because I can but because the location is incredible, the pricing is enticing, the design is impeccable with super clean floor plans, the developer has an untarnished record, and the project is innovative.
Before I tell you about the project, please know that the consumer does NOT get a better price for buying directly from the developer, on the contrary, we know of incentives and help you negotiate details that you would not otherwise even attempt on your own. Make sure you are well represented, give us a call if you are interested in knowing more.
Aria Reserve – Concept
Egos come to play with wordy project concepts but Aria Reserve keeps it simple:
A pair of glass towers with flowing design profiles rises high above Miami's chic Edgewater neighborhood. Directly on the shores of Biscayne Bay and surrounded the bustling Downtown and Brickell city centers, Design District, Wynwood, Midtown, And Miami Beach. Aria Reserve is immediately recognizable, yet feel like a private estate hidden away from the rest of the world.
I do confess that the wall of construction directly on Biscayne Bay bothers me a bit, because it pretty much flips a bird to all neighbors to the west by blocking all of their views. Owners here will and should feel special and the views are nothing short of spectacular with flow-through units that come fully finished, ready for the most discerning buyers.
Aria Reserve – Location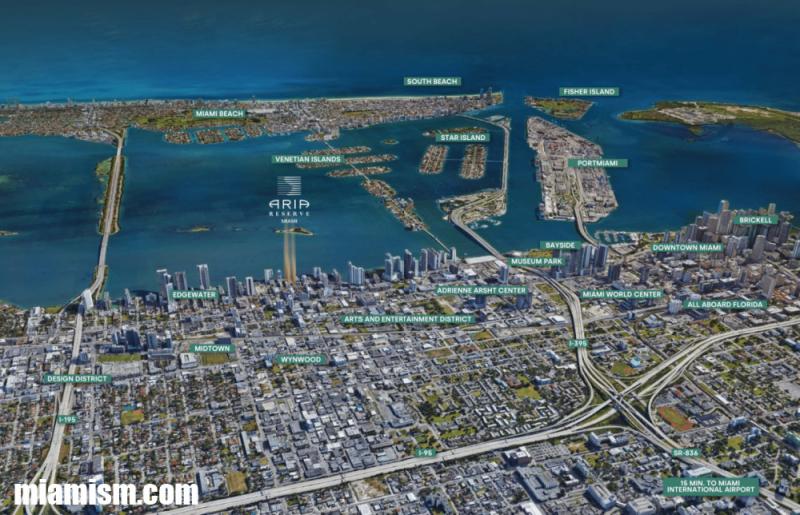 Incredibly central location, minutes from both airports, Miami Beach and just East of Midtown Miami and Wyndwood as well as a stone-throw away from Miami's Design District. Just minutes from Downtown Miami and Brickell, in addition of being directly on the bay with unobstructed water views – location is simply perfect.
One of the last remaining prime waterfront sites in Miami's urban core, Aria Reserve is modern living that infuses the beauty of nature and the sophistication of the city into one masterpiece address. One to four bedroom residences priced from $800,000 to $2M+
Aria Reserve – Developer
The Melo Group has consistently delivered iconic, successful properties with a visionary approach. So their reputation is A+. Projects include, Aria on The Bay, Bayhouse Miami, Melody Towers, Downtown 5th, Art Plaza and others. Any doubts on finishes? visit one of their other projects with us.
Aria Reserve – Architecture & Design
I've already expressed my dislike of the massive wall on Biscayne Bay – it doesn't take into consideration any of the surrounding context and becomes a battle of the tallest on the water (wait….have we not seen this before in Sunny Isles? Hopefully we learned a lesson … "hopefully").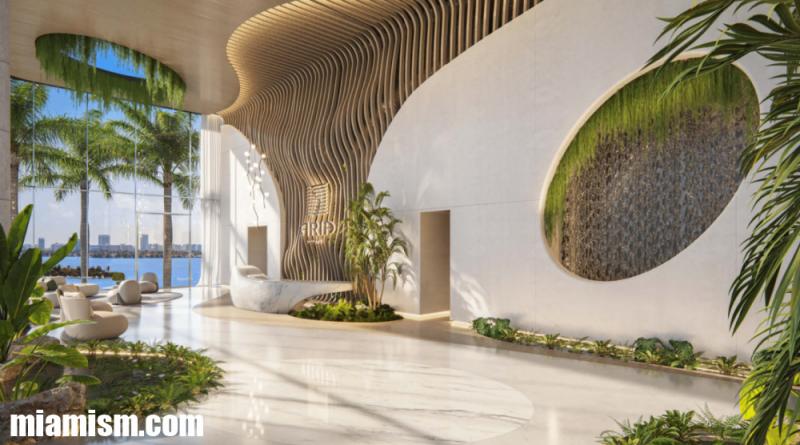 Designed by Arquitectonica (like 1/2 of Miami …some projects are great, some not so much). But with some really positive features. The floor plans are clean and very functional (this is HUGE!!), and there are a few innovative concepts that are super important post-covid: private and semi private foyers to all units, open-air common areas to prevent these from getting shut down, and my favorite… "biophilic design" << perfect marriage of architecture and nature. Are we going back to the 50's? someone please pinch me.
"A new chapter in residential sophistication, upscale atmospheres, Miami living, distinctively different."
Aria Reserve – Features
Definitely innovative features, especially post-covid condo exodus trauma.
Skylobby (private retreat for work and pleasure) – built precisely with today's modern Miami city dweller in mind, the Skylobby is equipped with a full-featured business center, multiple conference and meeting rooms, flex-offices and co-working spaces, and a coffee and refreshments center
Bay Level Amenities: 547 linear feet of baywalk, water sports dock with storage and service, bayview cafe and signature waterfront restaurant, lush gardens, meditation spaces, lounge pools, whirlpool spa, private solarius deck, poolside daybeds with service
Garden Level Amenities: tennis courts, paddle ball, squash courts, basketball, semi-olympic lap pool, poolside cabanas and sundeck, yoga lounge with meditation garden, adult lounge, outdoor BBQ area, kids playground and playroom, teen lounge, party room, private theater, full service spa & fitness center
Why Aria Reserve Miami?
If the above have not convinced you – it's all about the views and location. This one is a winner. (And pricing is better than adjacent projects)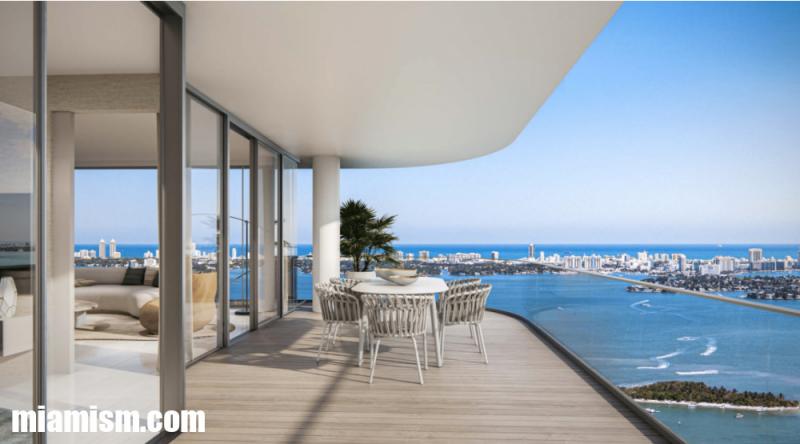 Aria Reserve – Contact information
Want to know more?
For floor plans, brochures, additional info, please contact us. Would be happy to guide you to the best lines, assist you in picking finishes and walking you through the intricate pre-construction buying process.