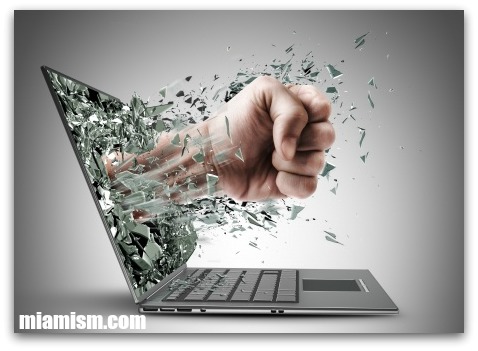 Automated Miami Home Values – Myth or Reality?
Miami Automated Home Values, how they work and why you need to contact a Miami Realtor to verify the value. Miamism Home Value reports are just a tool provided for convenience to give home sellers a quick option at home value. Contact Miamism Sales Team for accurate value reports.
The whole concept of automated home values has become quite controversial. We're talking about automated home valuations provided by real estate portals like Zillow and even our own MiamismTrends.com system. The controversy stems from the question of accuracy and inconsistency. How in the world can an automated system, that pulls public information from tax rolls and other sources, replace the real estate agent?
Automated Home Value Systems will NEVER replace the real estate agent
Well here's the thing, these automated systems will NEVER replace us, real estate agents, but are meant to give you a quick idea of value. These systems give you a ballpark figure that need to be verified by a REALTOR. Think about it, how many times do we find errors on tax rolls? From amount of bedrooms, to square footage, even city and location!! David Howell, executive vice president and chief information officer at McEnearney Associates, criticizes Zillow's Zestimate on his Washington Post article.
As real estate agents, we know that one of our most difficult tasks is pricing a home. That holds true whether we are representing a seller or a buyer. Market pressures change from week to week and from neighborhood to neighborhood. The motivation of the parties is always a factor, as is the condition of a home and those around it. No algorithm, however sophisticated, can quantify the value of a kitchen that was remodeled just before a home was put on the market or a yard that is poorly maintained. It simply isn't possible for any AVM to predict the value of a home with a level of accuracy sufficient to make a housing decision.
Let's get Angry at Automated Home Value Systems
Is it right to get angry at these automated valuations? Is it logical to go out of your way to insult agents and companies that provide these services? That's like asking for someone's opinion and getting angry when they don't agree with you. As a seller, when you interview agents to list your property, do you choose the agent that gives you the highest possible selling price for your home? or are you realistic about the actual value? These systems are created to be a quick convenience that then need to be confirmed and adjusted by a professional real estate agent.
An experience with an Automated Home Value HATER
Let me share a recent experience with a seller that did not like the "automated home value" he received from our system. December 2014 – Mr Seller logs into our MiamismValue.com system out of his own accord and decides to request an automated value of his Miami Shores home. (this is an OPT-IN system) Value comes in at $850,00 The communication goes as follows: MIAMISM: Good morning and Happy Holidays to you and your family, We noticed that you requested a home value report and we want to warn you that the report is automated and we've noticed that waterfront homes, at times, come in low with automation. There have been a few low and high canal-front sales in Miami Shores and price will depend on location within the canal, house condition/updates and of course, condition of seawall and dock. Either way, if you want a more exact figure, we can schedule an appointment at your convenience, to take a quick look at your home. …. SELLER: Hello, You are exactly right about the value of my home as it came up. Very under priced. You should not have a system in place that gives false values to lookers. It can affect drastically my ability to sell my property at the desired price. I don't need a realtor, I was curious, Thanks. MIAMISM: Hi Seller, I appreciate your response, but unfortunately, automation works that way and doesn't take into consideration human factors. It's the reason I e-mailed you personally. Zillow's Zestimate is a perfect example, it still prices your home under $1 million (Zestimate $956,662). Even with the adjusted home value attached, your home has the potential to sell for higher and it all depends on how the property is marketed and who it is marketed to and as I mentioned before, the home's condition and updates, which cannot be considered by an automated system. Best wishes to you and your family, SELLER: You are hereby notified to cease and desist all emails to my account. Failure to do so will result in legal protection on my part. Fast forward 1 week and the house is listed for $995,000 as a "handy-man special" and sells 3 months later at $870,000 (that's $20,000 more than the automated value the seller was so angry with – that's pretty close if you ask me!)
The reality behind Automated Home Values
I went through all this just to prove that Automated home values are not evil and should never be interpreted as an end-all to your actual home value. It's just a tool, one that will give you an idea that you will then have to verify with a REALTOR. It will also give you the opportunity to correct erroneous facts about your home across real estate portals. Take them with a grain of salt and when in doubt, contact us. But most importantly, don't hire a REALTOR because he/she gives you the highest home price for your home. Don't kid yourself, hire the REALTOR you genuinely believe will do the best job.