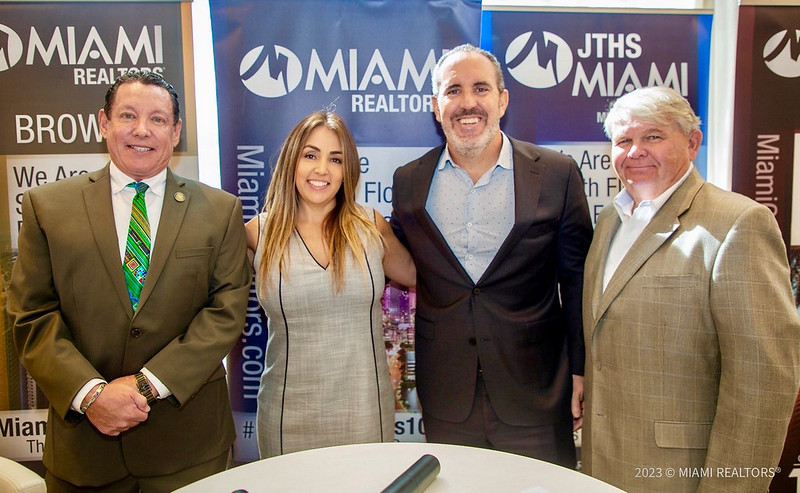 Aventura City Spotlight was a huge success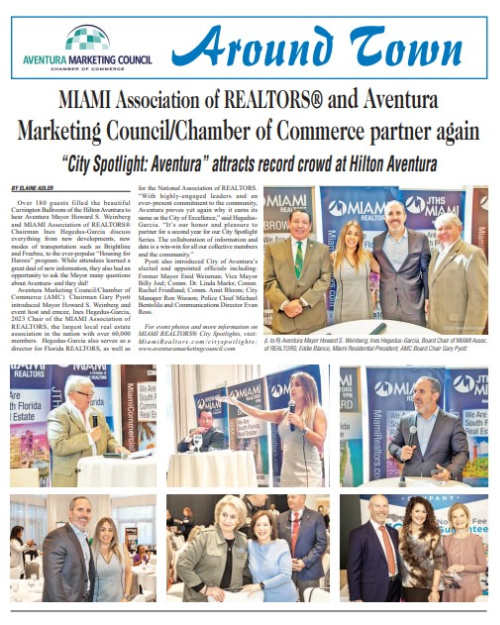 I had the pleasure of interviewing Aventura's Mayor Howard S. Weinberg earlier this month.  The event was organized and hosted by The Miami Association of REALTORS and the Aventura Marketing Council/Chamber and had over 180 people in attendance including Aventura Commissioners, Aventura City Manager, Chief of Police as well as numerous sponsors.
To hear first hand for Mayor Weinberg about what is happening in Aventura was simply priceless.  The event's coverage in the Miami Community News as well as Around Town, the Chamber's newspaper was amazing.
Over 180 guests filled the beautiful Carrington Ballroom of the Hilton Aventura to hear Aventura Mayor Howard S. Weinberg and MIAMI Association of REALTORS® Chairman Ines Hegedus-Garcia discuss everything from new developments, new modes of transportation such as Brightline and Freebee, to the ever-popular "Housing for Heroes" program. While attendees learned a
great deal of new information, they also had an opportunity to ask the Mayor many questions about Aventura- and they did!

Aventura Marketing Council/Chamber of Commerce (AMC) Chairman Gary Pyott introduced Mayor Howard S. Weinberg and event host and emcee, Ines Hegedus-Garcia, 2023 Chair of the MIAMI Association of REALTORS, the largest local real estate association in the nation with over 60,000 members. Hegedus-Garcia also serves as a director for Florida REALTORS, as well as for the National Association of REALTORS. "With highly-engaged leaders and an ever-present commitment to the community, Aventura proves yet again why it earns its name as the City of Excellence," said Hegedus-Garcia. "It's our honor and pleasure to partner for a second year for our City Spotlight Series. The collaboration of information and data is a win-win for all our collective members and the community." Pyott also introduced City of Aventura's elected and appointed officials including: Former Mayor Enid Weisman; Vice Mayor Billy Joel; Comm. Dr. Linda Marks; Comm. Rachel Friedland; Comm. Amit Bloom; City Manager Ron Wasson; Police Chief Michael Bentolila and Communications Director Evan Ross.
These events not only serve to educate the residents, but it shows incredible collaboration between organizations that care about their members and their communities.