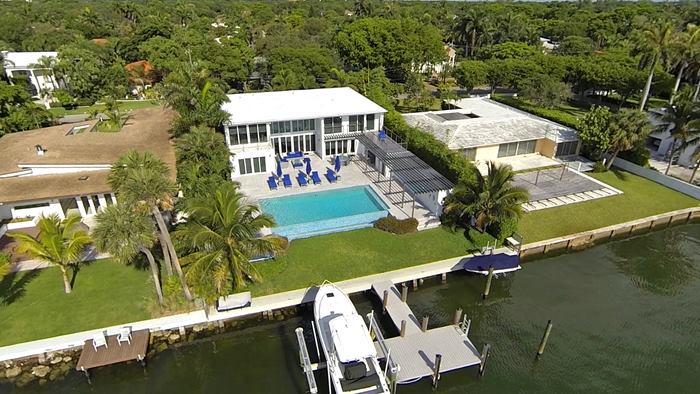 Bayview House For Sale in Miami Shores
SOLD!! RECORD-BREAKING SALE BY MIAMISM SALES TEAM. Property sold for $4.2 Million which is the highest sale recorded in Miami Shores to date both for price and price per square foot. Congratulations to the lucky new owners of this fantastic property!
---
The Miamism Sales Team is thrilled to announce a new Miami Shores home for sale. We're talking contemporary, bay front, and absolutely impeccable! The Bayview House, just 2 doors down from iconic Pink House by Arquitectonica, on the open bay, is the type of property that will leave you in awe – not only because of its size, scale and features, but because of the owner's attention to detail.
Epic contemporary masterpiece offers uninterrupted wide bay views with 80+ feet of water and private dock with 2 boat lifts. Modern design features custom stainless steel staircase, spanish marble floors and soaring floor-to-ceiling impact glass which blend flawlessly with exterior infinity pool and summer kitchen. The "Bayview house" was completely remodeled in 2008 with energy efficiency in mind, has 6 bedrooms, 5.5 bathrooms, security cameras, generator, 3-car garage, and over 5100 sq.ft. of living area. Miami Lifestyle with understated elegance!
9275 N. Bayshore Drive – Miami Shores, FL 33138
Offered at $4,250,000
Miami Shores Bayview House – Location
Let's start by telling you about its location. Miami Shores has very few bay front properties, this inventory is few and in between and these homes are highly desirable. When we say open bay, it's exactly what we mean – miles of unobstructed views. And let's not forget incredible sunrises and your own nature spectacle including dolphins at play and all kinds of sea life.
The Bayview House has 83′ of water frontage, with private dock, 2 boat lifts, and underwater green monster light. The lot is 13,944 square feet and the home has a 3-car garage. Here are some aerial views (gotta love drones!):
Miami Shores Bayview House – Features
This home was originally built in 1958 but was completely gutted and remodeled. Current owners bought it in 2004 in the middle of construction, made some necessary design changes including adding square footage and finished construction in 2008 when they moved in. The actual area of the home, according to the tax roll is 6,322 sq.ft. with an adjusted area of 5,132 sq.ft.
The home has 6 bedrooms and 5.5 bathrooms – 5 bedrooms and 3 bathrooms on the 2nd floor, guest bedroom with bath on the ground floor, powder room for guests also on the ground floor, and a full bathroom by the infinity pool. All windows are impact resistant, all plumbing was updated and so was electrical, roof replaced in 2010 with tapered insulation roof system. It has a custom, stainless steel staircase that sits as a sculptural piece in the middle of the home and from it stem the rest of the space's steel features, complemented by austere, white architecture which serves as perfect backdrop for the endless bay views.
The home also has a natural gas generator which automatically powers on when electricity goes out. The home was designed with energy efficiency in mind which keeps electrical costs low in addition to serving our environment. And let's not forget the summer kitchen and the epitome of Miami lifestyle with pool deck, dock and seawall to watch the most spectacular views South Florida has to offer.
The scale of this home is unique and its setting is fantastic. For more information about what Miami Shores has to offer, including schools, Country Club, Tennis and Golf, please contact us. For more property photos – click HERE. And for more information about this property or to schedule a private showing appointment , please call us or email us at BayviewHouse@miamism.com Imagine yourself here – official Miamism property video of The Bayview House: And complete property photos and information: *7/8/2014