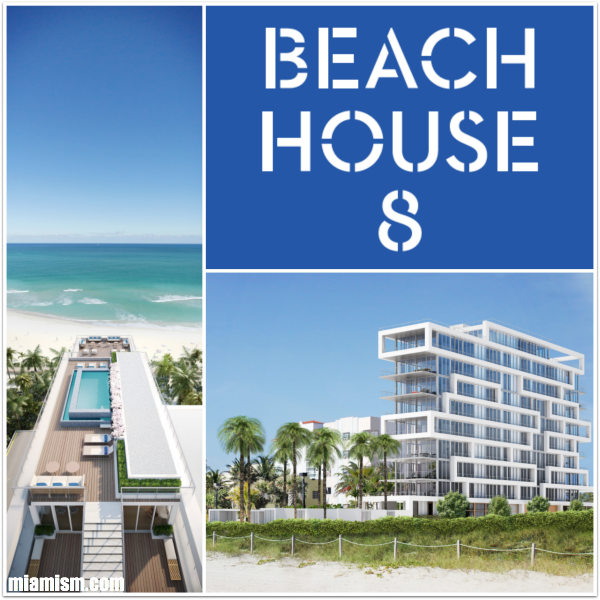 Beach House 8 – Miami Beach Condos
I love unpretentious, low scale projects and Beach House 8 is one of them.  Designed by Arquitectonica and developed by Valerio Morabito from Morabito Properties and Ugo Colombo from CMC Group.  We're talking right on the ocean on Collins and 36th Street and only 8 residences.  The epitome of luxury and exclusivity and to top it off, interiors by Michele Bonan.
Developer Valerio Morabito explains the concept behind Beach House 8,
"I wanted to create the feeling of being in your own space, almost as if you are on the bow of a yacht.  This idea is reflected in every aspect of the building:  the maritime feeling of the sleep interiors, the generous glass surfaces, the long terraces, the light filtering from every corner of the space."
Architect Bernardo Fort-Brescia explains the play on volumes of the facade,
"Unlike the usual Miami high-rise where everything lines up and everything is exactly the same, this facade consists of a series of shifted frames, expressing a series of houses in a very pure and abstract way – shifting as if moving from the water to the land, capturing the wind, all the dynamic movement of Miami, all the energy of the ocean waves."
Beach House 8 Features and Amenities
NY concierge services provided
2 parking spaces for each residence
1 pool-side cabana for each residence
Fitness center with Technogym equipment
Completed terrace floors with stone
75′ pool with jacuzzi
Private pool and beach service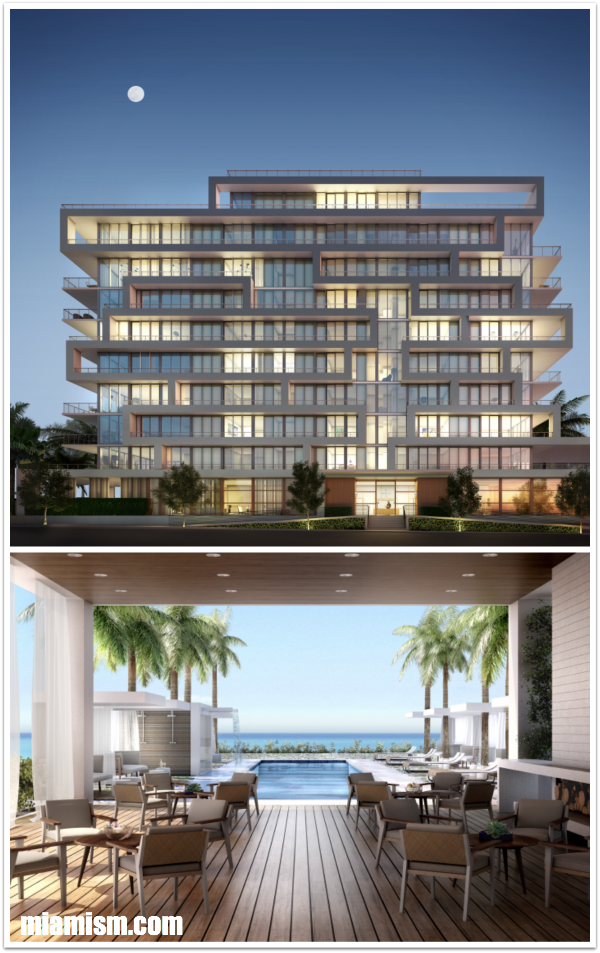 In shared outdoor and lobby areas, elements from wood-paneled drawing rooms to decking finished in Mauritian Teak, from natural-fiber banquettes to dark-blue mosaic tiling in the pool, from the garden waterfall to the airy 14-foot ceilings at the entry – combined with a full suite of concierge services appropriate for cosmopolitan living – all create an atmosphere of both understated elegance and contemporary informality.  Just right for where the city meets the beach.
Beach House 8 residence features
Boffi Kitchens
Marble countertops quarried in Italy for kitchen and baths
Custom made, built out closet systems
Energy efficient LED downlighting in key areas
Lutron Home-Works lighting control system
Creston home automation system with the ability to control audio, video, HVAC, lighting and window treatments
Prewired for motorized window treatments
Prewired for HSIA (high speed internet access)
Prewired for telephones, cable TV and satellite video
Security System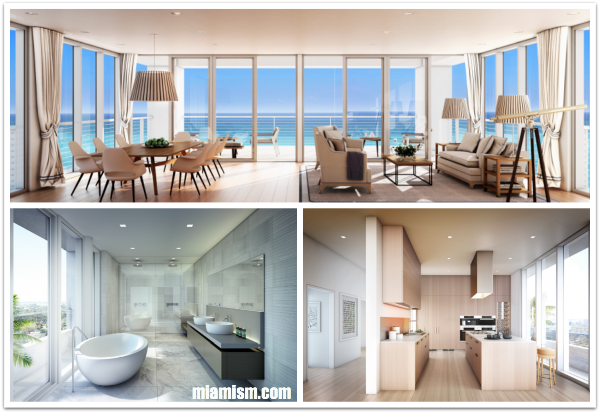 Beach House 8 Price List
Pricing starts at $5.9 Million and residences start at 3,783 sq.ft. (378 meters) with 989-2,899 sq.ft. of exteriors(99 to 290 meters).  The penthouse will have 5,242 sq.ft.(524 meters) with 6,230 sq.ft. exteriors(623 meters).
Accepting deposits now of 10% to guarantee price as well as residence.  Remember that these developments vary in pricing depending on popularity and increase in price upon demand – these prices are valid now and will increase (Don't say we didn't warn you).  We always tell our clients to reserve early since deposits are refundable.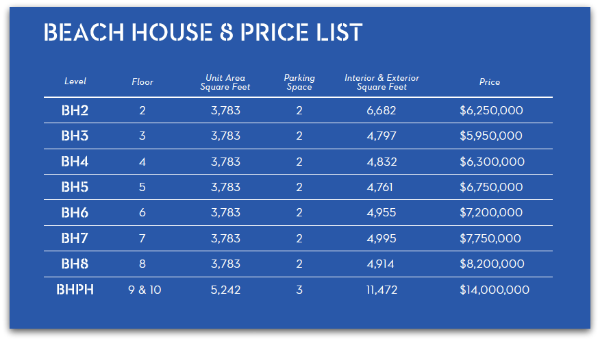 Remember our team is ready to help you with your Beach House 8 Purchase and of course surrounding condos as well. We also have floor plans.  Call us for details 305.758.2323 or beachhouse8@miamism.com
Condo Name:  Beach House 8
Architecture:  Arquitectonica
Developer:  Morabito Properties and CMC Group
Location:  3651 Collins Av – Miami Beach
Contact:  beachhouse8@miamism.com