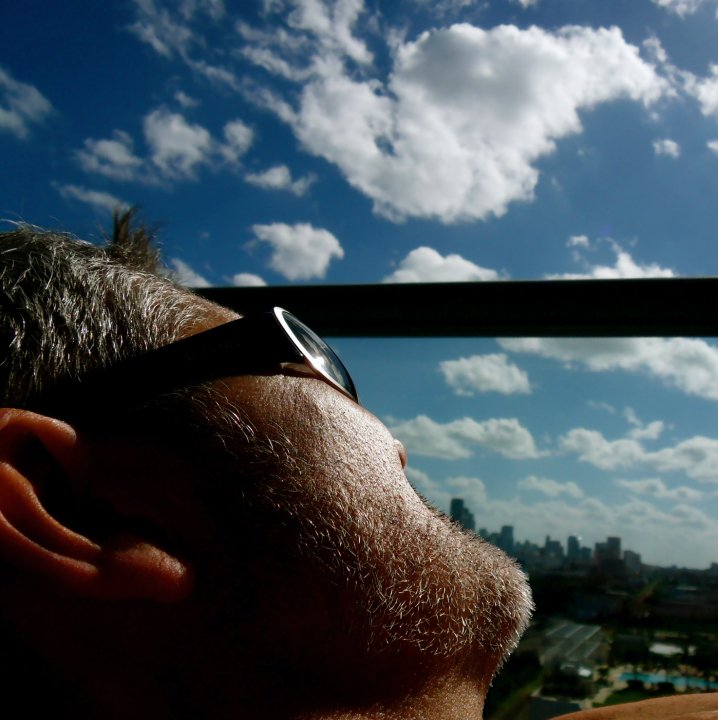 The Berkshires face Miami with Style

One of the best feelings in the world is clicking with our readers and establishing long lasting relationships that you can't put a price on.  Selling Miami Beach real estate may sound like a glamorous job, but a lot of the time is filled with frustration and thankless tasks unless, of course, you are like Ken and Ritch. Would you entrust the job of finding a home to someone you don't get along with or worse yet, someone you feel skeptical about? Finding the right Realtor is no easy task, and it is, after all , a relationship business.  It takes research and asking the right questions to make sure you will find a professional that listens, puts your best interest before theirs, and never forgets your goals. I should make Ken De Loreto and Ritch Holben permanent fixtures here at Miamism.com, you may have seen them in a couple of our Mojito Reviews and even confess that a lot of my articles have been inspired by them. To add to their awesomeness, Home Miami Magazine featured Ken and Ritch in this month's issue, in an article by Dawn Spinner Davis entitled "Living Light:  An Architectural Designer and his Partner Find Mid-Winter Solace in a Modern Midtown Condo". (Too bad it's the last issue of Home Miami, I always thought it was one of the best local publications out there with none other than Beth Dunlop as the magazine's Editor in Chief….even if they cut me out of a couple of their articles … it's all good).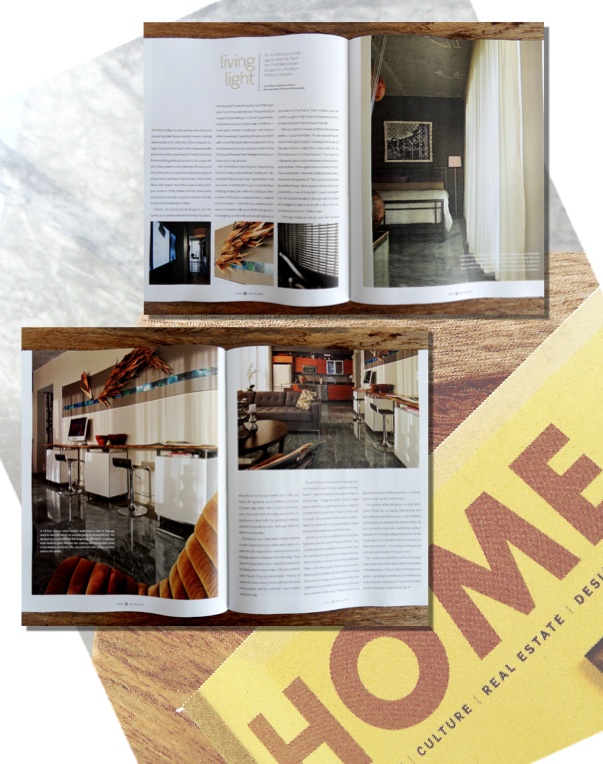 Dawn starts by saying,
Ritch Holben and his partner Ken De Loreto have a fairy tale life:  successful careers, a lasting relationship and a 200-year-old farmhouse, lovingly restored, in the heart of the Massachusetts Berkshires.  With a penchant for horticulture and five exquisite gardens to prove it, the couple relish in their quaint country lifestyle.  Of course, the only downside to a quintessential New England existence is, as Robert Frost wrote, "the woods fill up with snow."  And after a particularly difficult winter in 2009, Holben and De Loreto were seduced by the siren song of a warmer climate and found themselves in Miami.
So I decided to dig through my email archives to find the first communication I had with the dynamic duo, just to see if they had stuck to their original concept; to see if that sparkle of light they had before even setting foot in Miami, had come true.  I had such a huge smile on my face reading through the emails back and forth.  They both knew exactly what they wanted and were great at expressing their needs.  We clicked from the first communications and the rest is a very happy ending, but you be the judge.

If you're to learn anything about this article – know that communicating your likes and dislikes makes to a very happy Realtor/Client relationship, but most importantly, leads to achieving your real estate goals in a more efficient and enjoyable way for everyone.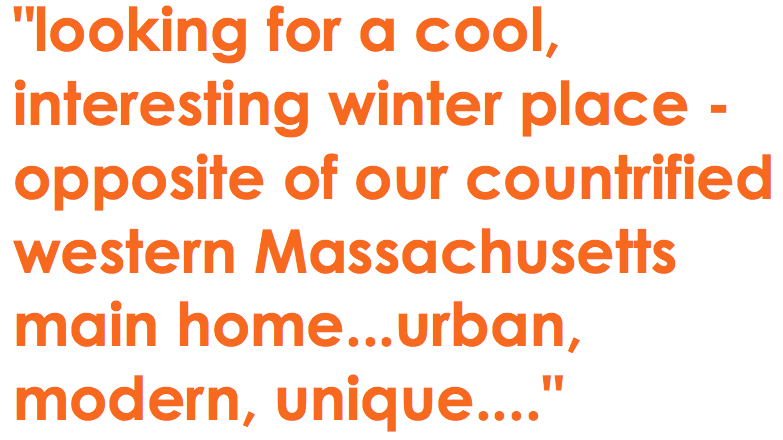 Things we like… Loft, one or 2 bedroom  (flexible) , the more open and the more space, the better.   we are both well over 6′ tall, so height is great. Something that is clean and modern, high rise may be ok, if its not cookie cutter… Love the newer stuff in appearance, very clean, floor to ceiling glass, and all, but also have a soft spot for the classic 60's-70's stuff. Terrace or outdoor space is imperative. We do both cook. A space for a home office would be good.  Ken travels for work, so something that isnt hell to get to the airport would be good. Parking for at least one car.  Pool and workout room seem cool. we have 2 dogs.  They are getting older, so may not be a real limitation, but we tend to like places that are at least dog-friendly…more european that way. water is important…beach or bay, as we live in the beautiful wooded mountains here. Design district, Blue, Neo…..Collins……dont really know Miami well at all  (only been to SoBe for new years….) so are open to advice….a neighborhood feel is important – walk for a coffee in the morning, not car-centric…. Things we dont like… diagonal tile. cookie cutter floor plans and lifestyle dark and musty bright, garish colors and ostentatious..

That first quote still resonates in my head "looking for a cool, interesting winter place – opposite of our countrified western Massachusetts main home…urban, modern, unique…."
TALK ABOUT A REALTOR'S DREAM COME TRUE!!
We went back and forth with listings, descriptions, information and then we had a blast looking at different areas of Miami and tearing different building projects apart.  They were sold on a Midtown one-bedroom unit with a wrap around balcony and just had to be patient with a very long and tedious short sale.  It was a designer ready unit, so they picked finishes, did tons of research to pick the perfect contractor and today the place is magical! Dawn Spinner Davis again (I'm doing a huge injustice to the article by giving you only bits and pieces … maybe they will include it in their website).
Holben, an architectural designer, and De Loreto, a corporate sales and training consultant, were longing for something very much the opposite of what they already had… Keeping the scale of the apartment in mind, the couple set out to find unique yet functional pieces.  "You have to make grand gestures to maximize a small space," says Holben.  These gestures are everywhere.  The closet doors in the entry hallway have been replaced with panels of fabric printed to look like a birch forest.  When guests enter, they are greeted by a row of X-ray light boxes salvaged from St. Cabrini Hospital in Chicago, and they are encouraged to "sign in" on the film.  "It's a form of functional, social art," Holben says. … The couple now spend five months of the year here, flying south after idyllic white Christmases in the Berkshires.  They're still in the honeymoon period – growing tomatoes on Lucite trellises on their wrap-around balcony – but their enchantment is showing no signs of waning."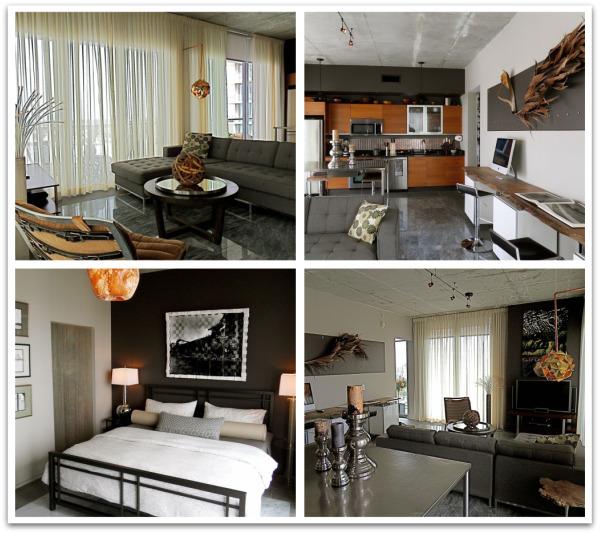 The best part of it all it not just the amazing place, life and home Ken and Ritch have created, but the gift of friendship they have so gracefully presented us with.  And their testimonial which I can't read enough:
It is truly difficult to write a glowing testimonial for Ines and Rick. Why? Well, finding words that are strong enough without sounding clichéd, overused, or trite necessitates an unabridged dictionary. So, we'll err on the side of simplicity. They rock! From the first contact with Ines we were guided with care and compassion. The full story of our recent, successful purchase of a short sale condo in midtown Miami, while appropriate for the Halloween season upon us, is too long and harrowing to recount. However, throughout it all, Ines and Rick were there to keep us calm, encourage our patience, and close the gaps in our knowledge. For example, Ines's clearly stating right up front that 'short sales are long and tough, but if you're patient…' kept us focused and realistic. She never 'sold' anything to us, but rather let us buy. She never forced her perspective on us, but rather shared honest assessment and data for our consideration. She was professional, tireless, and real with us both face-to-face and long-distance. When tough economic reports in the news made us anxious, her insight and intelligence kept us balanced. The process took over five months…five months of little to no movement on the part of the seller's bank, but not Ines. She moved! She was our advocate and communication link while the bank thought about the short sale, misplaced paperwork, thought some more, and passed our offer from level to level, operating as if heavily sedated. The only thing that made us stay with the short sale process, other than perhaps naivete, was the realistic hope that she continued to instill in us (and the desire for warm weather in the Winter, of course.) Completing the picture, Rick offered the detail, humor, and smarts that were needed to help us get the right mechanics moving. If the bank was going to slow this down, Rick and Ines ensured that we wouldn't. So, while we're not ones to gush, in rereading what we've written above about Ines and Rick, we realize it's nearly a love letter. So be it. It's deserved. If you have any choice in the team with whom you work on your real estate search or transaction, the choice is clear and absolute: Rick and Ines. Period.

**all photos copyright© Ritch Holben **