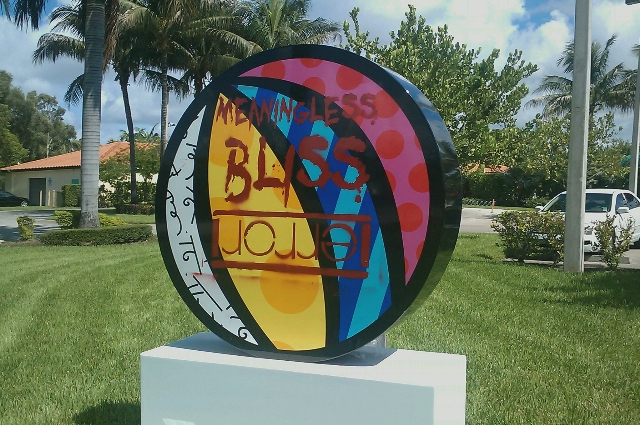 Britto Sculpture Vandalized Again in Miami Shores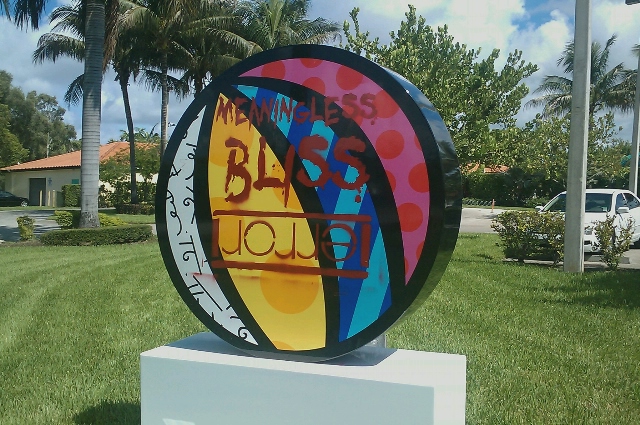 Let me first start by saying that we do NOT condone defacing of private property.  As much as we may have our own personal take on what deserves to be regarded as art, this is no way to express it.
A Britto sculpture by the Miami Shores Country Club pool was found vandalized for a second time today, with the words "Meaningless Bliss" and "error".  It is obvious that someone wants to make a point, but their approach to freedom of expression has crossed the line.
Last month, this same Britto sculpture in Miami Shores was vandalized and we posted a photo on our sister site, MiamismPix.  Needless to say, this caused quite a stir and the Miami art community was not afraid to voice their opinions.
Jordan Melnick, from Beached Miami responds in one of the comments,
"vandalism sucks", and a lot of people consider Britto's omnipresence on the Miami landscape vandalism. Who decided this guy should define the Miami brand? On the other hand, defacing a possession resting squarely on private property — not cool.
A Beached Miami reader by the name of Alma says,
I'm glad.
I'm so sick of his so called art all over the place.
vandalism, who cares. When "art" work it outside in a public or private area there are consequences that it can be damaged either by the weather or by the people, it's part of the art.
The Miami New Times wrote a thought provoking article entitled Britto Sculpture Vandalized With Words "Not Art",
As Miami continues to emerge as a serious art center, the city's infatuation with the colorful yet shallow work of pop artist Romero Britto continues to be a source of embarrassment and frustration for some. Usually that frustration emerges in derogatory jokes or blog comments, but an unknown vandal has taken it a step further.
The Britto controversy will undoubtedly continue, but I wish this tagger would find a better way to voice his/her opinion.