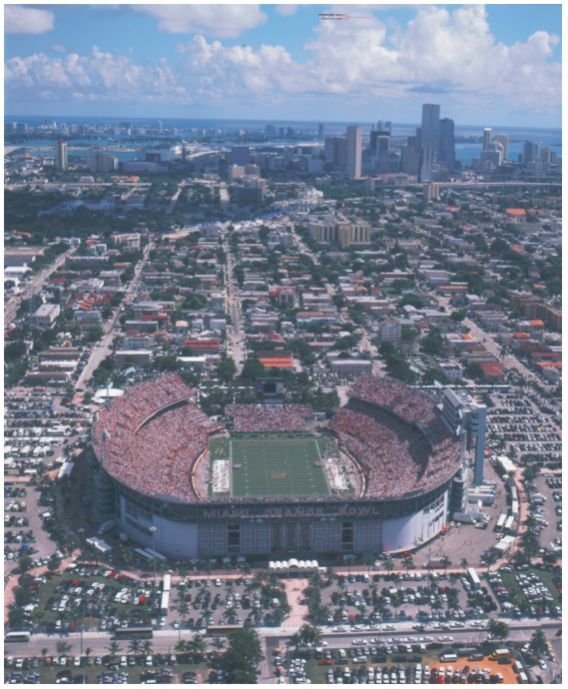 With the grand opening of the new Miami Marlins stadium, I can't help but reminisce about our dear old Orange Bowl. I wanted to bring back this article I wrote back in October of 2007. If you have not seen it, make sure you find the memorial corner in the new stadium with photos of and history of The OB.
---
The news came out at the beginning of this year's Hurricane Football season (for the University of Miami), that this would be the last year they play at The Orange Bowl.
Yes the Orange Bowl is in shambles, yes it is in need of major repairs, but it is THE ORANGE BOWL!! To think of all the games I watched from the student section, from all the times we had to pay exorbitant prices for a parking space to one of the nearby home owners, the fights, the screaming, the canon, the cheerleaders, the band, the beer, the cheering, the laughing….oh the memories.
It had not really sunk in until I read Get It While You Can. Three more games? That's it? I feel really sad and although have only made it to one or two home games as an alumni, to think that this landmark will be gone is overwhelming. ……the victories…..the touch-downs……the pride…….the tears……. What will happen to the Orange Bowl? Nobody knows…..there's talk about building the new Marlin Stadium there. Why does this always happen in Miami? Why can't we maintain our landmarks, are we a disposable society? ……November 10th will be a sad day, the last Hurricane Football Game at The Orange Bowl. Here's some articles on the subject, some controversial, some just plain mean:
The Orange Bowl: Tear It Down!- Stuck on The Palmetto
Scrap the Orange Bowl? Say it isn't so – Miami Vision Blogarama
Save The Orange Bowl
Life moves on living the Orange Bowl behind – The World according to Justin
Adios, OB – Whit Watson Blog
Inside The Orange Bowl – Duke Chronicle
Miami Mayor says Orange Bowl could be Marlins Stadium Site – The Marlins Ballpark News
It was time for Miami to dump that dump – Sporting News
Miami should leave Orange Bowl – Mr. College Football