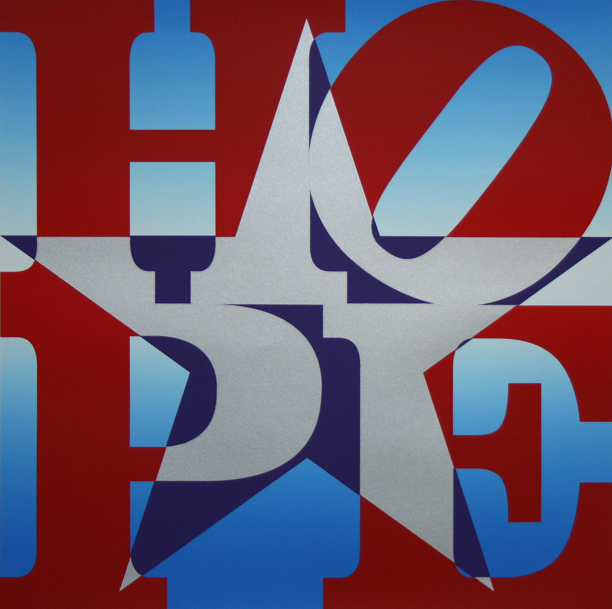 Celebrating Robert Indiana in South Florida
Robert Indiana, world renown pop artist, is turning 85 and South Florida is celebrating him in style!  With the Voices of HOPE exhibition, curated by Howard Rosenbaum and Daniella Sforza at the Rosenbaum Contemporary Gallery in Boca, opening on September 11th, a day our nation can use renewed hope.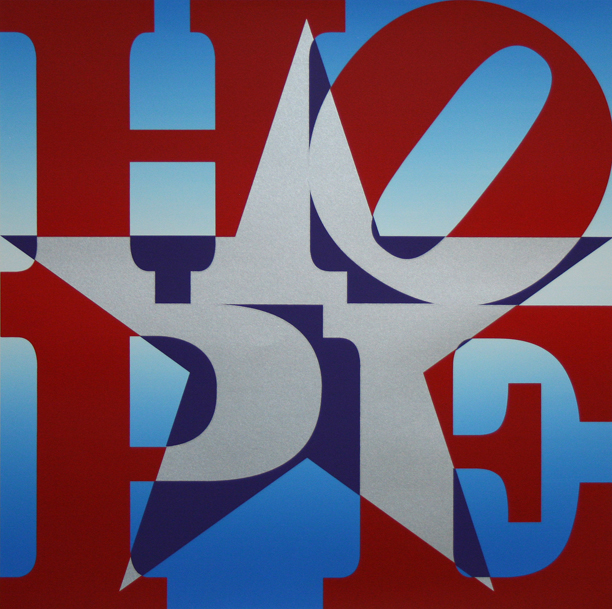 Robert Indiana – Star of HOPE (Red/Silver/Rainbow Roll/Purple) 2013
Silkscreen on Coventry rag paper 29 1/2 x 32 inches – signed and dated by artist
Voices of HOPE: Celebrating Robert Indiana
Will be exhibited from September 11, 2013, to May 30, 2014 at Rosenbaum Contemporary in Boca Raton and will include recent works by this renowned American painter, sculptor and printmaker.  The exhibit will run at the Whitney Museum of American Art as well as the upcoming Indianapolis Museum of Art and opens with a reception from 6-9 PM on September 11th in celebration of Indiana's 85th birthday.
In yet another resurgence of recognition for his prolific work and on the cusp of becoming an octogenarian, Indiana gave us that HOPE with his series initiated in 2008 and represented by Rosenbaum Contemporary since its inception.  In bringing us HOPE, Indiana continues his use of bright colors, clearly defined hard edges, simple formal configurations and monosyllabic words to serve as signposts pointing us to observe American issues and topics, including the socio-political.

As self-defined "sign painter," Indiana has had his finger on the signs of our time as a modern nation.  This is true no less so today as he continues to inspire us with his poignant, and, at the same time, simplistic words; bare, vowel-filled and as basic as the sound of our breath exhaling:  LOVE – HUG – EAT – PEACE – HOPE – DIE – ART, in a never-ending cycle of life fulfilled, circling round in much the same manner as that ever leaning forward "O'.
Rosenbaum Contemporary has extended an invitation to the exhibit and opening reception to Miamism's loyal readers.  Mark your dates for September 11th, 2013 from 6-9 PM at 150 Yamato Road, Boca Raton.  Please RSVP and mention Miamism.com:  rsvp@rosenbaumcontemporary.com