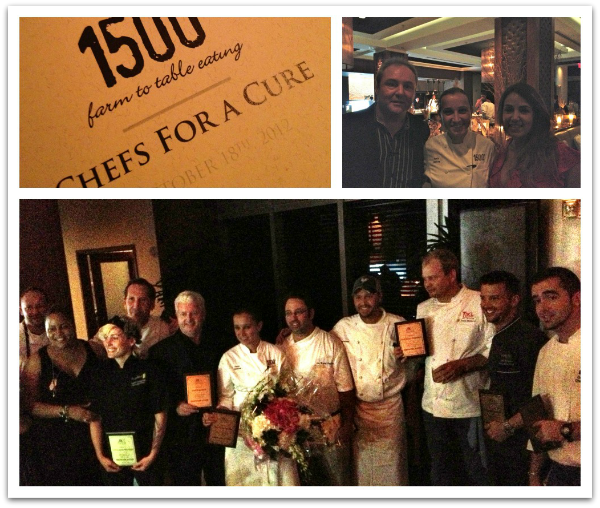 Chefs for a Cure Miami 2012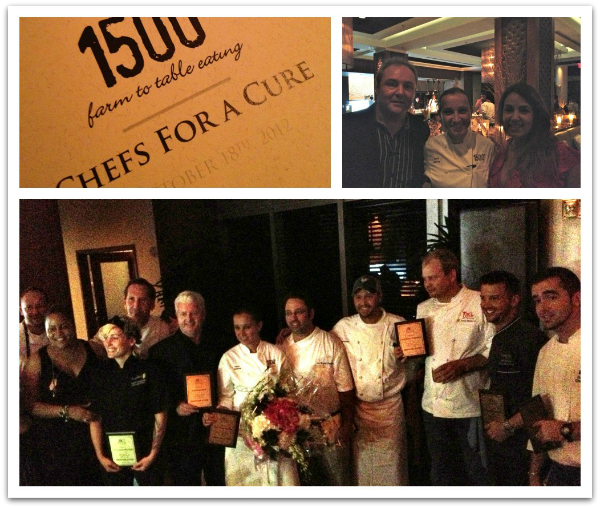 Last night we had the pleasure of attending the Chefs For A Cure Fundraiser at 1500 Degrees, located at The Eden Rock in Miami Beach.  The ambiance was fantastic, with dim lighting, DJ and great food.  The downside is that my photos all came out dark, but I will share them anyways. (so please forgive my poor photography).
Here is the  gist of the event:
Executive chef Paula DaSilva and 1500°, the popular new farm-to-table dining destination in the Eden Roc Renaissance Miami Beach, are hosting the 2nd Annual Chefs for a Cure event on Thursday, October 18, 2012. This exquisite dinner and reception will feature ten stations, each prepared by a stellar line-up of star chefs and paired perfectly with an array of amazing wines. Proceeds will benefit the American Association for Cancer Research (AACR), in honor of DaSilva's close friend who succumbed to the disease. The talented chefs for the evening include Dean Max of 3030 Ocean, Michael Bloise, Todd Erikson of Haven, Michael Reidt of Area 31, Lauren DeShields of Market 17, Simon Stojanovic of Altamare, Roy Villacrusis of The Studio at Bangkok O-Cha, Jeff McInnis of Yardbird, Conor Hanlon of Dutch Miami and Mike Saperstein of Rebel House.

"Chefs for a Cure is a wonderful opportunity to bring incredibly talented chefs together to raise money for cancer research," says DaSilva. "And the American Association for Cancer Research is a wonderful organization to support. In 2010, my dear friend Leah Caputo lost her 11-year battle to breast cancer. I wanted to honor her life by bringing chefs, friends and family together to enjoy two of Leah's favorites – great food and wine – all while continuing to raise awareness and funds for cancer research."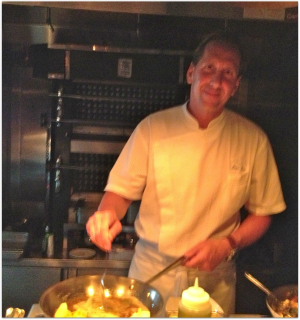 Thank GOD we are carnivores because dishes were as meaty as they get! We are talking short rib, lamb belly, skirt steak, lamb shank, bacon, pork!!  It was delish!  My favorite dish happened to be Chef Dean Max from 3030 Ocean:  Shrimp Ravioli, Red Kuri Puree, Roasted Brussels Sprouts, Crispy Serrano Ham, and Parmesan Bubbles.
What I loved about this fundraiser was the enthusiasm from every chef present.  There was an energy that I have not seen in other similar events and instead of being a chance to promote different restaurants, it was more about the cause.  Of course we will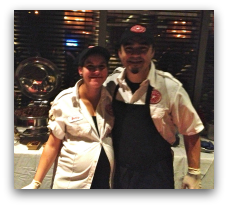 be visiting restaurants we had not heard of, but it was nice to chat to all these celebrity chefs about what they do and what their plans are.
We were super excited to see Chef Michael Bloise from American Noodle Bar there.  He told us that he intends
to open up a  pop-up-restaurant at none other than Blue Collar on Biscayne and 67th Street (where his old restaurant used to be).  It will be a collaboration between him and Chef Daniel Serfer and they will be making announcements soon!

Here are some notable dishes from left to right:
Chef Simon Stojanovic from TIKL – Duck Confit Spring Roll with Korean BBQ Sauce
Chef Lauren Deshields from Market 17 – Hereford Pork Sisig Lettuce Wrap, Chicharon, Pickles, Chillies, Local Quail Egg, Citrus Soy
Chef Jeff McInnis from Yardbird Southern Table and Bar – Tanglewood Farm's Poulet Rouge Chicken Wings Stuffed with Shrimp and House Made Bacon
Chef Conor Hanlon from The Dutch – Beer Steamed Clams with Sauerkraut, Bacon, and Picked Thyme.
We have to give the congeniality award to Chef Conor Hanlon who was witty, personable and funny.  We had never heard of The Dutch, which happens to be at The W South Beach.  And just because of his humor, you can count on us taking a trip to the restaurant.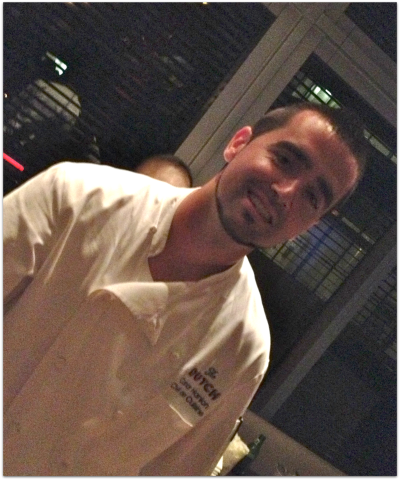 Congratulations to Chef Paula DaSilva and all the amazing chefs present last night.  You all pulled off an incredible event that made me warm and fuzzy.  And let's not forget the people in the background like Marty Clarke (Director of Food and Beverage at Marriott International), who helped make this event a success.  And if you are curious, he is pictured above with yours truly and Chef Paula.
Miami does it again!!  Proud to have been part of it!