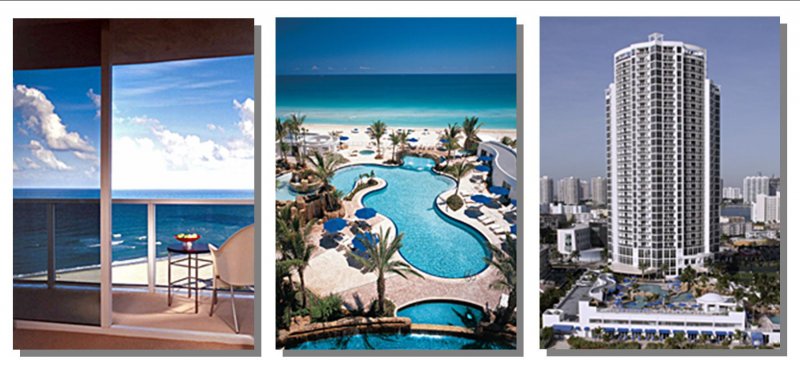 The condo hotel concept within Miami Real Estate and Miami Beach Real estate is an interesting one – one which many people are jumping into because of the big names usually associated with them.  The concept represents a worry-free, luxurious second home in a great vacation destination which generates rent revenue that offsets the cost of ownership.
Condo Hotels are usually luxury, high-rise properties in incredible and desirable locations.  They are built in great vacation destinations near beaches, casinos, theme parks or golf courses.  They are backed and operated by prestigious hospitality companies like Sonesta, Trump, Hilton, Ritz-Carlton, Hyatt and Four Seasons, which makes it desirable for anyone to invest in these type of projects.  They also offer great amenities from full-service spas, fine-dining, resort-style pools and great guest services.  Nothing short of a great luxury vacation get away.
So how does the condo hotel concept work?
You purchase a condo.
You can use your condo unit when you please (usually have to give the hotel a 60 day notice).
Place the condo in the hotel's rental program to receive a portion of the revenue generated.
Be aware that there may be a stay limit depending on the hotel program you choose.
The hotel management company takes care of renting, cleaning and maintaining the unit.
You pay your own property taxes as well as a monthly condo maintenance fees.
Some condo hotels require that you purchase a decoration package if you want to include the unit in the hotel plan. (your unit would look no different than the one next door).
**photos courtesy of www.sonesta.com/SunnyIsles **
There are tons of condo-hotels in Miami, but one of the first that comes to mind is The Trump International Sonesta Beach Resort – now there are 2 names that will impress anyone:  TRUMP and SONESTA…..mix them together and sprinkle a little  "Beach Resort" and the result is the perfect luxurious vacation get away!  Here's Mr. Trump's description of this project:
"Trump International Sonesta Beach Resort is the ideal second home.  Now your family can spend as much time as they want at the beach, catered to in ultra luxury resort hotel style. There's nothing like the comfort and convenience of your own private suite.  You own it 100%.  But we maintain it, along with a life style that's much better than home!  Plus, if you like, we can even include your suite in our professionally managed hotel rental program.  When your not in residence, you can rest assured that our professional team will rent and maintain your second home for you in perfect style.
You'll enjoy impeccable room service, maid service, concierge service, poolside/beachfront service, gourmet restaurant, sparkling Oceanside pool, 20,000 sq. ft. of meeting space and much much more."
other sources for condo- hotels information: