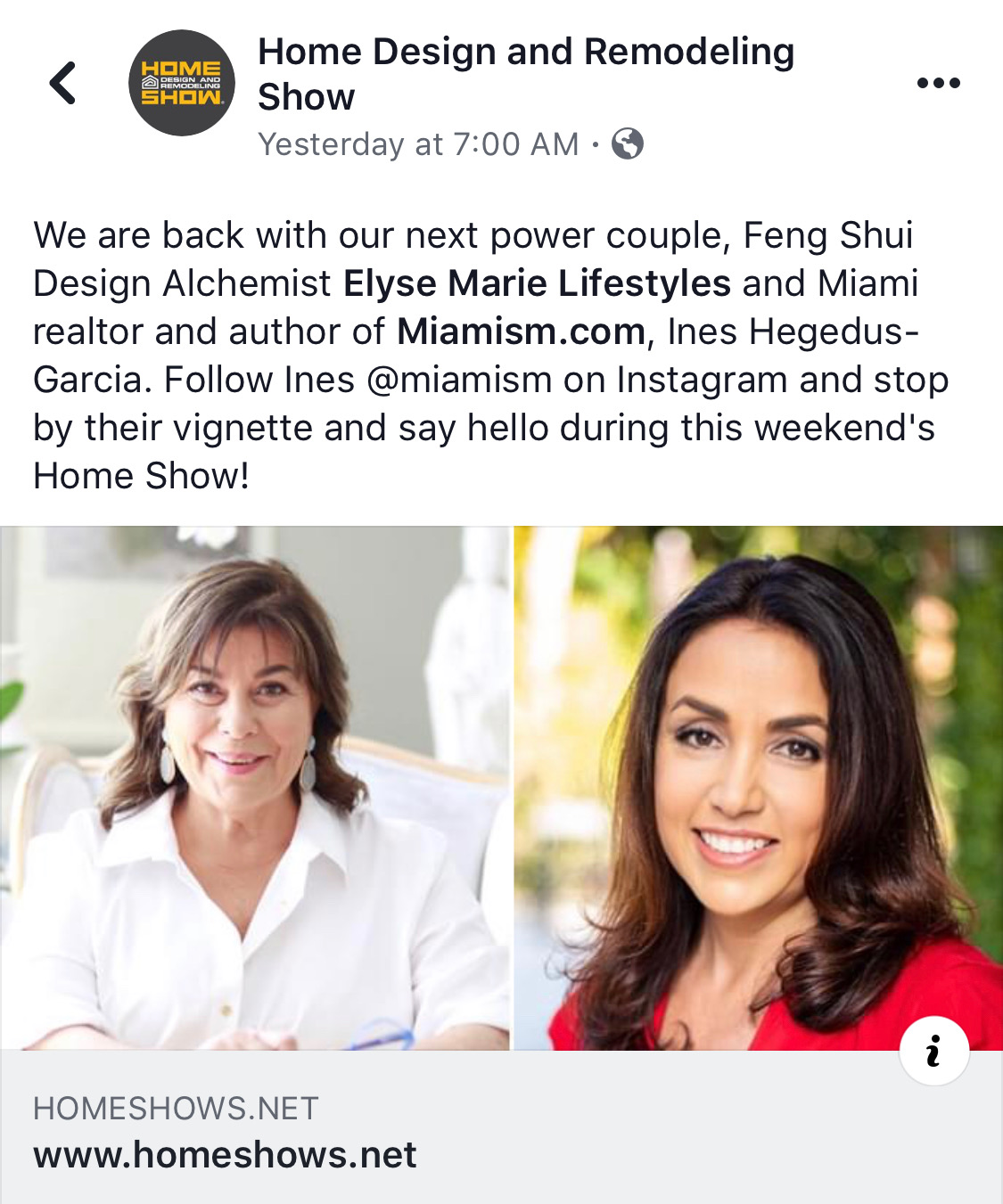 Design Alchemy – Elyse Marie Lifestyles
I recently told you how The Miami Design and Remodeling show paired their featured designers with local bloggers and influencers. These amazing designers were to design a room vignette inspired by the influencer and I was not just honored to be picked, but was paired with the best designer in the show. It was divine intervention << I'm not kidding!!
The Show announced that "Elyse Santoro would design a vignette for Ines Hegedus-Garcia @Miamism" and the end product was simply perfect!
Design Alchemy
In my first article, I explained the premise behind Elyse and Chad's magical approach to interior design:
They are not your common designers looking to make a space beautiful. They are looking for a link between your soul and a space and how to make the space look beautiful but at the same time create a real, tangible connection between space and your feelings. WHOA!!

Let me explain a bit further. Their consultation is not the superficial, "what do you like?" – they go in depth about what makes you feel good, what fills your psyche, and what you'll be able to achieve in that space depending on your psychological and energetic make-up. Sound weird? At first yes, but then you realize how certain materials, colors and even aromas make you feel. These 2 amazing individuals have the ability to control how you will feel in a space based on a deep understanding of your being. << now THAT is interior design … on steroids!!
"intentionally-curated environment that will empower your soul to thrive"
The Big Reveal
Although I can try to describe the process until I'm blue in the face, the room reveal put it all into perspective. Unfortunately, because this design process is so personal, I can talk about it, describe my feelings and show you images, but ultimately, you NEED to experience the feeling behind the final design product.
I walked into my room vignette and got instant goosebumps. I took a deep breath while I soaked up all the intricate details of the room designed for me. It was overwhelming to think that these 2 individuals had the power to affect my being with interior design. I was filled with an undescribable, but at the same time extraordinary serenity. The room had an amazing harmony that drew me in and I did not want to leave. There was no detail left to chance, every corner, every piece of furniture, lighting, painting and finish had a purpose and that purpose was not defined by things. The elements in that room were conduits to my fullfillment, put together by Elyse and Chad after a deep study of me.
Yeah it sounds bizarre, but I believe in universal energy and the thought of being able to hire an Interior Designer that will help you evolve and bring true purpose to your life by your surroundings is more powerful that anything I've experienced in the architecture and design world.
Needless to say, I am thankful for Liza Walton & Lisa Morales for pairing us but I'm eternally thankful to Elyse and Chad for providing an amazing experience. Now call them and hire them!
(And for the record, I'm super bummed out that the room had to come down)