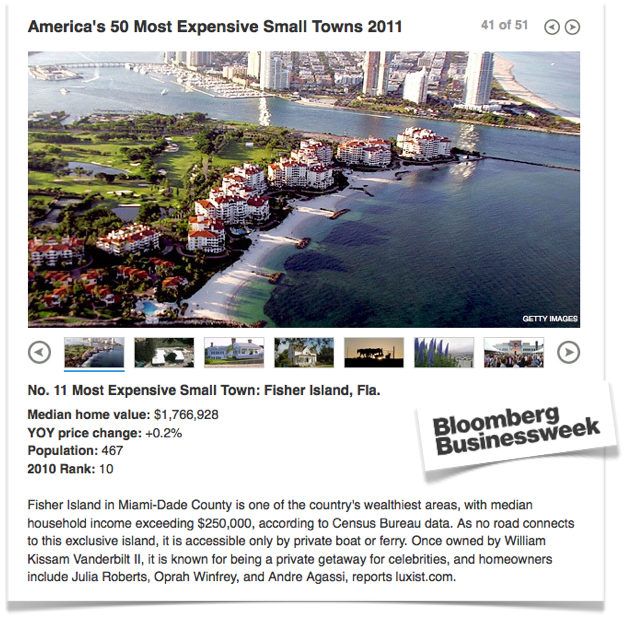 Fisher Island makes Businessweek's "America's 50 Most Expensive Small Towns 2011"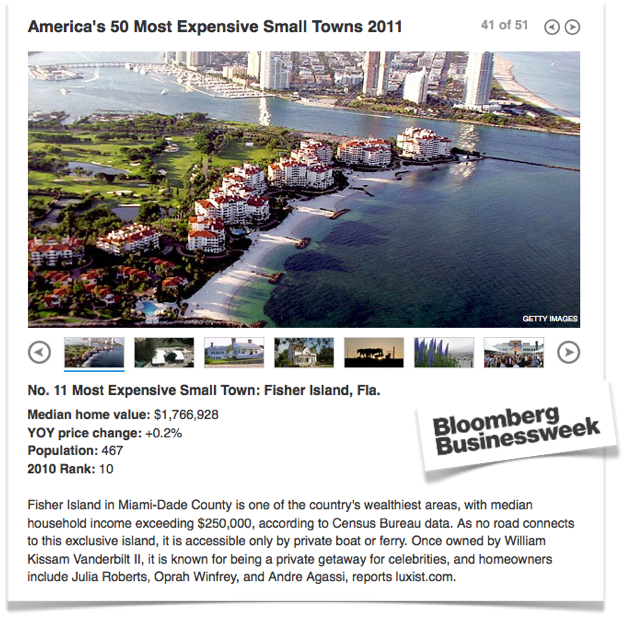 Of course we are not surprised that Fisher Island would make another "American Most Expensive Towns" list, but this time it is in Bloomberg Businessweek.  Vanessa Wong begins by telling us what we already know,
Rich people may like to travel, but like everyone else they want to keep their daily commute as short as possible. So when it comes to buying a home, they want to be close to work, and because they're rich they can pretty much be where they like. But they also like safe neighborhoods, good schools, pretty views, and, if possible, access to beaches and country clubs.
But most importantly, it mentions that values dropped in 33 of the 50 towns with the biggest decline coming from Woodside, California at 15.7%.  Jupiter, Florida, also made the list with values dropping 11.3% from a year ago to just over $2.8 million.
Businessweek also reiterates what we've been telling you here in Miamism, that there have been fewer high-end sales (and this is evidenced nationwide, not just in Miami).
What makes small towns such as Sagaponack attractive is their proximity not just to natural beauty and first-class golf courses but also to other wealthy people. That's why the most expensive small towns often cluster around major financial centers.
Agents across the country reported the following:
"Across the board, everyone brought their homes down 15 percent to 20 percent. Sellers are becoming more realistic"
– Hamptons
"Our really high-end market is almost frozen,"
– Cape Cod
Other Florida towns that made the list were Gulf Stream at 49 and Jupiter at number 2
According to Businessweek's numbers, Fisher Island ranks number 11 in America's 50 Most Expensive Small Towns in 2011 (from number 10 last year), has a Median home value of $1,766,928 and a population of 467.
Fisher Island in Miami-Dade County is one of the country's wealthiest areas, with median household income exceeding $250,000, according to Census Bureau data. As no road connects to this exclusive island, it is accessible only by private boat or ferry. Once owned by William Kissam Vanderbilt II, it is known for being a private getaway for celebrities, and homeowners include Julia Roberts, Oprah Winfrey, and Andre Agassi, reports luxist.com.