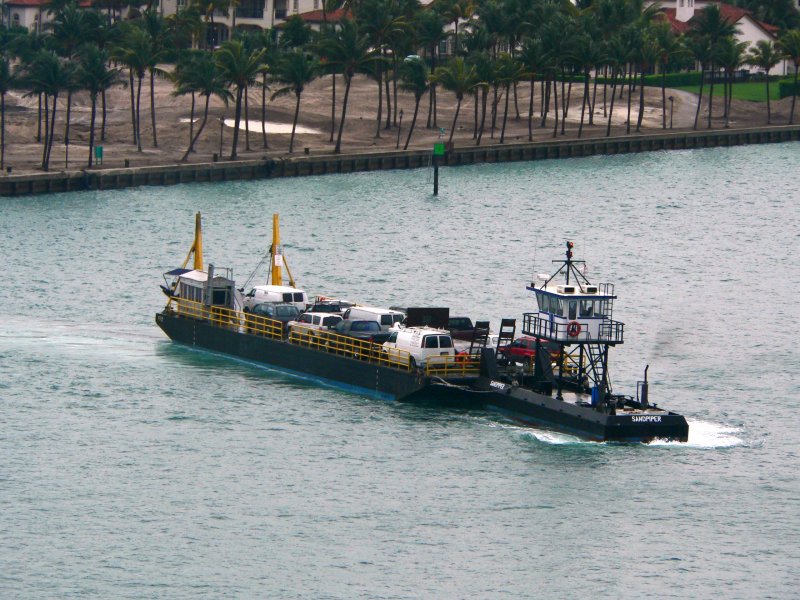 Fisher Island's life line
Fisher Island, the private residential community only accessible by private ferry and helicopter, is looking for op
tions for dock space for their daily barge service that carries food, household supplies and construction materials across the bay.  This daily barge is considered the island's "life line" since it provides residents with everyday necessities and according to Mark James, president of the Fisher Island Community Association, the barge is "essential for our survival".
Fisher Island had a 10-year lease with The Port of Miami, and after not being billed for some years, settled on $1.135 million in port fees.  The Island is now looking for alternatives and has a number of different options at a lower cost, according to the Miami Herald's Article,Fisher Island agrees to $1.135M port fees.
Fisher Island is a private island, once home of The Vanderbilts and later developed as an exclusive luxurious community. Amenities in the island include the Fisher Island Hotel and Resort, A par-35 nine-hole golf course designed by architect P. B. Dye, an 18 court tennis center, a spa and fitness center, 2 world-class deep water marinas, 8 restaurants, A commercial center with a high-end gourmet market and shopping, a polo field, private beaches, The Fisher Island Day School (from Pre-K to 5th grade), large playground for kids of all ages, post office, on-island fire and emergency station, Seaplane, Car-Ferry and helicopter access 24-hours a day.
As for real estate available on Fisher Island right now, there are 63 properties for sale and they range from a 420 square foot studio apartment for $449,000 to a 5 bedroom/5 bathroom Oceanside residence listed for $10.9 million.
Make sure you check out some of Fisher Island's famous residents in this Wikipedia link.