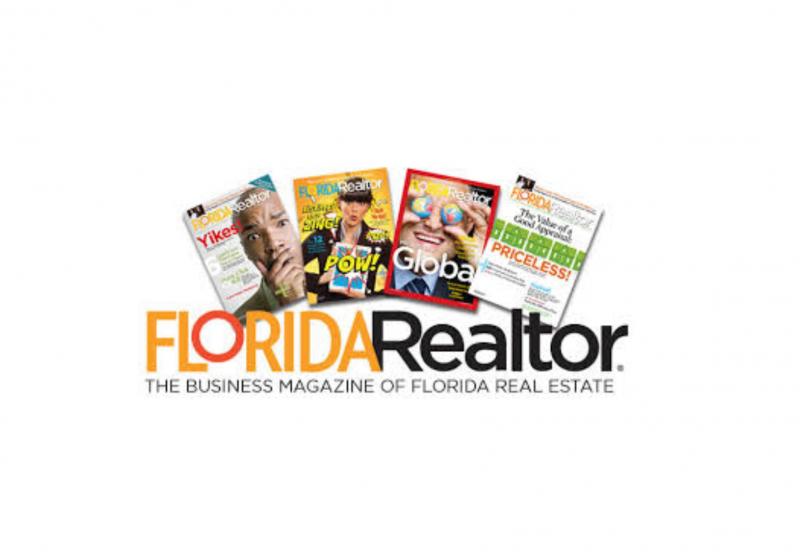 Florida REALTOR Magazine – Virtual Victories: 6 Ways to Excel as a Remote REALTOR
By Angela Kristen Taylor – May 2020 (LINK TO ARTICLE)
These easy-to-use tools can help you run your real estate business and keep in touch with customers without ever being face to face.
"Challenging situations call for creativity," says Ines Hegedus-Garcia, director of strategy and innovation for Avanti Way Realty in Miami. "One of the most important tools to research and become great at is livestreaming, broadcasting, and live and video conferencing."
While face to face is the gold standard, today's health concerns due to the coronavirus, along with government mandates to shelter in place, are putting a damper on those in-person interactions. However, real estate professionals can still reach out and make connections virtually.
And, connections they've made.
According to Jonathan Lickstein, managing broker of LoKation® Real Estate in Pompano Beach, "I've been on several mastermind Zoom video chat sessions with groups of real estate professionals from various companies who are cross-representing the industry and giving tips to each other so we can all service our customers and stay on the right side of things."
It's not too late to learn new ways to serve customers, so they feel comfortable buying and selling. Here are some tips to keep you in front of your customers when you can't actually be in front of them.
1. Schedule virtual meetings.
There are many tools, such as Zoom video conferencing, FaceTime and Skype, to connect with customers. Think: virtual coffee dates to stay in touch with your database, buyer's consultations, listing presentations and updates on newly listed homes to view.
2. Perform open houses and showings online.
"I have been doing more virtual showings," says Jack Lynch, a sales associate with RE/MAX Horizons Realty in Pensacola. There are several ways to go about it. Some agents are walking through the property and live stream it. Others are using virtual tours, offering tutorials on using those tours and encouraging interested buyers to drive by the property to see the neighborhood and the curb appeal. "We are recommending that open houses be hosted as events through Facebook. Then, we'll leverage the Facebook Live feature to have attendees virtually walk through the house," says Lickstein. "We'll guide them through the home like a normal showing—like a live virtual tour. In addition, showings are being conducted by FaceTime or recorded video." While walking through the house, point out interesting elements of the home, such as an updated kitchen or big outdoor patio.
3. Serve through video.
Think about the people you love to serve. What do they have in common outside of being ready to buy or sell? Are they mostly young families, single professionals, growing families or downsizing retirees? What resources can you share with them? When you create content for your ideal client around all their needs, not just the real estate-centric ones, you'll find you build a larger referral base.
"Practice video, and get comfortable behind a screen," says Hegedus-Garcia. "Use Facebook Live, Instagram Live, YouTube Live, IGTV, Periscope and video conferencing platforms. We have the ability to perform remote buyer-and-seller consultations. We can livestream properties without risking sickness or exposure. Take the time to learn, practice and take your business to the next level."
Record weekly updates that show how you are handling real estate while social distancing. Post updates of all the restaurants serving to-go options. Post all your content to your social media channels and send to your database. "We've put ourselves out as the 'Source of the Resource' for any needs that we can help within reason. We want to show our community that we genuinely care about them," says Robin Raiff, team leader of Robin Raiff Team, powered by eXp Realty in Indian River County.
4. Showcase your community.
Think of everything your community has to offer from parks and recreation to education, organizations and entertainment. Now may not be the time to walk into these establishments, but it's an ideal time to meet with small-business owners, community leaders and local residents online with a virtual interview. You can do this using the Zoom conferencing record option. It will record the screen and audio, showing you interviewing the business owner. Allow them to show and tell with pictures and websites. This gives you great content to attract relocating buyers to your area. In a time when small businesses are not getting the foot traffic they're used to, you could be giving them the opportunity to build their business through online sales.
5. Coordinate community resource sharing.
Use community forums like Nextdoor and your local network to coordinate sharing of resources. Who needs food? Who needs paper supplies? Who has them in abundance? Who can provide a service to assist others? "Someone in my local community started a Facebook page called Rally Around Our Restaurants and has been encouraging people to remember our family-owned restaurants," says Janelle Pruitt, a sales associate with CENTURY 21 Real Estate in Auburndale.
Understanding the needs of your local community and knowing those who have offerings put you in the position to become the authority on connecting and serving at a high level. "I've adopted two elderly ladies at my church. Once our pastor temporarily closed our doors, I call on Miss Kay and Miss Peggy every couple of days to make sure they have everything they needed. I offer to shop or cook for them, and brighten their days with smile-filled conversation, no matter how short," says Holly Marth, a sales associate with RockStar Realty in Fort Myers.
6. Stay in touch with your database.
Now is the time to be reaching out to your personal database weekly to keep them abreast of any opportunities in your local area. Start by contacting everyone in your database to check on them and their current status. "A new meaning of LIVE WORK PLAY," says Ron Donofrio, a Coral Springs-based real estate instructor and broker with Florida Brokers Realty Inc. "Contact your sphere of influence, family, friends and neighbors, as well as current and past customers just to check in on them and see how they're handling the current crisis. No need to chat about real estate, it's implied."
Staying in touch has never been more important, and today's situation just brings us more opportunities to serve our clients and potential clients at a very high level. It's merely a shift in how you connect. #
Angela Kristen Taylor is an integrative productivity expert. She is the CEO and founder of Productive Souls, a coaching company.