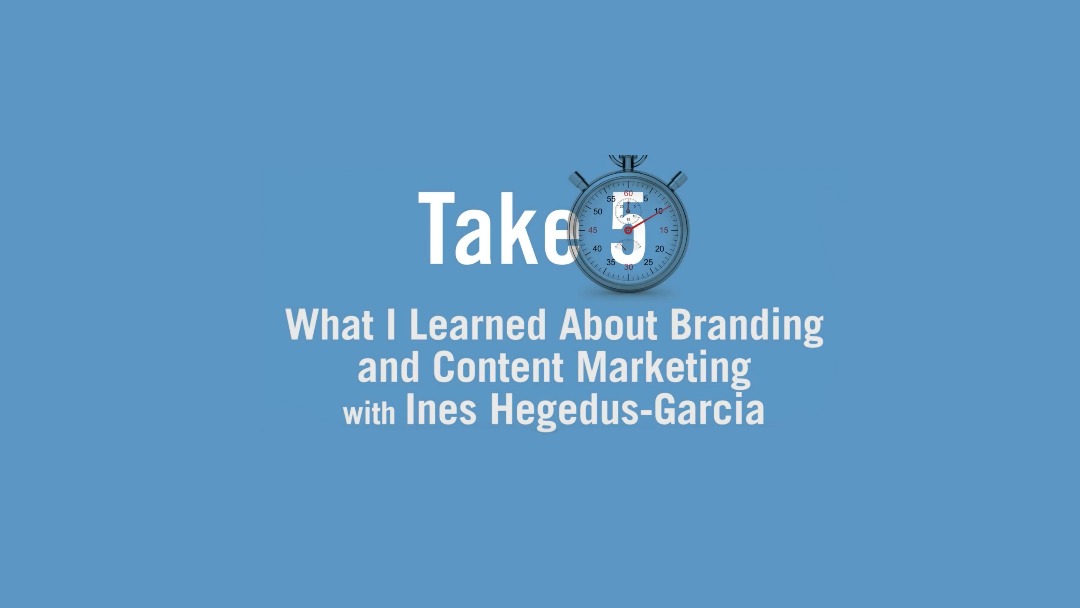 Florida Realtors Take 5 Videos featuring Miamism Sales Team Founder, Ines Hegedus-Garcia
I was recently honored to be asked to participate in Florida Realtors Take 5 Video series. Not only was I able to share my knowledge and expertise with fellow Realtors, but I also became part of a special group of industry professionals who make up the Take 5 video library – industry leaders willing to help our industry thrive!
Florida Realtors Take 5 Videos are interviews of industry experts and top producing Realtors in Florida, sharing their knowledge and expertise to help colleagues in the industry. These videos provide solutions, strategies and ideas to take REALTORS' businesses to the next level.
We truly believe that it is key to give back in order to receive, and having awesome customers comes from our willingness to share. Thank you for always reading.
Ines Hegedus-Garcia: What I've learned about branding and content management
When my husband Enrique and I first started our real estate team, we branded ourselves like everyone else does—using our names and making it all about us. It didn't feel right.
I'm Ines Hegedus-Garcia, a Realtor® with Related ISG International Realty in Miami. Let's take five minutes to talk about the branding that did work and how I tie it into my social media and blog.
Within two years of starting our team, Enrique and I realized that our brand was self-serving and told people about us but didn't tell people about the area we served. That's when we came up with the concept of Miamism. We decided our brand would be focused on marketing Miami's lifestyle, with an emphasis on architecture and historic preservation. I have a bachelors of architecture and our brand became more client-focused, telling prospective buyers and sellers what we do and what we are selling.
That was 12 years ago. Now, I get invited by Realtor® associations around the country, including the National Association of Realtors, to talk about marketing and branding. Here's how we took our branding to the next level.
First, we had a clear idea of the image we wanted to portray through Miamism. For your brand to work and expand, you must be clear about what it means. We focused on Miami's way of life. So, look at what defines your brand and your approach. Many agents create a brand without much thought. We also made that mistake in the beginning. Once you have that clear, you have to do more than slap a logo on all of your marketing pieces. You must focus on putting that message out through different platforms, such as social media and/or your website, which in our case, is our blog.
Next, we immersed ourselves in social media, including blogging. At the time, it was a down market, and we realized we were spending way too much money on traditional marketing and were not getting the results we wanted. I decided to test the waters with a blog. Twelve years later, the blog gets over 1000 views each week and my posts have gotten picked up by Forbes, The New York Times, The Wall Street Journal and other major media publications. Articles focus on news about Miami, fun things to do around town, Miami architecture and market reports for different communities around the city. I promote the posts on social media, mainly on Facebook and Twitter, to drive people to my website. Remember, be authentic. Copying someone else's strategy is not the route to go.
Also, hire the right people to design your blog. It may be easy to create your own blog site with a template, but you can save yourself a lot of trouble on the back end if you hire someone who can customize your website, for your brand. Also, I had my designer incorporate many of the search engine optimization elements so when I publish a blog post, I don't have to worry about SEO.
Next, be consistent. Choose one or two social media platforms and post on a regular basis. Right now, our platforms of choice are Facebook and Instagram. Since Instagram is visual, I use it to post interesting photos of Miami architecture and Miami Lifestyle. On Facebook, I post two or three times a day. On our blog, our market reports get the most engagement. Remember, you have different audiences on each social media platform. What works on one doesn't always work on another. You must test it and watch your analytics to determine which posts garner the most interest. I also use different types of Facebook Ads and test different types of audiences and placements to determine which get better results.
I write all my own blog posts, but I realize that writing is not for everyone. However, it's still all about your voice. Your blog and social media posts should be conversational and short. I write posts so that people can scan them and get the gist of the story. If you have someone else writing for you, make sure you edit it to bring your voice into the story. The beauty of blogging is that after many years, I have a library of content to recycle.
The key to building your brand through blogging and social media is to ask yourself, Does this story build on my brand? Then, don't be afraid to test different ideas and social media platforms. Give each platform at least six months before you give up on it. And, take the time to fill your blog with content that matters to your prospective buyers and sellers. It will pay off in the end.
**published 8/21/18