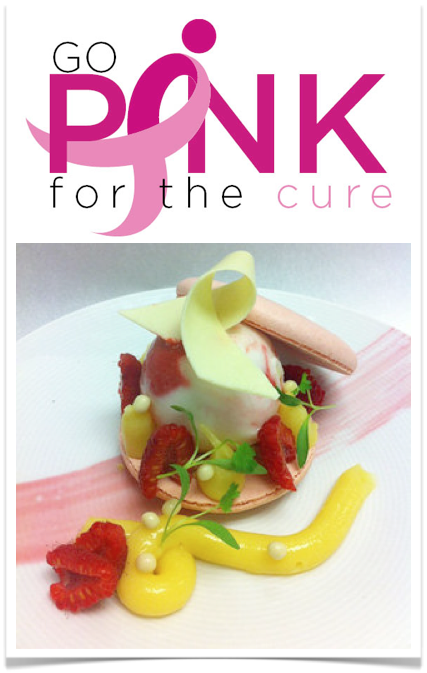 Go Pink for the cure – db Bistro Moderne joins in with dessert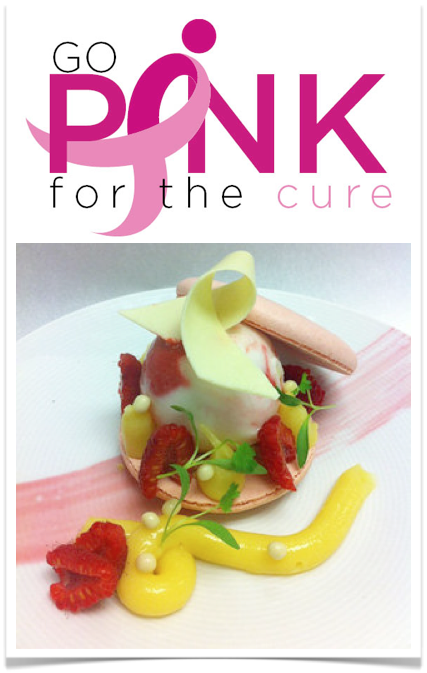 What a pleasant surprise, after having an amazing dinner at db Bistro Moderne, to be offered a "pink" dessert to benefit The National Breast Cancer Foundation.  Of course we had to have it and did a little digging to see what exactly this was about.  They brought us a flyer with the dessert that reads:
Month of October, Breast Cancer Awareness Month

Think pink at db Bistro Moderne and indulge in Chef Jerome's inspiring Frozen Macaron paired with a refreshing Guanabana Rose/ RaspberrySorbet and Lemon Curd.

During the month of October, the Pastry Teams at Chef Daniel Boulud's DB Bistro Moderne, Miami & Cafe Bouloud Palm Beach have created a delectable pink dessert in support of Susan G. Komen for the Cure.  The Frozan Macaron features refreshing Guanabana-Rose & Raspberry Sorbet framed between Two Pink Macarons Cookies accompanied with Lemon Curd.  The sweetest part of course is that db Bistro Moderne & Cafe Boulud will donate a portion of proceeds from the dessert to Susan G. Komen for the Cure.
I hate to link the Miami Herald because they archive their articles and links go dead after a few days, but were exstatic to find out that there are other restaurants joining in this great cause.  As per The Miami Herald:
Think pink: Rocco's, db Bistro, 1500 Degrees, Fontainebleau

•  Gotham Steak, Hakkasan and Scarpetta at the Fontainebleau Miami Beach, 4441 Collins Ave., Miami Beach, are offering three-course "Dine for the Cure" dinner menus Sundays through Thursdays in October with a portion of the $45 price going to Susan G. Komen for the Cure; 877-326-7412.

•  Rocco's Tacos & Tequila Bar, 1313 E. Las Olas Blvd., Fort Lauderdale, is back with Tacos and Tatas Tuesdays through October: all-day, all-you-can-eat tacos for $14.99 plus $3 Mexican beers, $5 tequila drinks and $15 margarita pitchers beginning at 7 p.m., with a portion of the proceeds going to Susan G. Komen for the Cure; 954-524-9550.

• Executive chef Paula DaSilva hosts the second annual Chefs for a Cure Dinner at 7 p.m. Oct. 18 at 1500 Degrees at the Eden Roc Renaissance, 4525 Collins Ave., Miami Beach. Tickets are $80 each, $150 a pair at aacr.ticketbud.com/chefsforacure; 850-668-2222.
Hats off Miami!! So glad to see good restaurants and great chefs thinking outside the box to contribute to the fight against cancer!