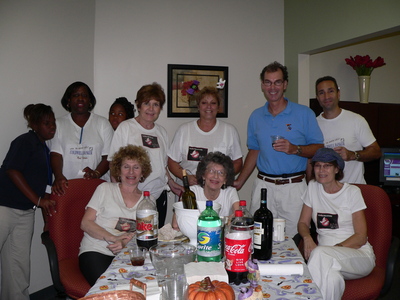 Halloween Howl in Miami Shores
Every year, the Village of Miami Shores sponsors a Halloween event that brings in people from everywhere around Miami.  Our main street in downtown Miami Shores is blocked off (NE 2nd Avenue) from 95th street to 103rd street and the local community sets up booths and sponsors rides for kids in the area.  There are some carnival rides, jump houses and obstacle courses as well as a center stage where a Halloween Costume Contest takes place.  Over 2,000 people visit this event held between 5:00 and 8:00 PM on October 31 every year, and it's a great place to see our community in action, working together and enjoying themselves.
This year, Coldwell Banker's theme was Ghostbusters and we wore t-shirts that read "Who are you gonna call??—Coldwell Banker!" The giveaways included fans for the hot parents, candy, glow bracelets and small toys.  Coldwell Banker also sponsored a raffle of a motorized boogie/surf board with proceeds going to the Cares Foundation.