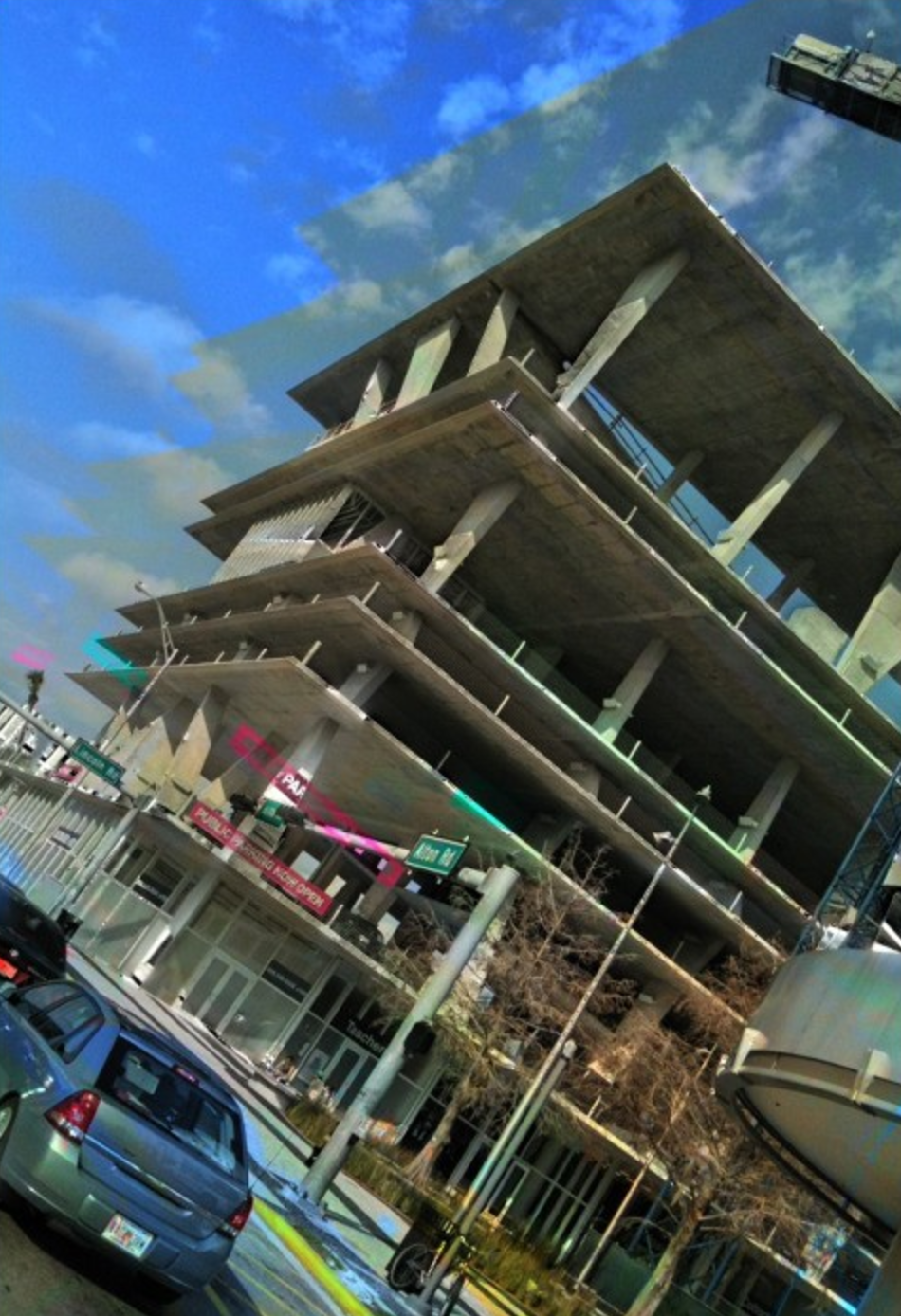 Herzog & de Meuron architecture in South Beach
Throwback to 2010 – and yes… 1111 is an icon that has been accepted into our landscape!! Bravo to the nay sayers!
I just finished filming for a documentary about Miami by a Canadian TV show and of course I had to talk about 11 11 Lincoln Road. When I got back in my office, had an email from executive producer for DigiVision Productions with this video ….so let this article come back to life!
eleven eleven | Elizabeth Priore from Focus Forward Films on Vimeo.
Let's get this out of the way first:  I'm a fan of Herzog & de Meuron, I'm also a fan of landscape architect Raymond Jungles, and I totally get the "landmark" concept of Robert Wennett.  Now let's get to Eleven Eleven Lincoln Road. We've all been seeing this building going up in the past few months and for me it has had mixed emotions (very similar to those associated with Frank Gehry's New World Symphony Campus).  Emotions of confusion, excitement, wonderment, curiosity.  Is it a parking lot looking structure with all kinds of funky things integrated in the mix?  Is is chaos amongst the landscape?  Will it bring sense to Morris Lapidus mid-century architectural follies all over Lincoln Road? To understand the building, I think it's crucial to see the creator's concept video:youtube://v/4TvdB2VmcIg 11 11 Lincoln Road is described by architect Jackques Herzog as
pure Miami Beach – "all muscle without cloth".  Each level of the sculptural parking facility is filled with natural light, creating successively striking vistas of the city.  At its base, the retail spaces offer unobstructed access to  newly transformed public space
Once you see the video and hear Herzog's vision, then you start to understand the naked parking-lot looking structure.  It's supposed to be sculptural (very much like Lapidus' follies). It's supposed to strip down the architecture core and make itself susceptible to tough Miami Beach critics.
Aaaaaah! but here's the thing….many will get the concept, but will they buy it? We can't deny the raw nature of the space, the urban context was respected, and the transition to Lincoln Road with Jungle's hardscaping is genius – this segment of Lincoln Road will be more than just the movie theater now and will come to life like never before.
I can't stop thinking what would have happened if I would have presented a project like this while in architecture school at UM – I would have been laughed off the design floor and my professors would have told me to go back to the drawing board and actually "finish" the project.
It's ironic how the more successful architects have managed to marry function and form while shutting mouths of the most respected figures out there.  It definitely makes me smile.
The building, although not yet finished, has already began integrating with South Beach. To my surprise, the whole process has been very well orchestrated. Kudos to Miami Beach.  To me it's still a bit chaotic and hope it will make more sense as it gets close to completion.
I do love the fact that well renowned architects are finally getting a piece of the Miami architecture puzzle.
**UPDATE – just read this article by Rowan Moore of the Observer (a UK perspective).  Great take on the objective of Wennett and Herzog & de Meuron – 1111 Lincoln Road, Miami, Florida; Leighton House, London *
*original article published on March 10, 2010*