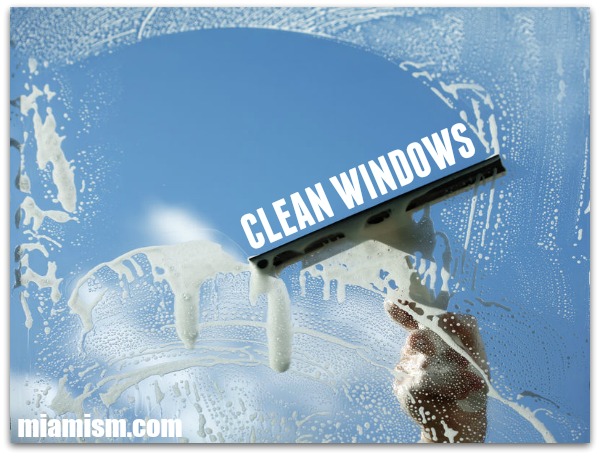 Home Tips from Miamism – clean windows
GLASS GLASS GLASS!! How we love glass in Miami!! From floor to ceiling doors, to panoramic windows, clear atriums and even skylights. But what good are these if you can't see out of them?
Most of us love to a spick-and-spam home, one that is spotless and smells great. In real estate, it is especially important for your home to be clean when showing to prospective buyers, it is one of the most important pieces of advice we can give our clients before listing their Miami home for sale.
But what about windows? Miami is all about views and most homes have amazing views of the water or gardens, with floor to ceiling glass in a lot of cases. No matter what style home you have, windows must be clean when you are selling and this can be challenging in our climate with the humidity and rain.
I was so happy to see an article by Bonnie McCarthy on Houzz – Here's the gist of it, but make sure to read the article to get to the good stuff.
Window Cleaning Process
Whether you do it, hire a company or just supervise the job, here are some great tips from window cleaning specialists.
Ditch prepackaged bottled cleansers and mix up a solution of warm water with a small squirt of dish soap. Usually just a drop or two per gallon will do it, then grab a sponge and scrub down the windows, making sure to get into the corners and the creases and crevices of the window. Next, clear away the solution with a squeegee and wipe dry with a clean towel. For exceptionally grimy windows, add some vinegar or ammonia to the solution. If you've really got buildup, vinegar will cut through grease and grime. Next, squeegee away the excess, wiping down the squeegee with a soft cloth or clean rag every couple of strokes. For a large window, wipe down the squeegee after a single large stroke; with smaller window panes (using a much smaller squeegee), wipe it dry after every couple of strokes. To get rid of any streaks after squeegeeing and make your windows shine, Lewis suggests using a dry cloth or (yes, Mom), even newspaper.
Professional Window Cleaning
This will probably apply to most of us because who has time to clean windows? (and even if you do have time, who wants to clean windows?)
If you're hiring a window-cleaning crew, make sure they are insured and bonded and have good reviews. Dorn recommends checking to see how long the service has been in business. I would go with a legitimate outfit and not just somebody working out of the back of their truck.
Make sure you ask the window company about the cleaning process. Most will not clean tracks or will not guarantee streak-free windows. Remember that the goal is to be able to focus on the views without even noticing the windows and the last thing you need is scratched glass. If you have other window cleaning tips, feel free to share on the comment section. As always, we look forward to visiting your home for a no obligation listing appointment. Remember to visit MiamismValue.com for a quick, automated valuation of your home.