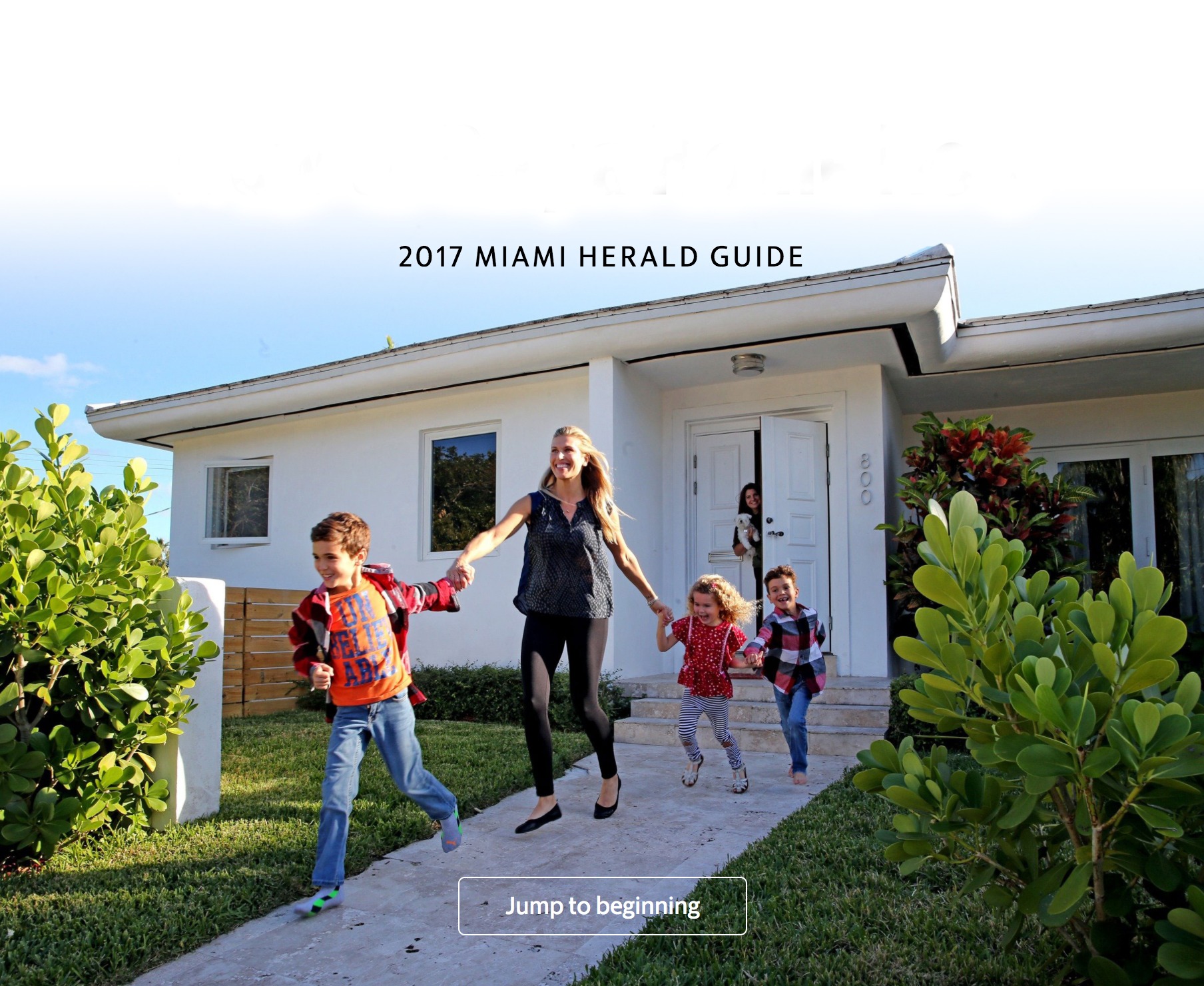 How to Buy a Home Now – 2017 Miami Herald Guide
The Miami Herald recently reached out to us because they were preparing a story on How to Buy a Home Now in Miami. Their premise was that some neighborhoods are split between ZIP Codes and attractive areas can get lost. They wanted to highlight lesser-known neighborhoods that appeal to different types of buyers and that's where we came in.
Shayne Benowitz, journalist extraordinaire, interviewed me while we toured 3 of these "lesser-known, attractive neighborhoods" – El Portal, Surfside and North Bay Village. I was thrilled that she was even able to interview some dear clients as well.
When it comes to analyzing the market, realtor Ines Hegedus-Garcia explains, "You can't grab all of Miami-Dade and generalize prices and trends. You also can't compare condos to single family homes. You have to go hyper local. Each neighborhood holds an analysis of what's going on."
Sincere thanks go out to the Miami Herald and staff for publishing relevant and useful information and getting the word out about these amazing neighborhoods.
In Surfside, a small-town feel right beside the sea
The Surfside story featured clients Evie and Diego, who we sold a house to and absolutely love the area.
"It has a small town feel even though you're in the middle of Miami. I feel like I never want to leave, it's so great," says Evelyn, who previously lived in Biscayne Park with her family.

The town's parks-and-recreation emphasis and community center were a big draw. "It's like a little beach club right on the ocean with two pools. Even the people who work there are almost like family to us."
After explaining Surfside's urban plan to Shayne, it became evident why Surfside had such an appeal.
Most buyers think of Surfside for its oceanfront luxury towers, including the forthcoming Fendi Chateau and The Surf Club by The Four Seasons, with units priced as high as $29.9 million. Often overlooked are the town's single family homes to the west of Harding Avenue. They, too, offer small town charm strengthened by an oceanfront community center, where young families walk to the beach to enjoy the natural beauty and amenities of their town.
Condo oasis on the rise in North Bay Village
The North Bay Village segment featured our dear friends and clients, Ken de Loreto and Ritch Holben who are no strangers to Miamism. You may remember their Midtown/Berkshires story or some mojito reviews.
"We have water on every side. It's not like the dark nights on the beach when the sun sets and you just look at darkness. Here, you're looking at glittery city all around you," Holben says. "It's beautiful 24/7."

Says De Loreto, "Both of us love a rescue, whether it's a dog or a property or a neighborhood" (the couple shares two rescue dogs). "A neighborhood in transition is very attractive to us because there's this excitement and possibility in it, so we were attracted to this sleepy — a little shabby — neighborhood."
And of course I can't give neighborhood information without talking about its architecture:
Condo buildings range from modern towers built between 2003 and 2009 — Eloquence, Cielo and The Lexi among the newest and most desirable — to concrete breeze-block MiMo buildings, no more than three or four stories tall, dating to the 1950s and '60s. Space 01 is one of the more architecturally interesting buildings with an exposed, industrial, loft style by acclaimed Oppenheim Architecture.
El Portal: a hamlet haven, right in the city
Carl Juste took some photos of me for this segment but I confess that their choice was not my favorite. The content is what counts though. While driving around El Portal with Shayne, we were greeted by peacocks and Ibis…it was so perfect.
As a designated bird sanctuary, El Portal boasts an abundance of bird life. On a recent neighborhood drive, a flock of peacocks strutted in front of a 1900s house made of Dade County pine; a flock of pale pink ibis perched on nearby telephone wire.

With its protected trees and historic single family homes, the neighborhood has a lush and charming subtropical aesthetic with growing curb appeal, thanks to a renewal in code enforcement, Hegedus-Garcia says.
To see other articles where Miamism Sales Team was IN THE NEWS – CLICK HERE