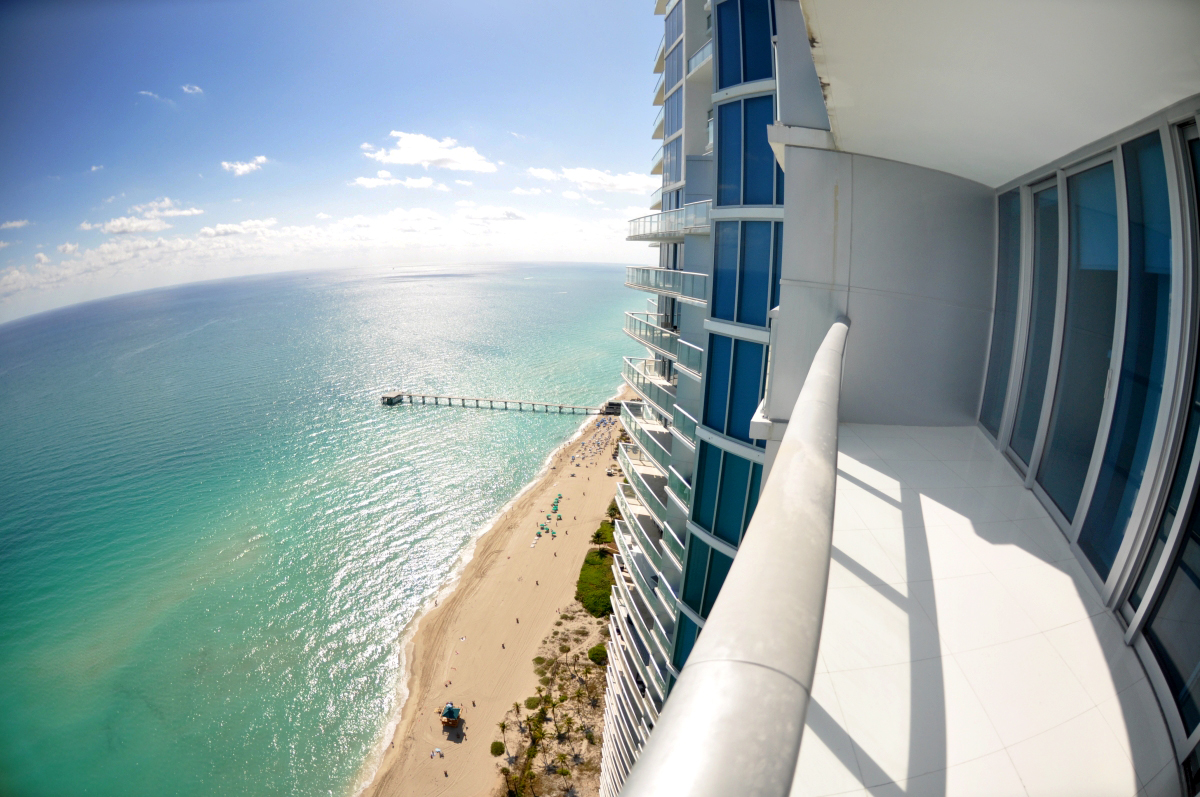 Jade Ocean – Sunny Isles Beach
Jade Condos have been associated with Luxury Real Estate and great design in Miami and Miami Beach, and not at all surprised that Jade Ocean in Sunny Isles Beach continues that tradition. Designed by none other than famed architect Carlos Ott, the whole building's concept is about framing vistas and creating interesting perspectives with angles and unusual shapes. I have to admit that at times I find the use of angled soffits and materials to be a bit much, but ultimately, the experience is appealing to the senses. From the time you arrive at the oceanfront valet (yes….the valet is on the ocean side instead of the usual street side) – to the sumptuous Fendi designed Lobby, tea-room, sunrise/sunset pool area, and each balcony view….you are transported to a world of luxury and indulgence.
Jade Ocean is a 50 story glass tower with 256 residences, 2 floors of common areas and unbelievable views of the Atlantic ocean. Price ranges vary anywhere between $595,000 for a 1 bedroom residence, to $6,000,000 for a 6,000 square foot Penthouse. The scoop on Jade Ocean is that it was 100% sold in pre-construction and as usual, some buyers have decided not to close and now have 27 units back in inventory. The price ranges start at $580 per square foot for lower floor units (yes negotiable), and the maintenance is .71 cents per square foot.
Here's a 3-bedroom unit completely designed by Fendi Casa – with a private elevator lobby and views of both the ocean and Intracoastal. I have to admit that it was "too Fendi" for me with Fendi logos everywhere you looked, but I could see how this can appeal to a lot of people. According to the developer, designer ready 3 bedroom residences start in the $1.3 million range (that's without Fendi).
What's great about these units is that they can accommodate any taste, from the very traditional to ultra modern.
Residence Features include:
Flor-to-ceiling exterior glass walls and open terraces offering expansive views of city lights and Atlantic Ocean
Open floor plans maximizing views
European cabinetry with complementing counter-top and backsplash finishes
Miele and Sub-Zero stainless steel state-of-the-art appliances
European bathroom fixtures by Philippe Starck and Dornbrach faucets. Master baths with effervescent hydrotherapy tub
Revolutionary steam oven
Built-in coffee system
Frameless glass shower enclosures
Walk-in closets
Service entrance and elevators available in all units
Full laundry rooms with washers and dryers
There are 3 penthouses currently available at Jade Ocean – the one pictured above is priced at $5,900,000 and has 7,641 square feet and 6,141 square feet under air conditioning. With 2 stories, double story living room, interior elevator and maids' quarters. The distribution was a bit choppy for my taste, but it is designer ready, so I expect anyone coming in to move a few walls and make changes.
Jade Ocean Building Features:
Six-story cascading waterfall and lush landscaping
Unique oceanfront porte cochere with drop off, overlooking beach and ocean
Two-story grand entrance lobby with expansive ocean view
Infinity-edge pool with sunrise and sunset views
Wireless high-speed Internet access throughout the Tower and Resort Deck
Personal Identity fingerprint access in high-speed elevators, opening to private foyers in most residences
Technogym – the most cutting-edge equipment in personal training
First generation Mirigi "intelligent home" software, including in-residence lighting/dimming, integral audio selections in the kitchen, and wireless Internet
A touch screen offering instant access to amenities such as concierge, requests to valet, reservations for common areas, building activities information, package arrivals, and general information
QUINTESSENTIALLY, a global high-profile member's concierge service, focused on providing access to the inaccessible, and making life richer, easier and more fun.
Remember our team is ready to help you with your Jade Ocean Condo Purchase or sale and of course surrounding condos as well. Call us for details 305.758.2323 or jadeocean@miamism.com Condo Name: Jade Ocean Architecture: Carlos Ott Neighborhood: Sunny Isles Beach Location: 17121 Collins Av – Sunny Isles Contact: jadeocean@miamism.com *originally published oct 7-2009*