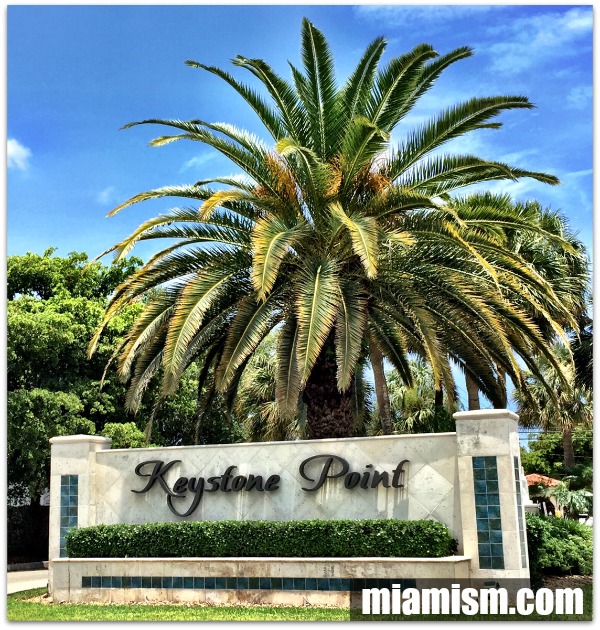 Keystone Point Real Estate Market Report for June 2015
Keystone Point Real Estate Market Report
There are currently 31 Keystone Point homes for sale:
Highest priced listing: $5,290,000 (open bay Mediterranean estate located at 12485 Keystone Island Dr)
Lowest priced listing: $419,000 (non-waterfront at 1790 Keystone Bl)
Pending Sales (properties under contract): 13
Closed sales in June 2015: 5
The 5 Keystone Point homes sold in June were the following:
2025 Alamanda Dr – Short Sale on a dry lot (non-waterfront) with 3 bedrooms / 2 bathrooms, 1,832 SF and built in 1954 – listed on December 2014 for $350,000 and sold for $393,950 ($215/sq.ft.)
1875 N Hibiscus Dr – canal front, 5 bedrooms / 4 bathrooms, 3,223 SF on 10,596 SF lot and built in 1960 – originally listed in February 2015 for $1,549,000, with several price reductions and selling for $1,275,000 ($396/sq.ft.)
2320 Bayview Ln – canal front, 4 bedrooms / 3.5 bathrooms, 2,918 SF on 9,375 SF lot and built in 1956 – listed for $1,600,000 in April and sold for $1,500,000 ($514/sq.ft.)
12935 Ixora Rd – canal front, 4 bedrooms / 4 bathrooms, 2,983 SF on 10,275 SF lot and built in 1956 – listed for $1,395,000 in February and selling for $1,150,000 ($386/sq.ft.)
13085 Coronado Ln – canal front, 3 bedrooms / 2 bathrooms, 2,600 SF on 9375 SF lot and built in 1955 – listed for $899,000 and sold for $900,000 ($346/sq.ft.)
Although Keystone Point is a small subdivision within North Miami, prices vary greatly within its guard gated perimeter. The further EAST you are, the higher the prices. There are also non-waterfront homes within Keystone which we will separate from the waterfront stats for obvious reasons. The average selling price per square foot for Keystone Point homes in June, for dry-lot homes was $215 (only one sale and it was a short-sale), and for waterfront homes was $411. The average price per square foot in Keystone Point, in the first half of the year, comes in at:
Keystone Point non-waterfront homes average $241
Keystone Point waterfront homes average $438
The highest price per square foot in Keystone Point for a waterfront home in the first 1/2 of the year, was $584 for the bay front home located at 13395 Biscayne Bay Dr – we're talking a contemporary estate, built in 1980, with 6,426 SF of living area, sitting on a 21,755 SF lot with 230′ of water frontage and 100′ dock. Keystone continues to grow in popularity because of its location and affordability. It's become the place to buy for those wishing to upgrade their dry-lot homes to waterfront. Call us if you are thinking about buying or selling in Keystone – we'll be happy to provide a no obligation consultation for your home.
Keystone Point House of The Month
The Miamism Sales Team recommends the Keystone Point home located at 12933 Ixora Cr. This contemporary home was built in 2008 and features 4 bedrooms / 5.5 bathrooms, 4,552 sq.ft. of living space, 10,875 SF lot, polished concrete and Bamboo floors, 2 docks with lifts, cabana bathroom and high ceilings. It is offered at $2,200,000 and it's virtually in move-in condition (if not for a few aesthetic changes which are common in this price range).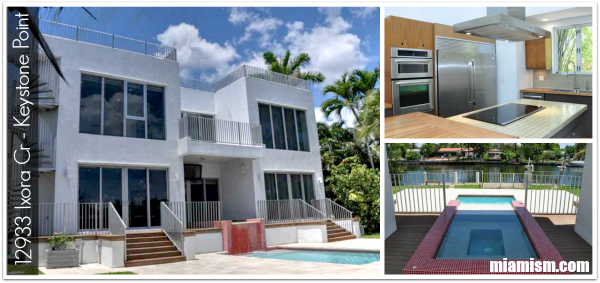 Please contact us for more information and we will be happy to arrange a showing appointment.
---
To sign up to our Home Trend Reports, go to MiamismTRENDS.com and fill in your information. Call us Today for a listing appointment! If you are interested in getting a list of all properties currently for sale in Miami Shores, we will be happy to send you a digital copy at your request. We can also send you monthly market reports directly to your inbox. Feel free to email us at MiamiShores@miamism.com