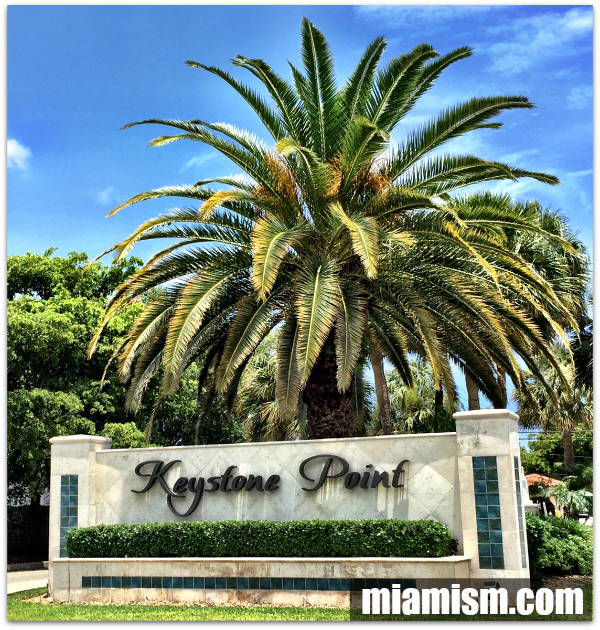 Keystone Point Real Estate Market Report – October 2016

Keystone Point Real Estate Market Report
There are currently 56 Keystone Point homes for sale: (compared to 49 in September)
Highest priced listing: $5,895,000 (open bay home with over 200′ of frontage at 12600 Biscayne Bay Dr)
Lowest priced listing: $459,000 for the fixer upper at 1965 Alamanda Dr.
Pending Sales (properties under contract): 7
Closed sales in October 2016: 3 (compared to 3 in September)
Median Sales Price in October: $950,000
The Keystone Point homes that sold in August were the following:
2235 Arch Creek Dr – 3 bedrooms / 2 bathrooms, 2,387 SF of living space on 9,375 SF lot with 75' of water frontage with new sea wall – showing pending and sold the same day in the MLS – listed for $1,125,000 and selling for $950,000 ($398/SF)
2320 Arch Creek Dr – 3 bedrooms / 2 bathrooms, 2,171 SF of living space on 9,375 SF lot with 75' of water frontage – originally listed in June for $1,199,000, with several price reductions and selling for $975,000 ($449/SF)
2006 S Hibiscus Dr – 3 bedrooms / 3 bathrooms, 1,804 SF of living space on 10,272 SF lot with 100' of water frontage – originally listed for $1.3 Million in September of 2015, several price reductions, selling for $830,000 ($460/SF)
The Average price per square foot for Keystone Point Homes on the water in October was $436 compared to previous months:
September $491
August $386
July – no waterfront sales
June – $344
May – $452
April – no sales
March $411
February $572
January $528
2015's average $441
The Keystone Point real estate market is officially in transition. It's strange to buy and sell in a transitional market because it's not yet a buyer's market nor a seller's market. The comfort is that neither party to the transaction has more power so both tend to cooperate equally.
Prices are remaining steady and so is inventory in Keystone Point. The luxury market remains unchanged because those homes tend to be larger, bay-front properties that require a distinct type of buyer that recognizes the value of the location.
Remember that houses are taking a bit longer to sell, if you are a seller that wants a quick transaction, you will need to drop the price.
We have introduced Real-Time Market Reports that give you a quick snapshot of the market and includes historical views of home prices – staying informed about your real estate market will ultimately help you stay "ahead of the curve".
Click on this link to see our North Miami, FL 33181 Market Report
You will also be able to check other areas once you follow the link.
If you are interested in getting weekly real-time reports, just email us and we'll be glad to sign you up (without obligation, of course and you'll be able to unsubscribe any time).