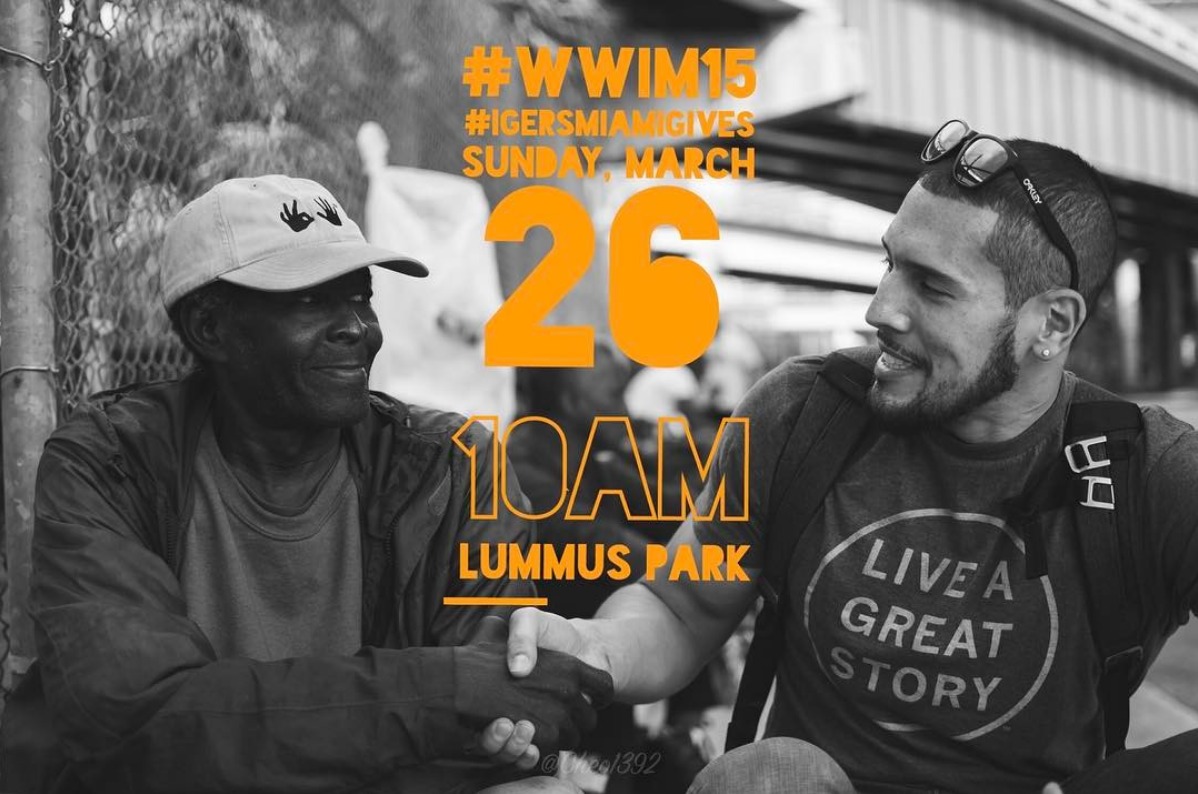 Kindness World Wide Instameet
Instagram has 2 annual WORLD WIDE INSTAMEETS, and we decided to sponsor the last one in Miami this past weekend because the theme was "kindness". If you are wondering what instameets are, here's the description straight from Instagram's Blog:
InstaMeets have been a part of our community since the very early days of Instagram. They are gatherings of people who come together to connect over their shared passions and experiences. And Worldwide InstaMeet 15 (#WWIM15❤️) is happening this weekend, March 25-26! Join tens of thousands of people around the world to share, explore and celebrate while spreading this InstaMeet's theme: kindness.
Since the theme was kindness, Miamism decided to team up with IgersMiami, the local Instagram community, to sponsor the event. The host was none other than community do-gooder, huge-hearted, humanitarian, @Cheo1392, or Cheo Sobalvarro, who was on his second "Community Giveback" mission to feed the homeless, give back to those in need, and promote kindness within our community.
The photo above by Tony Sarria, shows the community in action in downtown Miami. The group met at Lummus Park in downtown Miami to prepare sandwiches and then walked around downtown handing out goods to the needy. We've included a quick video from igersMiami's storyline during the event.
We thank Cheo and IgersMiami for putting together an event that truly gives back with no ulterior motives. Kindness is a word in everyone's vocabulary but that we seldom go out of our way to express. We need more kindness in our lives and we need more people like Cheo to make us realize that simple acts of kindness go a long way.
Please take a moment to learn how Cheo's journey with giving back started – he has other great stories on his IG feed that we encourage you to read. But most of all, let's take his example and let's spread kindness!
Dec 4th I met Robert. A homeless man who lost his job and had been back and forth between states and just never seems to get himself on his feet. It all started as a scavenger hunt with @igersmiami The goal was to get the bonus of asking what miami meant to them and sharing a moment between two people. So I decided to talk to Robert. When I asked what miami meant to him he said "family" said this is where they were. He seemed really excited just to have someone to speak to. That's when I asked if he would share his blanket so I could sit next to him. At this point I had forget about the scavenger hunt and was truly captured by the moment.
I quickly noticed a notebook he held with a grid of letters and symbols. I asked what it was and if it was a crossword puzzle. Robert told me "no, it's a cypher". Me having a degree in programming it quickly got my attention as a cypher is a form of encryption used in data protection. I asked him to explain it to me. He said "I'm going to give you a simple example this grid is to complex and crazy" and he proceeded to teach me what a cypher was. I was amazed at how smart he was and his ability to teach me what a cypher was in it's simplest form. It was exactly what I had already learned in college. (Coincidently if you look closely my shirt had a cypher grid on it) After that I told him I had to go. Robert said "that's cool have a blessed day" and I got up to leave. I gave him $5 for his troubles and as appreciation for spending time with me. He said "Thanks!" After taking a few steps away he said "hey" I looked back at him and he said as genuine as it gets "you really made my day with this, Thanks!"
•
At the end of the day we are all humans. No matter how many differences you can call out. We all have a story to tell. So my only advice would be to not be quick to judge because people sometimes don't speak up about hardships. Take a step back and observe with couth. •
Chances are I can't save the world and perfect it but with the right attitude and just a little effort you can make a change. I learned that you can makes someone's day with minimal effort.