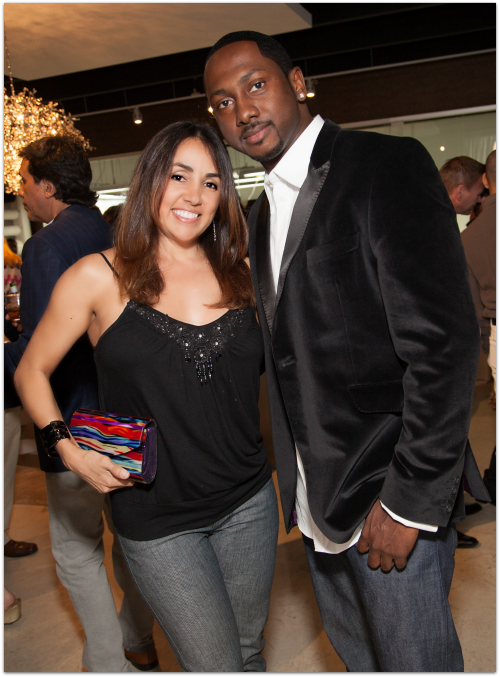 Made in Miami Custom Jeans – Silowet Couture
Made in Miami Custom Jeans…WHAT??
Yes, you read correctly and they will not break your budget either, unless you want them to. Self-taught fashion designer Stacy Glover (and that's a manly man, btw), just launched his flagship store in Wynwood and the concept will blow your mind, just as it did mine.  Here's a photo of yours truly, wearing my Silowet Couture jeans, at the launch of the Miami flagship store.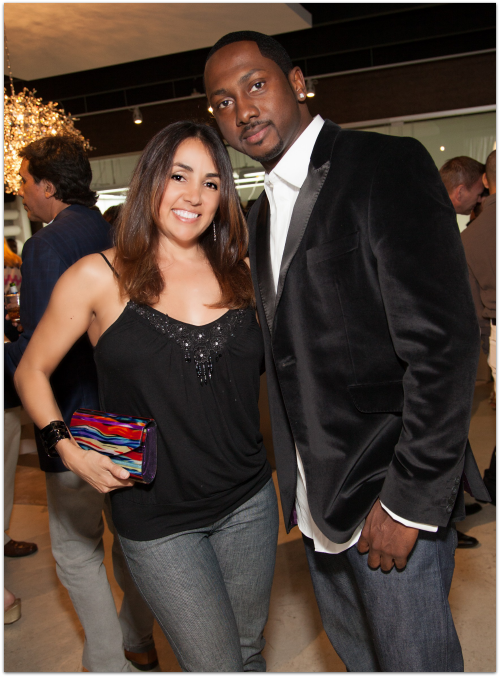 You choose the fabric and the design, next they measure you like you've never been measured, and then they customize a pair of jeans to really fit your curves, or lack-thereof.  I am simplifying the process but because I was invited to try out a pair of these and then attended the grand opening, I couldn't keep this a secret any longer and had to share my interview with Silowet Couture's own Stacy Glover.
Ines: When I asked if you were a fashion designer you said you were "self-taught" with a marketing background. Talk about a jump in career! Why denim? Why custom? and why Miami? (Yes, I know that's 3 questions…it's how I roll) 😉
StacyG: 
(Laughs) I don't mind the multi-questioning disguised as one. It may start a new trend. Yes, I am a self-taught fashion designer, however it didn't happen over night. I took my time with it. I've always had a good eye for fashion, but this journey was different. Getting the hang of designing was one thing; diving into bespoke tailoring and learning that discipline was a completely different monster.

There are three specific reasons why denim was the perfect niche for me. First, I, myself am a denim head and it plays a huge role on my personal style, so not only was it an organic fashion item for me to master, but it was also sound because I didn't have to pretend to have a passion for it. Secondly, it's arguably THE must have staple item for anyone's wardrobe, which I knew was beneficial. Last, but most important, it's the one item that anchors American innovation as it relates to the fashion industry. Europe dominates many product categories within the fashion world, but blue jeans are the one thing that will remain an American tradition, especially if I have something to do with it.

My reason for seguing into bespoke was primarily influenced by the women I knew that had issues finding jeans that actually fit. So one day I had a bright idea that I was going to globally solve all fit problems women had because surely my close friends couldn't be the only ones that felt this way. Lo and behold I had no clue as to what I was actually getting myself into (laughs), however the audacity of my thought has led me here and I'm extremely happy that I stuck it out drove through all the road blocks.

It should be why not Miami? The weather is beautiful, the beach is amazing, it's a cultural melting pot, the famed Cuban coffee, South Beach happens to be the East Coast play place, and Miami is home to the 3rd strongest fashion market in the US. I saw a unique opportunity to create a niche with bespoke denim in a thriving market that is primarily dominated by swimwear. Soooooo coming from Brooklyn, my choice was rather simple (laughs).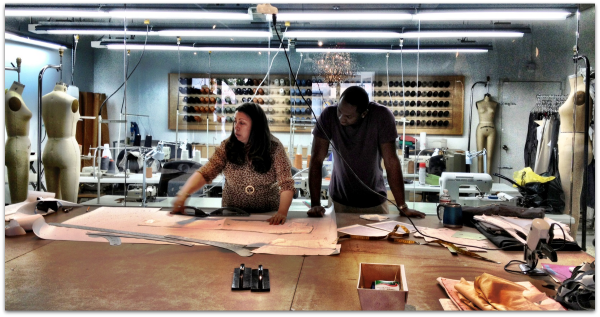 Ines: When I was invited to get one of your custom couture denim products I was beyond excited and jumped at the opportunity – all in the name of investigation!  The process was so much more complex that I imagined because I had no idea jeans went through such an elaborate manufacturing process.  Can you describe what the process is from the time a client contacts you until they get their final product?
StacyG:
Complex and elaborate…I couldn't have said it better myself (laughs). The life of a Maverick what can I say. It's usually that way when you're creating new paths that have never existed. In this new microwave society with fast fashion and the Internet being such a force, the masses have conformed to make "speed" their norm. For me, I opt for a slow, but thorough approach. Yes, we're meticulous and we take our time making the best jean possible. Since you've asked, here goes our painstaking process…

A client either schedules an appointment with one of our Caretakers or walks in off the street.
They come in and thumb through our styles to choose one that suits their mood.
They move on to fabrication and select their denim (selecting the fabric is an extremely important step because pending the fabrication is how we know how to build the pattern).
Once fabrication is settled, they hop into the dressing room where one of our Fit Architects will take their measurements. The client will be able to tell us if they're looking for a low, mid, or high-rise as well as if they'd like it as a skinny, relaxed, or boot cut fit.
Once we have the specifics, they are passed on to our Master Patternmaker who then drafts the pattern based on the exact measurements taken.
Concluding pattern creation, the finished pattern is handed over to our cutter to create the pieces for the puzzle.
We then take the pieces and give it to one of our expert Couturiers to construct the foundation.
Once we're done making the foundation, we schedule a fitting to make sure everything is perfectly proportioned to the client before we go into finishing your masterpiece (the fitting is where the client can make any revisions if need be).
After client approval, we go into production.
10.  Once garment is prepared, I personally inspect the quality and after my approval, the garment is ready for the client to flaunt. They can either come into our Flagship store to pick it up or we can ship it anywhere they'd like.

Most people are just like you because they never imagined that they'd be so many steps into making a great pair of jeans that perfectly fits you, which is why we enjoy educating our clients on our unique process.

Ines: From your simple styles to those with spiked-knee Swarovski crystals and even the leather inlays.  Where do you get your inspirations for the designs?
StacyG:
I draw inspiration from life and the times. My creative process stems from designing styles that suit our 4 collections. We have KISS, which stands for Keep It Simply Sexy that embodies our clean and classic styles. Bubblicious, which is our fun, flirty, and playful look. The Jawbreaker collection inspires me to create styles that turn heads and with Prototype you'll edgy limited edition styles. Many times when designing styles I imagine the ideal celebrity that the jeans would look killer on.
Ines: Seeing the "made in Miami" tag inside my new jeans put a huge smile on my face.  Are these made completely in-house, locally?
StacyG: Yes, all of our jeans are handcrafted locally in our Miami Flagship. I strategically created a glass partition in our store that houses our expert Couturiers for the exact reason to provide complete transparency so people know they're jeans are made behind our glass wall and not sent off elsewhere.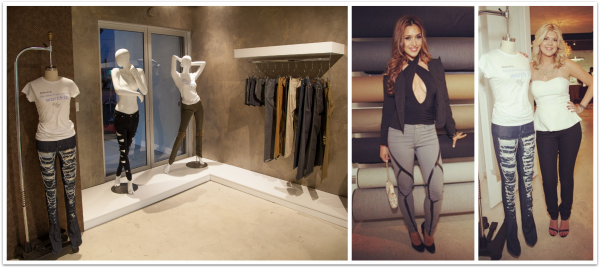 Ines: Of course all this talk about "custom" and "couture" may scare some people, what will someone expect to pay for these hip-caressing babies that fit like a glove?
StacyG:
Believe it or not, but our core enthusiasts don't fret, primarily because they're driven by quality not price. Jeans start at $360 and one can also stumble across a pair that will run $2500.
Ines: What can we look forward to from Stacy Glover and Silowet Couture?
StacyG:
You can look forward to me staying true to being creative and positioning Silowet Couture as Miami's go-to outfit for tastemakers and denim enthusiasts. As for progressive plans for Silowet Couture, you can look forward to us introducing new styles every month through our fit parties, coming soon we're shooting a cool web series that is sure to become an addictive viral vice, and us continuing to restore the appreciation of bespoke craftsmanship.
---
So there you have it – custom jeans that you will adore an will fit like a glove!!  Am I the only one chuckling at Stacy's last name being "Glover"?
Store:        305 501 4646
www.SilowetCouture.com
Instagram: @SilowetCouture
Twitter: @SilowetCouture