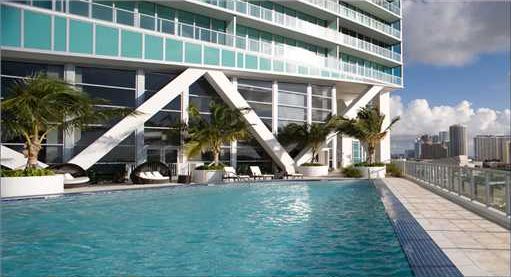 Marina Blue Luxury Condo in Miami
Even for experienced Miami Realtors, visiting new condos is always exciting. I for one love to check out the finishes and the preliminary design flaws. Then I tear them apart with my clients, from finish choices to distribution problems. This week (in May of 2008) – I had the pleasure of visiting Marina Blue, designed by none other than Arquitectonica. Located at 888 Biscayne Boulevard, in what Miami Realtors refer to as ˜the gridlock, because it is right across from the American Airlines Arena, Bayside Marketplace, The Center for Performing Arts, the new Museum Park, and the exit to I-395 that takes you to Miami Beach. I have to admit that the traffic is always a little intense, but what else do you expect for downtown Miami? I figure if you don't want the action, excitement and traffic, this may not be the building for you. On a positive note, you do have the People-Mover right behind the building that takes you through downtown Miami and possibly to the talked about Wholefood Market Place that is rumored to be built nearby. The concept of
this grouping of buildings
which include: The Marquis,
Ten Museum Park
,
900 Biscayne
and Marina Blue Is
Green Urbanism
– walkable communities close to everything, close to the action and with good public transportation. I admit I was impressed with the finishes and the scale of the spaces. The lobby was austere and grand, the hallways were not finished, doors not painted (but we expect that from a newly finished building) and the common areas almost completed. The Skybeach, although a sexy concept, in my opinion will not last long. (the wind is always powerful and to keep the sand off the interior common areas is going to be tough) – I hope they prove me wrong.
Here are some pictures of the pool areas and their views: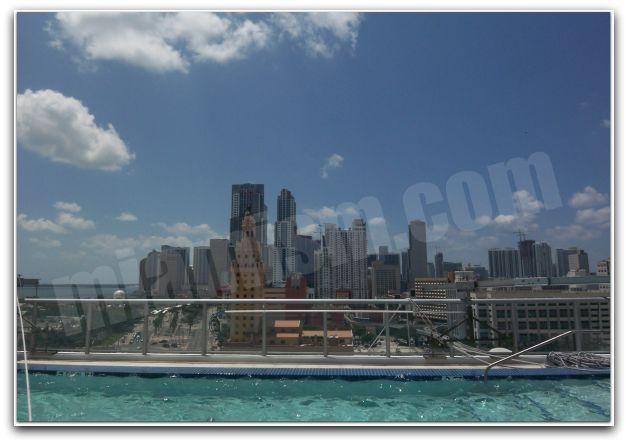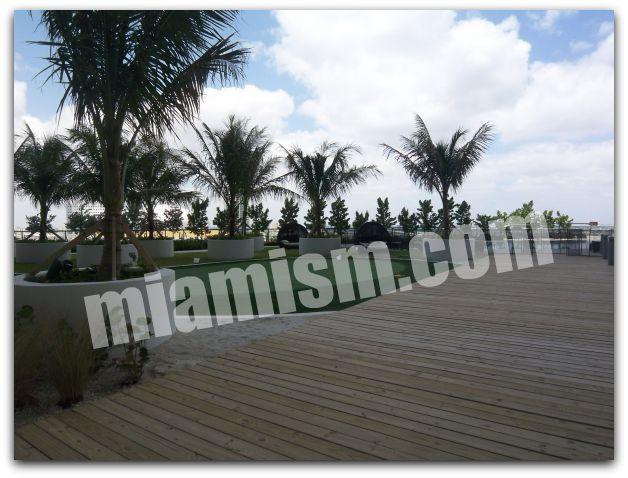 We saw a one bedroom unit on the 5th floor and even that one had amazing views: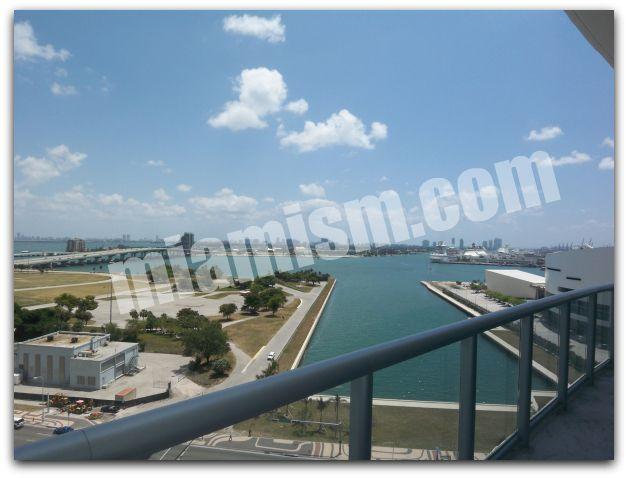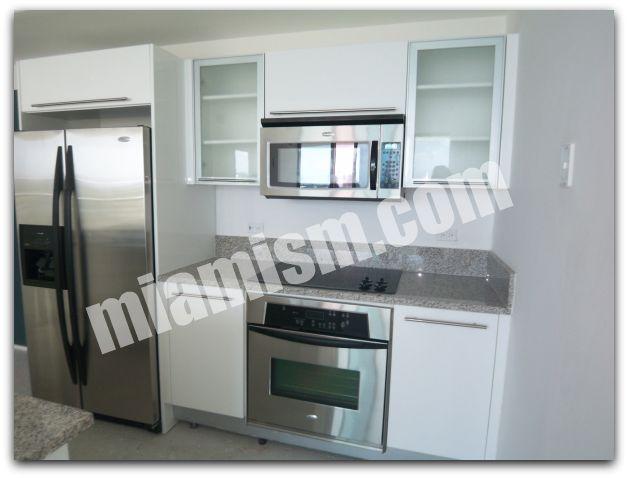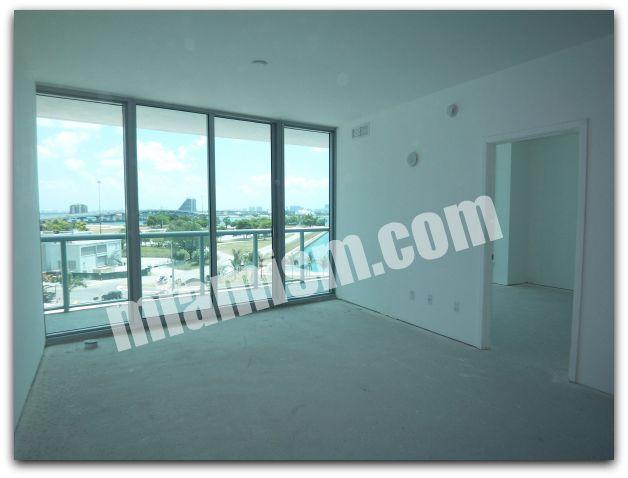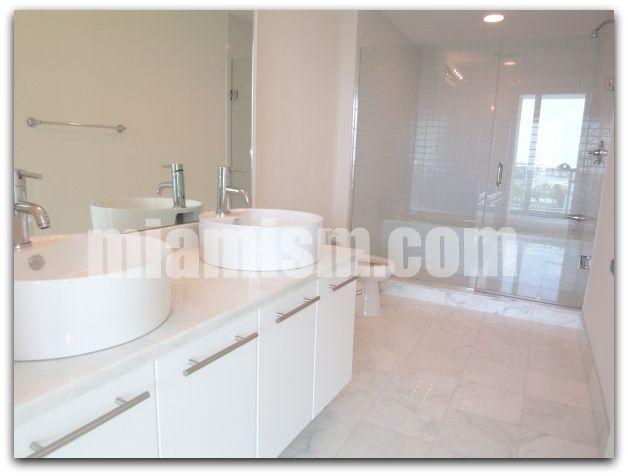 The kitchen finishes were not impressive and the choice of granite not my favorite, but the master bath was great and left nothing to be desired (with marble floor and counters, double raised sinks with designer faucets, bidet, and huge shower called a ˜wet room).
Lastly, here is a picture of the lobby (I have to tell you that the concierge was a little nervous to be included in the photo). The use of stone, exposed concrete, wood and light was absolutely perfect!! (there are some unfinished planter looking thingies that don't need to be there, I'll see what they turn into).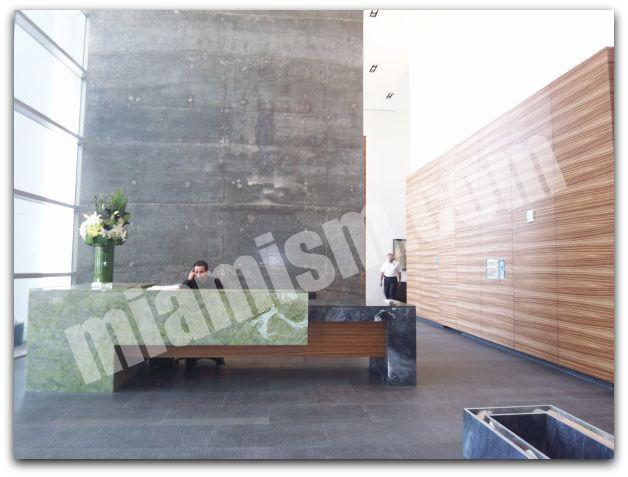 Here are the developer specs for the building:
MarinaBlue is a spectacular 60-story curvilinear landmark featuring spacious 1, 2, and 3-bedroom floorplans, including gorgeous penthouses and lofts¦ all complemented by world-class amenities, including the unique and extraordinary SkyBeach.
Amenities and Services:
Beautiful reception lobby with custom-made furnishings
Spectacular views from every unit, with full width balconies, and floor-to-ceiling glass for unobstructed views
Concierge and valet services
Private storage facilities
Semi-private high-speed elevators
Private Cyber Center, a separate conference and communications facility with state-of-the-art business equipment and small meeting capability
SkyBeach Features:
Stunning pool looking over Biscayne Bay
Lap pool, beach volleyball, barbecue
Lush tropical garden, plunge pool
Indoor-Outdoor Skylounge and party room with bay views
Fully-equipped Game Room, fitness and cardio center
Yoga-Aerobics studio with lofted ceiling and glass-wall view over Biscayne Bay
Residence Features:
9 high ceiling with smooth finish, 10 high in the upper floors, 18 high in the lofts
Pre-wired for ceiling fans and light fixtures
Pre-wired for cable television and phones in bedrooms and living areas
Pre-wired for high-speed data
Energy-saving, impact resistant glass
Ventilated closet shelving system
High-efficiency heating and air-conditioning system
Fire sprinklers and smoke detectors
Solid core entry door
Custom Kitchen and Bath Features:
The elegant kitchens are appointed in a style that matches the beauty of the building and features granite counters, European-style cabinets, stainless steel sink and full capacity washer and dryer
Designer appliances
The fantastic Master Bath is a retreat within your home in the sky, and features marble floor, double sink vanity with marble top and raised sinks with designer fixtures
Complementing your Master Bath retreat is a resort-style ˜Wet Room with shower and bathtub enclosed in glass
Remember our team is ready to help you with your Marina Blue Condo Purchase or sale and of course surrounding condos as well. Call us for details 305.758.2323 or marinablue@miamism.com
Condo Name: Marina Blue Condos
Architecture: Arquitectonica
Neighborhood: Miami Airlines Arena Area – Downtown Miami
Location: 888 Biscayne Blvd- Miami
Contact: marinablue@miamism.com