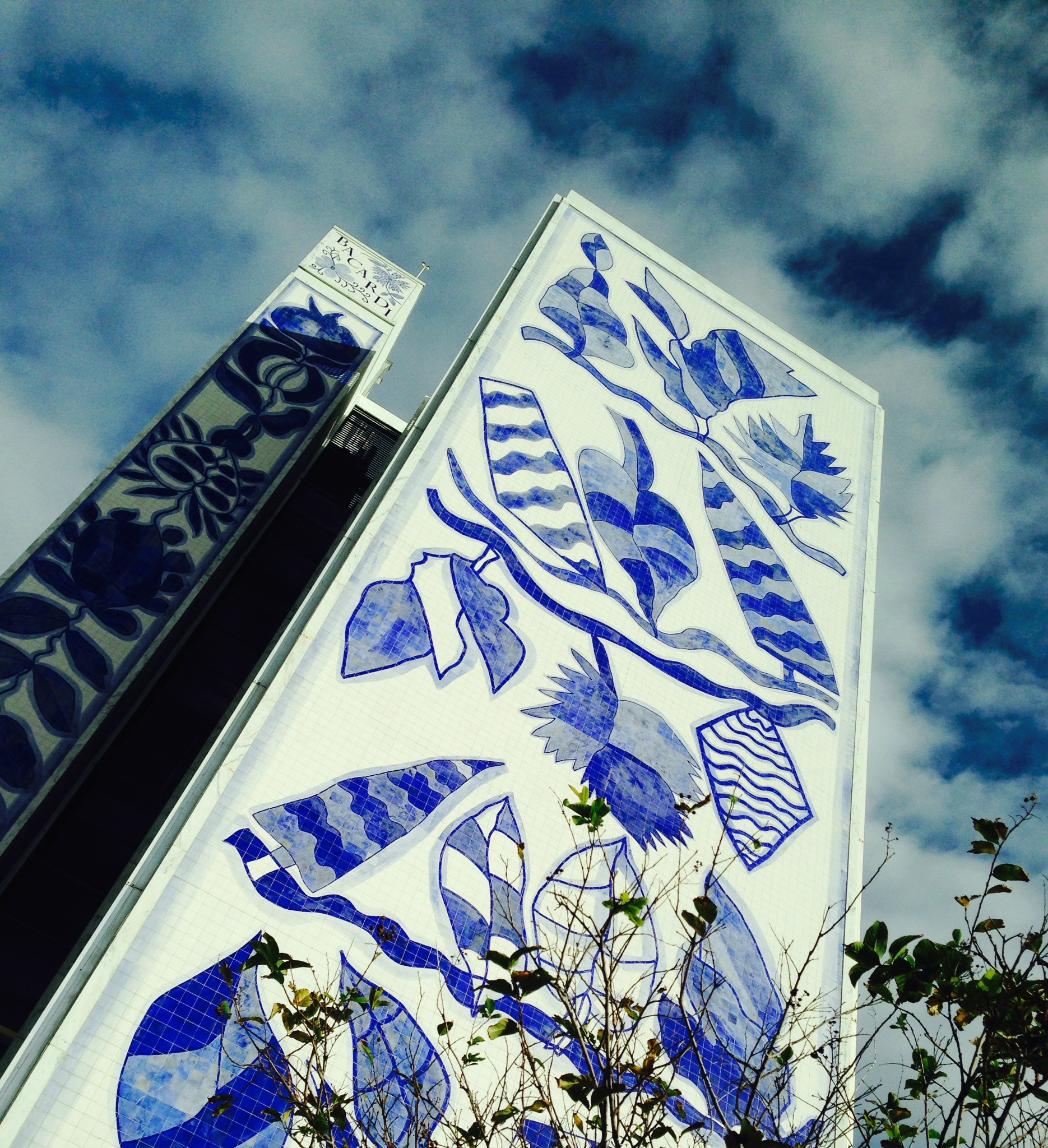 Miami Architecture – The Bacardi Complex aka YoungArts
UPDATE from National YoungArts Foundation below!
Iconic Miami architecture at its best!!
Who doesn't recognize this building?? You have been driving by it for years and may not know enough about it. It's located on 21 Street and Biscayne Boulevard, in Miami's Edgewater neighborhood and the truth is that it's one of Miami's gems to be proud of and has an amazing history and even better future in the hands of YoungArts.
Some interesting facts about this mid-century modern International-style building brought to you by Miami's Historic + Architecture REALTORS. It was built in 1963 as the US headquarters of Bacardi Limited and designed by Cuban architect Enrique Gutierrez of Saenz, with mosaic work by Brazilian artist Francisco Brennand.
In 1973, the rear annex was designed by Ignacio Carrera-Justiz with an insane cantilevered "jewel box" feel with gorgeous hammered stained glass murals. The stained glass was designed by S.E.A.R under the direction of Gabriel and Jacques Loire of Chartres, France, based on an abstract painting by German artist Johannes Dietz.
If you have never seen the Bacardi logo on the floor between the 2 structures, you need to go check it out because the scale is breathtaking and it's just a cool feature that joins the 2 buildings together.
The whole complex is a work of art and its current use is analogous to a perfect fairytale. The building was sold to the National YoungArts Foundation in 2012 as their headquarters. YoungArts has been working on transforming the campus into a multidisciplinary cultural center while preserving the original architectural integrity of the buildings. There were plans for a remodel by Frank Gehry << as much as that may sound scary, neither YoungArts nor Gehry have any intentions of changing the exterior. (We hope)
UPDATE from National YoungArts Foundation
Since writing this article, we were contacted by YoungArts with additional information on their remodeling efforts. As you can see, they are a top notch organization and The Barcardi Building could not be in better hands. Thank you, Heike Dempster, Senior Public Relations Manager, for the clarification. Here's the update:
To date, we have opened two Gehry-designed spaces in the Tower building, including the YoungArts Gallery on the 1st and 2nd floors and Ted's, an intimate cultural space for lectures and performances. The Jewel Box has also been transformed into a flexible space for artists to work, play and create. The second floor features a sprung dance floor, full-length mirrors and ballet barres. We are currently in the planning stages for next steps and will have more details to announce soon.

Why is the design process taking so long?

Carolina Garcia Jayaram, our President and CEO, has been actively meeting with alumni, industry experts and the community to make sure the Campus plan suits our needs as an organization, as well as those of the artists we serve.

In order for us to complete the plan, we also need to fully understand the potential of the existing buildings and grounds, prior to determining the additional facilities needed.

Understanding the full potential of the existing building and understanding all the needs of our artist community is vital to this work