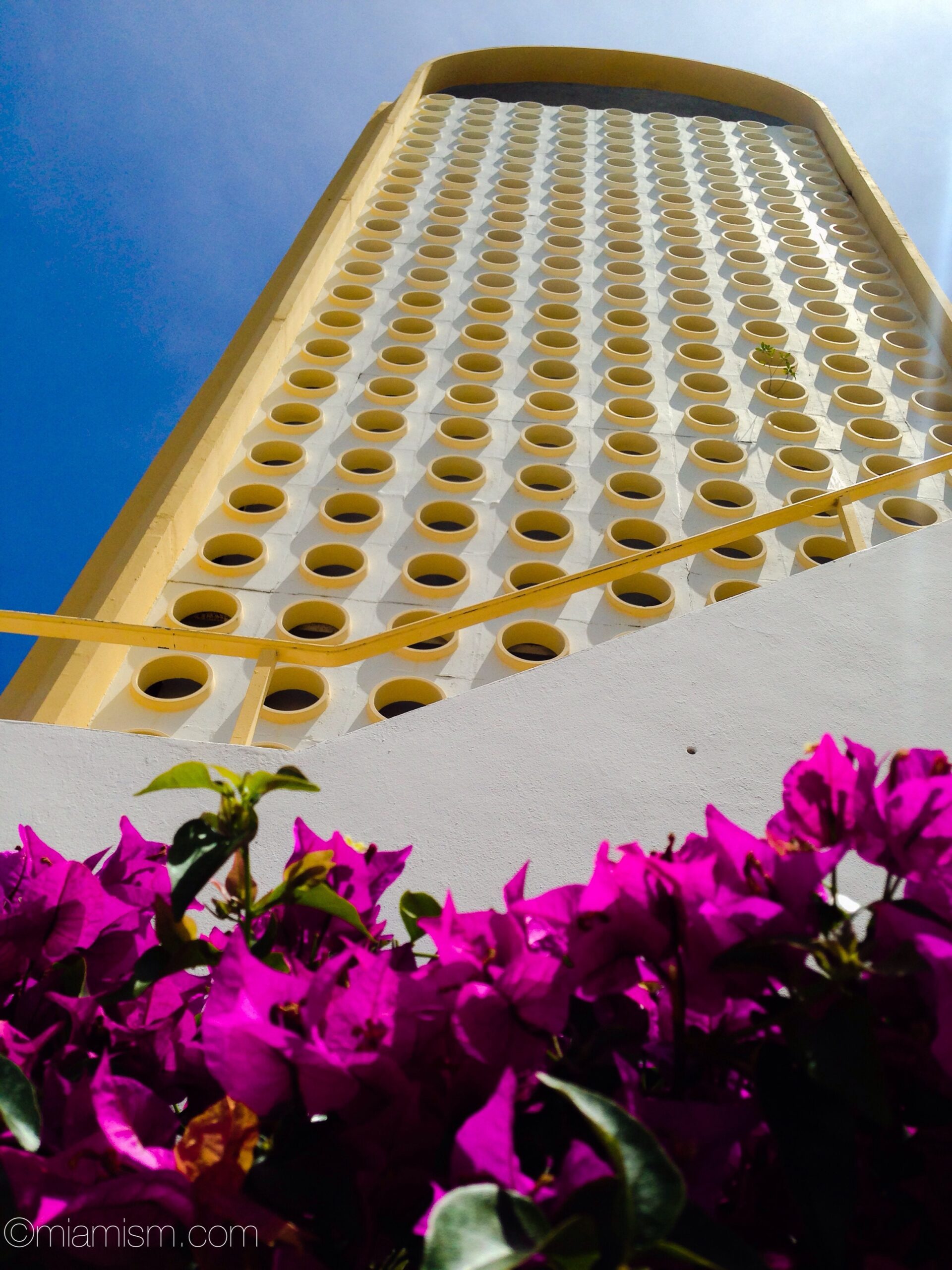 Miami Architecture – Temple Menorah by Morris Lapidus
MiMo or Miami Modernist architecture has become a common topic in Miami and Morris Lapidus is "THE" MiMo Staple, so I'll take this time to tell you about both. First and foremost, we are Miami's Architecture REALTORS and I write about Miami's architecture and historic preservation not only because I have a passion for it, but because it's our specialty. We help clients buy and sell architectural properties, no matter the price or scale, so feel free to contact us for a consultation.
MiMo Architecture
Miami Modern or Miami Modernist was developed in South Florida during the post-war period. It was Miami's adaptation of several modernist architectural movements happening worldwide. MiMo architecture responded to our subtropical beach climate, our resort economy and added a funky and fun aspect that was so needed after the Great Depression and World War II.
The term MiMo was coined by Randall Robinson and Teri D'Amico to describe the architecture that flourished in South Florida from 1945 until the late 1960's. The MiMo Biscayne Association quote Robinson and D'Amico:
MiMo is not a single style, but rather a confluence that includes the world-renowned Resort glamour of Morris Lapidus, the sublime Subtropical Modernism of Igor B. Polevitzky, and the flamboyant Latin infusion of Enrique Gutierrez, the architect of one of the Southland's Modernist masterpiece, the Bacardi USA building. The common denominator is a time — the heady decades after the war — and a place — the subtropical environs of South Florida.

Miami Modern is further classified into two distinct strains, Resort MiMo and Subtropical Modernism. The visual "lineage" for both the resort and subtropical versions of Miami Modern can be traced to Miami's emerging modern movement beginning in the 1930s. Local architects adapted elements of the International, 19 Streamline Moderne and Art Deco styles in their versions of contemporary buildings. Resort MiMo of the 1950s is a product of the experimentations, best represented by the vivid scenographic expressions of Miami Beach architects.
Morris Lapidus
No one will disagree that we can call Morris Lapidus "Mr. MiMo". His 50+ year career was nothing short of spectacular and was responsible for putting MiMo architecture on the global map. He was a Russian immigrant and designed over 1,200 buildings in his career. He attended Columbia University, worked with prominent architecture and interior design firms and moved to Miami to become a "hotel doctor" where he pushed the boundaries of the hotel experience.
Morris' most notable projects were The Fontainebleau Hotel, The Eden Roc Hotel and The Americana (late Sheraton Bal Harbour that was torn down in 2007 and replaced with The St. Regis). And we can't forget The Lincoln Road Follies: gardens, fountains, shelters and an amphitheater closed to traffic and becoming one of the nation's first pedestrian malls.
But Morris wasn't always popular, he was an outsider to the architecture world in the mid-century and his work referred to as "gaudy kitsch", and even described as vulgar, cheap and incompetent by era colleagues. Lapidus' style was recognized in the early 90's, before his death and work was acclaimed and finally revered. Some favorite Lapidus quotes:
– debunking the Bauhaus' "form follows function" with "feelings find form."
"My whole success is I've always been designing for people, first because I wanted to sell them merchandise. Then when I got into hotels, I had to rethink, what am I selling now? You're selling a good time."
– My favorite regarding Lincoln Road: "Why be exotic in Private?"
"Express, don't suppress."
Temple Menorah
Courtesy Morris Lapidus Archives
In 2009, Temple Menorah was designated as a contributing building in the national North Shore Architectural District by the United States Department of The Interior. In 2018 it was acknowledged as contributing to the historic and design significance of the local North Shore historic district by the Miami Beach City Commission.
The building was originally designed by Gilbert Fein as the North Shore Jewish Center in 1951. Temple Menorah was expanded by Morris Lapidus in 1963 by adding the belvedere tower (aka "the cheese grater"), the vertical pilasters on north facade and modernist arches on west facade.
Grand hotels did not constitute Lapidus' whole career and the "joyful architect" was also a master of utilitarian architecture. Temple Menorah, instead of being fortresslike as often accustomed in sacred architecture, was designed as a porous surface resembling "a loudspeaker that freely communicates the spiritual treasures within".
This is one of my favorite MiMo examples because it sits hidden in Miami's North Shore Historic District which is an amazing area currently in transition or as we like to call it "undergoing gentrification". Investors, this is the place!! Especially for multi-family and small hotels.
And finally, please check out this Morris Lapidus interview by Visual Solutions Media.
**published 4/18/18