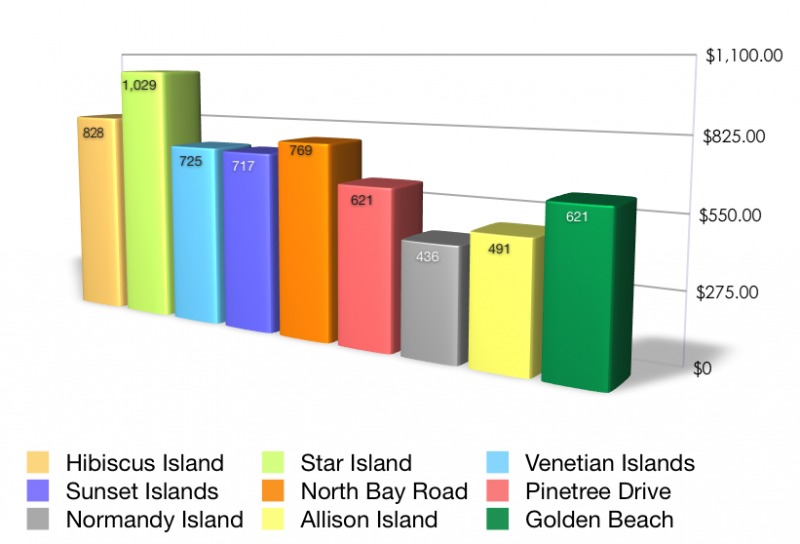 Miami Beach Housing Report – first half of 2011
I can't believe 1/2 of 2011 is already gone! Fortunately for Miami Beach Realtors, things are improving on a daily basis and we have been busy! So here is the scoop on what has happened with Miami Beach homes in the first half of the year. There were 130 Miami Beach homes sold already in 2011 – out of those, 55 were sales over $1 Million which is 42% of all sales….not bad for a "depreciating market". You need to keep in mind that when the big honchos like the Case-Shiller Index, come up with their data interpretation, they pull together ALL of Miami-Dade County and the numbers look grim – so the need to go local is crucial to get a real perspective (yes, I sound like a broken record). Because we do specialize in Miami Beach luxury homes and waterfront homes, I will give you a summary of all the waterfront homes sold this year in Miami Beach and I will break those down by island or desirable location within Miami Beach. You will see a lot of Mega sales (the ones above $3 Million), which is a change from 2010. (click on the graph above to download PDF of all sales to date).
Star Island Home Sales
There were only 3 Star Island homes sold so far this year ranging from $7.1 million to $25.5 million! The average price per square foot coming in at $1,028 and the highest for all of Miami Beach.
13 Star Island was listed for $32,000,000 and sold for $25,500,000. With 8 bedrooms / 8 bathrooms / 2 half-baths, 15,008 square feet of living space on a 100′ X 400′ lot with private dock, pool, boat lift, state of the art electronics ….yada yada yada – (everything you would expect from a 15,000 sf mansion). What's amazing is that this house was listed January of 2011 and sold in only 2 months! (the monthly rental for this gem was $325,000 – higher than the average home in Dade-County!) << that's why I love Miami.
Hibiscus Island Home Sales
There were 3 Hibiscus Island homes sold this year ranging from $2.4 Million to $9.35 Million. The average price per square foot for the island coming in at $828. The highest sale in Hibiscus was my all-time favorite home designed by Oppenheim at 40 South Hibiscus Drive – Miami Beach Luxury Home Pick – Hibiscus Island << click to see the photos – A – MA- ZING!! and the lucky buyer walked away with this beauty for $9.350 Million. The house was originally listed for $13,995,000 in June of 2010, was reduced several times and sold in May.
Venetian Islands Home Sales
The Venetian Islands are seeing quite a bit of movement in the past 2 months, and there have been 12 waterfront home sales this year with an average price per square foot of $725 – quite an increase from the average $634/sf in 2010! The highest sale was for unfinished construction at $5.5 Million back in March.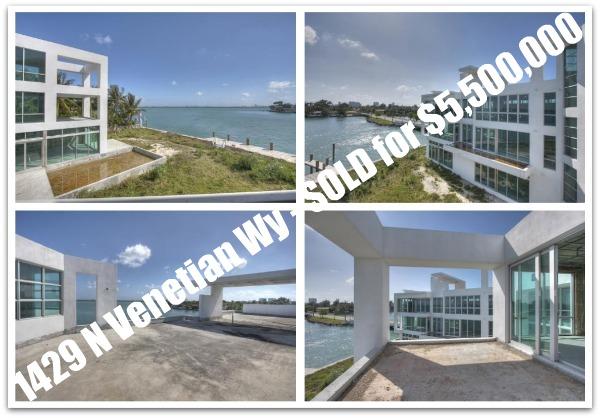 1424 N Venetian Way came in as the 2nd highest Miami Beach home sold in March of 2011. It was originally listed at $6.5 Million in August of 2009 and finally sold for $5.5.
Sunset Islands Home Sales
The Sunset islands have seen better days with only 2 sales so far this year and average price per square foot of $717 (less than The Venetian Islands which is unheard of!).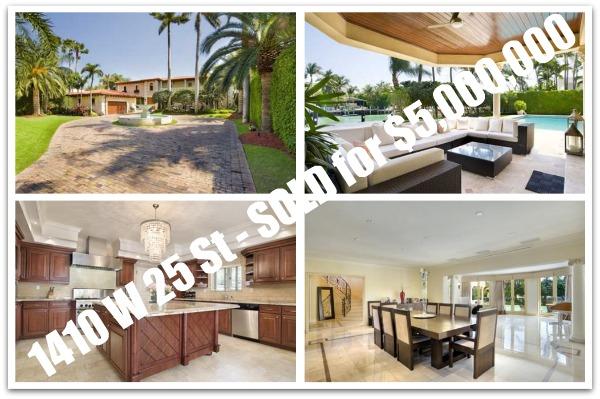 1410 W 25 St – sold for $5,000,000 on June 7th, 2011. Located in Sunset Island 2 – with 5,920 sf and 20,200 sf lot (inside lot, not open bay). This house was purchased for $6.5 Million in November 2005 and took only 3 weeks to sell when they listed it for $5.499 Million in April of this year. The Marketing description reading: screaming in all caps:
GREAT MIAMI BEACH WATERFRONT ESTATE WHERE QUIET COLORS CREATE A BOLD IMPACT YET A RELAXED SENSE OF INDULGENCE. BEST DESCRIBED AS THE HOUSE THAT BECOMES YOUR HOME, THIS BEAUTIFULLY REMODELED FIVE BEDROOM, (WITH OPTION TO USE THE STUDY AS A SIXTH BEDROOM) AND SIX AND ONE HALF BATH ISLAND OASIS, EXUDES TRANQUILITY AWASH A SEA OF WIDE-OPEN SPACES, LUSH TROPICAL LANDSCAPING AND 100 FEET OF WATERFRONT FRONTAGE. A STONE-THROW AWAY FROM THE OPEN BAY!
North Bay Road Home Sales
I'm always curious to analyze how North Bay Road Mansions stand up against the rest of Miami Beach. There are no private gates, but gorgeous open bay views that take your breath away. There have been 5 North Bay Road homes sold this year, which are not a real representation of what usually sells and the average price per sq.ft. coming in at $769. The highest sale was in our Top 3 highest Miami Beach Homes – April edition.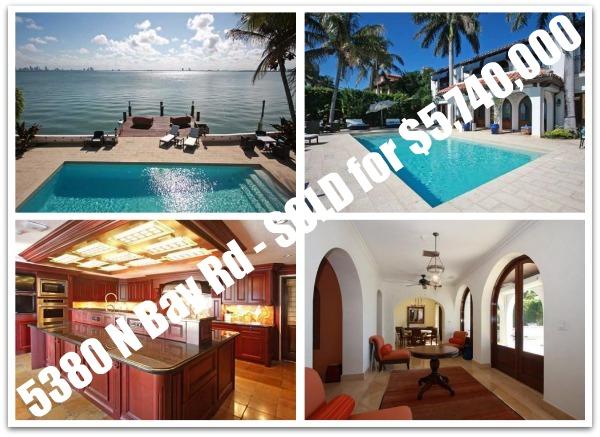 Pinetree Drive Home Sales
Pinetree has only had 2 waterfront home sales this year, with an average price per sq.ft. $621. The highest Pinetree Drive Home was in our Top 3 Miami Beach Home Sales – March edition.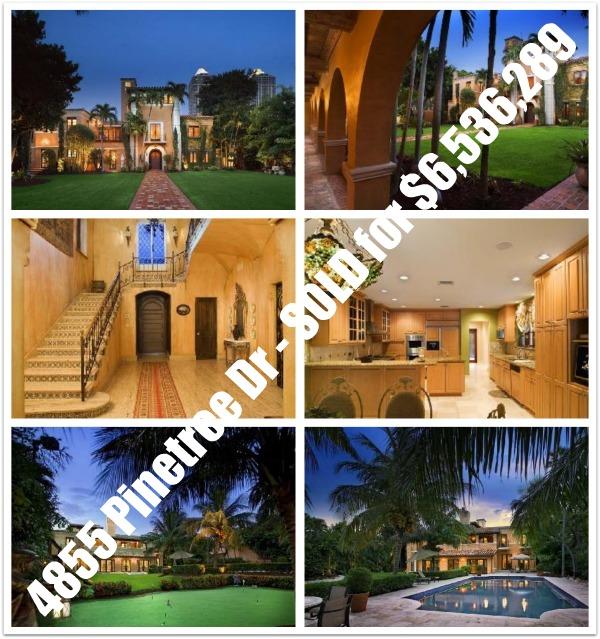 More Miami Beach Home Sales
In addition to the mentioned sales, there was also one sale in Allison Island for $2.45 Million (fixer upper selling at $491 / square foot), and no waterfront sales yet in La Gorce Island, Bal Harbour, Bay Harbor Islands, Indian Creek Village or Palm Island. Normandy Island had 5 sales with an average price per square foot of $436 and we decided to add Golden Beach to the mix because we are seeing a lot of people considering the move there because of affordability factors.
Golden Beach Home Sales
There have been 7 waterfront Golden Beach homes sold this year with an average price of $621/sq.ft. The highest sale was an oceanfront house selling at $7.7 Million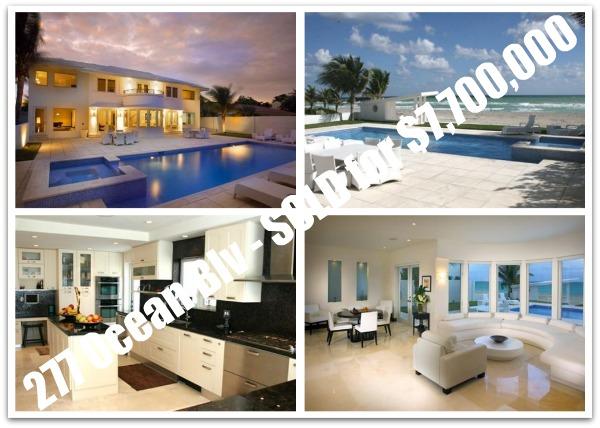 277 Ocean Blvd sold in March for $1,186 / sq.ft. – that's higher than the Star Island home sale but then again, we are talking beach front. A 6,495 sf house on a 20,700 sf lot with 6 bedrooms, 6 bathrooms and 1 half-bath, 2-car garage, totally renovated with a monthly rental price of $42,000. It was originally listed for $11,800,000 in 2006. Remember that Ricky Martin is also selling his Golden Beach home – that one listed for $18.9 Million.
So there you have a brief synopsis of what has happened to the Miami Beach Waterfront Housing Market in the first half of the year. **all information obtained from the Southeast Florida Multiple Listing Service**