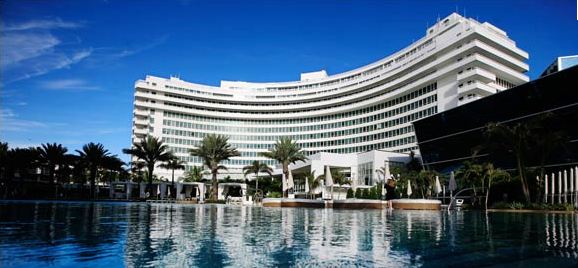 Miami Beach Luxury Condo with private Marina – The King Cole
There are some older buildings in Miami Beach that make a statement, Miami Beach Luxury Condos are known worldwide and the The King Cole is one of them. Built in 1963, it represents the MiMo style (Miami Modern) because of its concave shape where the views from the waterfront units are framed beautifully. There are a lot of people that argue that the building was designed by Morris Lapidus, because its shape resembles Lapidus' Fontainebleau, but it wasn't. I am still doing some research to find out who the original architect is – if anyone reading this article knows, please feel free to jump right in and let me know. I even asked known architectural critic, Beth Dunlop and she confirmed The King Cole was not designed by Morris Lapidus.
Now to the details. The King Cole Condo has an incredible marina and you can see from this aerial that it accommodates big boats. The slips are privately owned, some are for sale and can dock up to 83 foot vessels. It is a full amenity building with:
heated pool
24-hour valet-parking
gym overlooking the water
children's playroom
solarium
saunas
marina
doorman security
It is located on the Southeast corner of Normandy Island in Miami Beach at 900 Bay Drive. Most of the interest we get from the King Cole are people looking for dockage since docking a big 65+ vessel in Miami can be expensive. The King Cole's private Marina makes it convenient to dock your boat year round and although the slips are not always for sale, we have contacts within the building if you are interested. This Luxury condominium has been going through major renovations including a face-lift where all the balcony railings were changed to hurricane impact glass. The Lower Lobby, where most building amenities are housed, is also going renovations including finishes. In a few months, the building will be restored to its original grandeur.