Miami Beach Luxury Real Estate Market Report
Miami Beach Luxury Real Estate statistics are always interesting because you may see no sales one month and and a few dozen on another – is there a pattern? can you foresee trends? Unfortunately, not when you discriminate numbers on a monthly basis. I can tell you that we are working with more buyer clients and more people are looking at properties, that can also represent more sales in the coming months.
In the single-family side of things there were only 2 sales this year to date. Only 2 Miami Beach Luxury Homes have sold in 2009!
6050 N. Bay Road – Miami Beach, Florida 33140

Listed for $3,900,000 on February 19, 2009 and sold March 11, 2009 for $3,200,000 (less than a month later at $799 / square foot for what the listing agent described as a 50's home that is "Sparkling clean and livable – Has tremendous potential or can easily be torn down").  The house sits on a big 19,685 square foot lot with 77′ of bay frontage (and 254′ of depth).
1100 14th Street – Miami Beach, Florida 33139

This South Beach Luxury Home located near Flamingo Park was listed for $1,299,000 since October 2008 and sold for $1,139,770 on February 27th, 2009.  Totally updated from roof, a/c, kitchen and bathrooms – sold for $532 / square foot (not waterfront) – with 7,500 sq. ft. lot (50′ X 150′).
---
The Miami Beach Luxury Condo Market was totally different with 23 sales over $1,000,000 this year.  From a $1,250,000 3 bedroom / 3 bathroom residence at Aqua at Allison Island to a $7,000,000 3 bedroom/4 bathroom residence at Il Villaggio.  Not bad for a so called "depressed" condo market.
To see a list of all the Miami Beach Condo Luxury Sales, click on the image bellow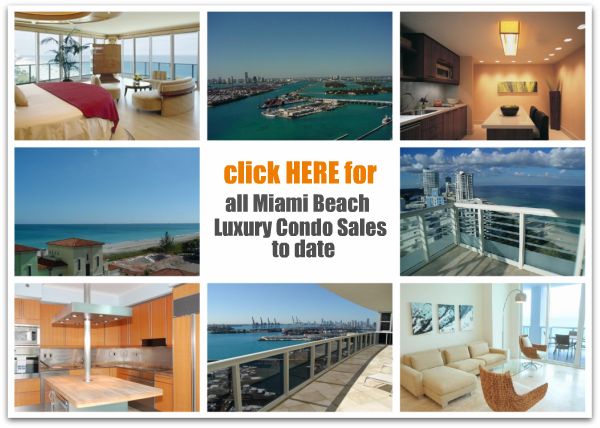 **all information obtained from the SouthEast Florida Multiple Listing Service**