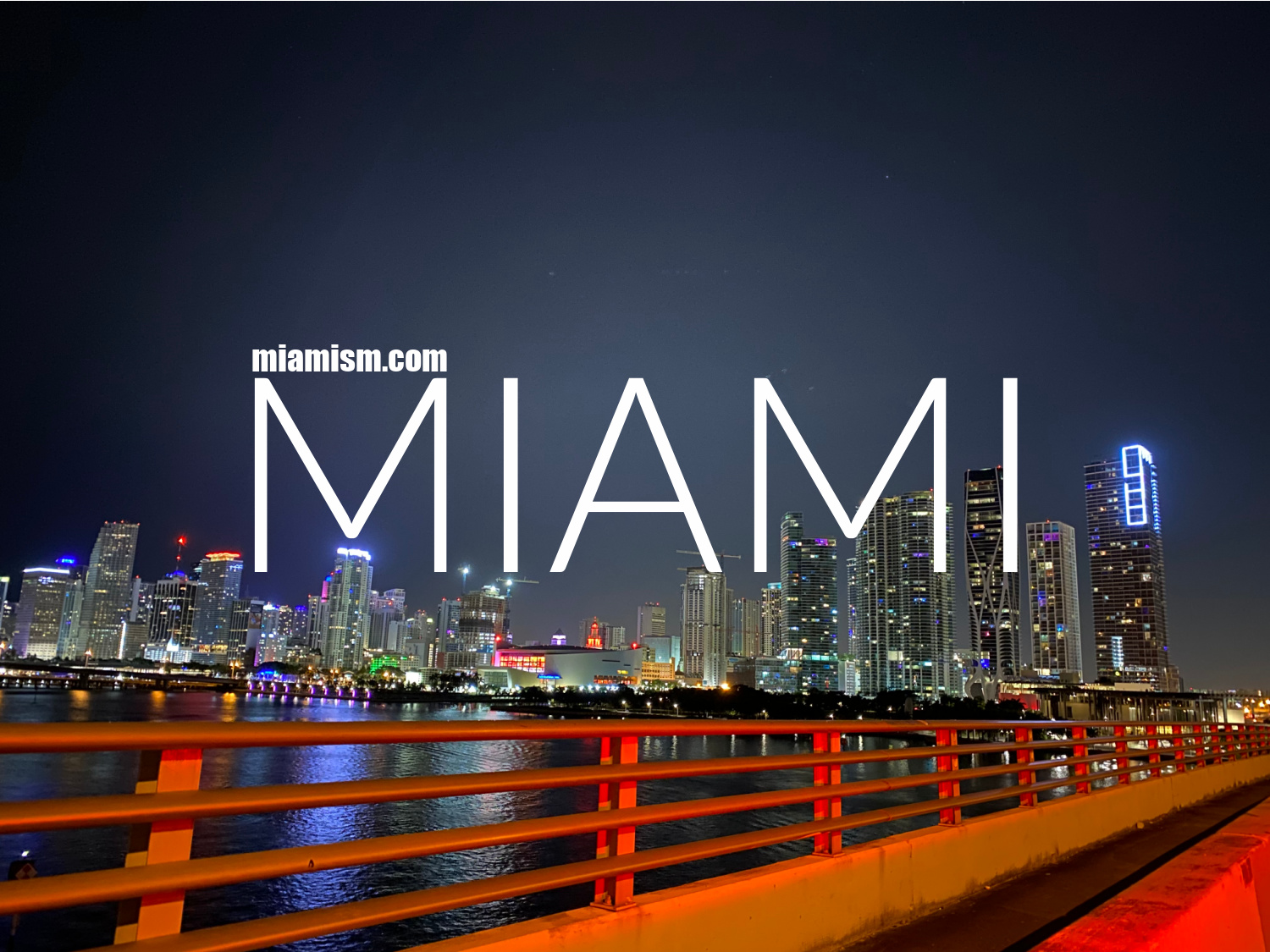 Miami BOOM continues with record-breaking stats and new developments
2021 has proven to be a record-breaking year for Miami real estate. Of the top-10 best home sales months in Miami history, seven have happened since December 2020.
1. June 2021: 4,057 total sales
2. April 2021: 3,960 total sales
3. March 2021: 3,751 total sales
4. July 2021: 3,632 total sales
5. May 2021: 3,536 total sales
6. August 2021: 3,299 total sales
7. December 2020: 2,990 total sales
8. June 2015: 2,898 total sales
9. May 2013: 2,888 total sales
10. July 2015: 2,825 total sales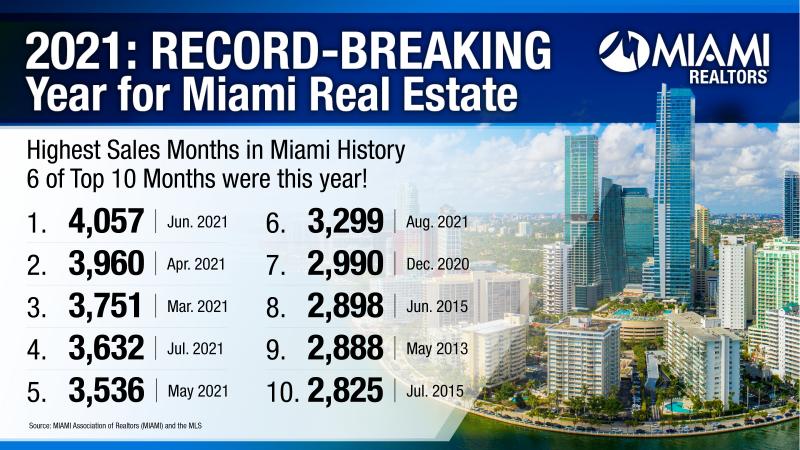 source: Miami Association of Realtors and the MLS
What do Record-Breaking Stats Mean?
What exactly do these stats have to do with you as a buyer or seller in Miami right now? The simple answer is urgency. There is little inventory and a lot of demand, coupled with low interest rates and the result is a HOT market that can be both good and bad.
We always give it to you like it is and although it's a great time to be a seller, because you will get top dollar for your property. You also have to be aware of market tendencies and know how to navigate an aggressive market. What I can tell you is that it's NOT an easy market and you MUST have the right professional by your side in order to maximize the value of your home (unless you are willing to leave money on the table and get really frustrated).
From a buyer's perspective, we've never seen such a frustrating market. Not just from lack of inventory, but bidding wars and all kinds of unethical sharks currently navigating the South Florida real estate industry. Working with one agent is key or no one will dedicate their full attention. Going directly to the listing agent without representation is an immediate red flag and having the right strategy to get your offer accepted can only be done if you are properly represented. Being educated with what the market demands of you as a buyer is crucial, tire-kickers have no chance in today's market.
New Flock of Developments in Miami
This should be of no surprise. With low inventory and high demand, developers put their best foot forward and introduce new developments to Miami.
Mansion Global, the premier digital destination for compelling real estate content, tells us about 5 new real estate developments in Miami:
Fueled by comparatively low taxes, baby boomers, low interest rates and an ongoing influx of new first- and second-home buyers from across the U.S., real estate in Miami-Dade County continues to surge ahead with record-breaking numbers.
Please DO NOT MAKE THE MISTAKE of going to the developer without agent representation. Not only will you not get a better price, but you will miss out on incentives and inside information the consumer does NOT have.
1. Aria Reserve Miami
We wrote about this project earlier. Here's the summary by Masion Global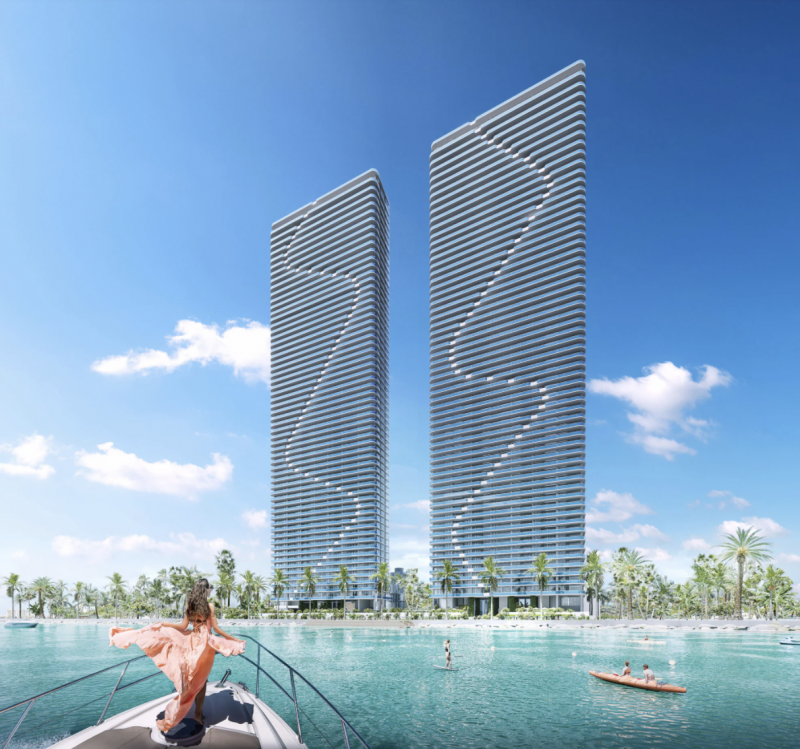 Number of units: 391 units in the South Tower
Price range: $850,000 to $2.5 million for the residences, $3 million to $12 million for the penthouses
Developer/Architects: Melo Group/Arquitectonica
Residence sizes: 1,100 to 2,600 square feet for the one-, two-, three- and four-bedroom units; 3,500 to 3,800 square feet for the single-story penthouses; 9,000 to over 10,000 square feet for the tri-level penthouse mansions
Amenities: The 2-acre open-air recreation deck will feature a lap pool and whirlpool spa, a children's splash pad, a playground area, a teen lounge and gaming center, a theater, tennis courts, basketball courts, paddle courts, a miniature golf course, and an indoor/outdoor wellness center with spa/steam/sauna facilities, massage rooms, a gym, a yoga lounge and a meditation garden. Other amenities include a two-story lobby, a waterfront restaurant and café, two additional pool and lounge areas with spas and poolside daybeds, a fire pit, a dog park, a telescope observatory area, and a custom-designed water sports dock with paddle boards, kayaks and inflatables.
2. Five Park Miami Beach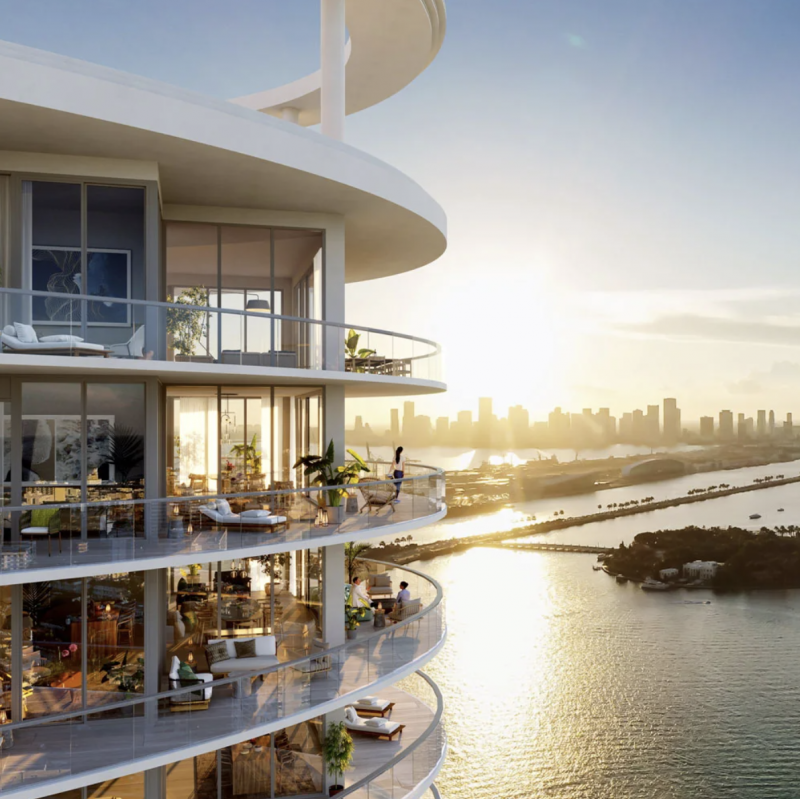 Number of units: 98 luxury condos
Price range: Starting at $2.6 million
Developer/Architect: TCH 500 Alton, LLC/Arquitectonica
Residence sizes: Two- to five-bedroom fully finished residences from 1,434 to 6,060 square feet
Amenities: Multiple amenity floors and decks will offer a residents' beach club, adult and children's pools, a private club with bars and lounges, wellness and fitness facilities, a spa with treatment rooms, a coworking business suite, 24-hour concierge and butler service, a children's learning lab, a teen club, luxury short-term guest suites for friends and family, a screening room and a children's play area.
3. Bentley Residences, Sunny Isles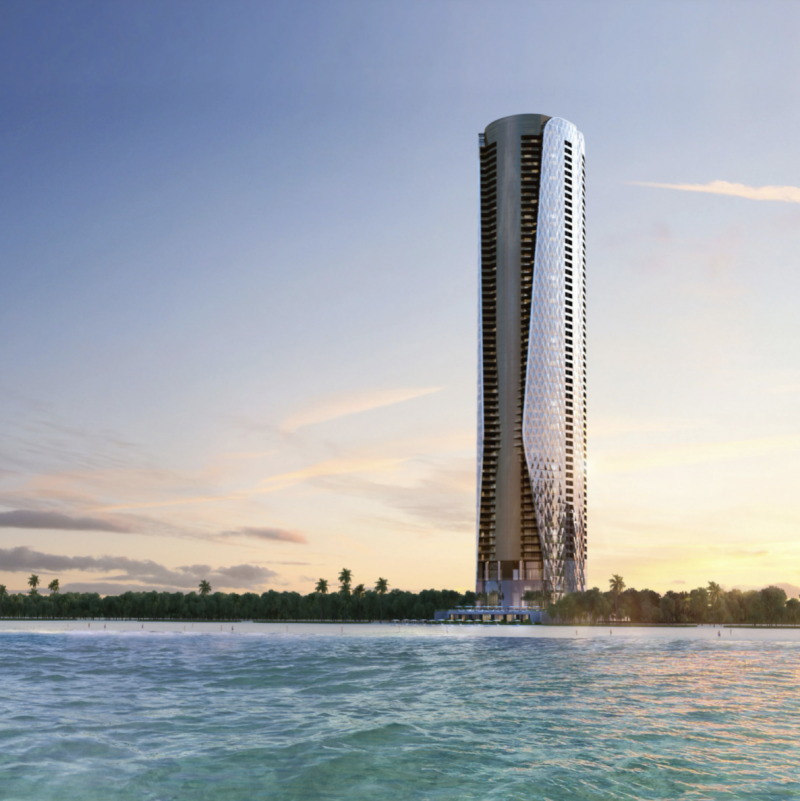 Number of units: 210
Price range: $3.85 million and up
Developer/Architect: Dezer Development, in partnership with Bentley Motors/Sieger Suarez Architects
Residence sizes: Starting at 5,000 square feet
Amenities: The expected amenity package will include a gym, a pool, a spa, a cinema, a whisky bar, a restaurant and lounge, cabanas and landscaped communal gardens.
4. Mr. C Residences, Coconut Grove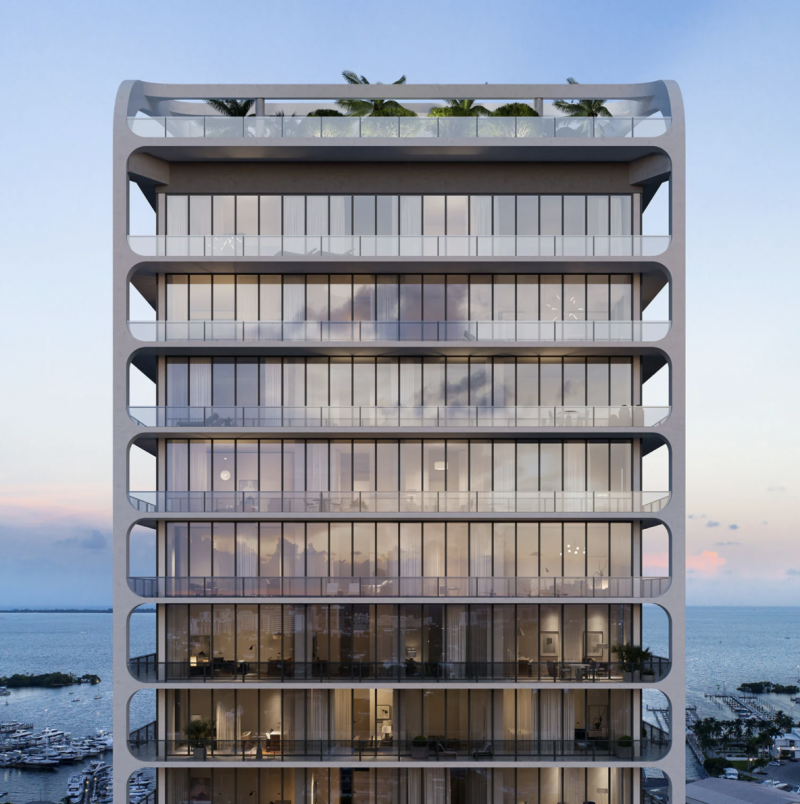 Number of units: 138
Price range: Mid-$500,000s up to over $3.7 million for the residences, with the penthouses starting at $4.5 million
Developers/Architect: CG Summer Investments, LP/Arquitectonica
Residence sizes: One-bedroom units starting at 648 square feet, up to 2,053 square feet for the three-bedroom homes and 3,723 square feet for the penthouses
Amenities: The Tigertail tower will feature a private rooftop pool and bar overlooking downtown Miami, a garden-level lap pool, a playroom for children, indoor-outdoor working areas with offices and board rooms, and a fully outfitted gym with whole-body stretch, cardio and weights zones.
5. La Baia, Bay Harbor Islands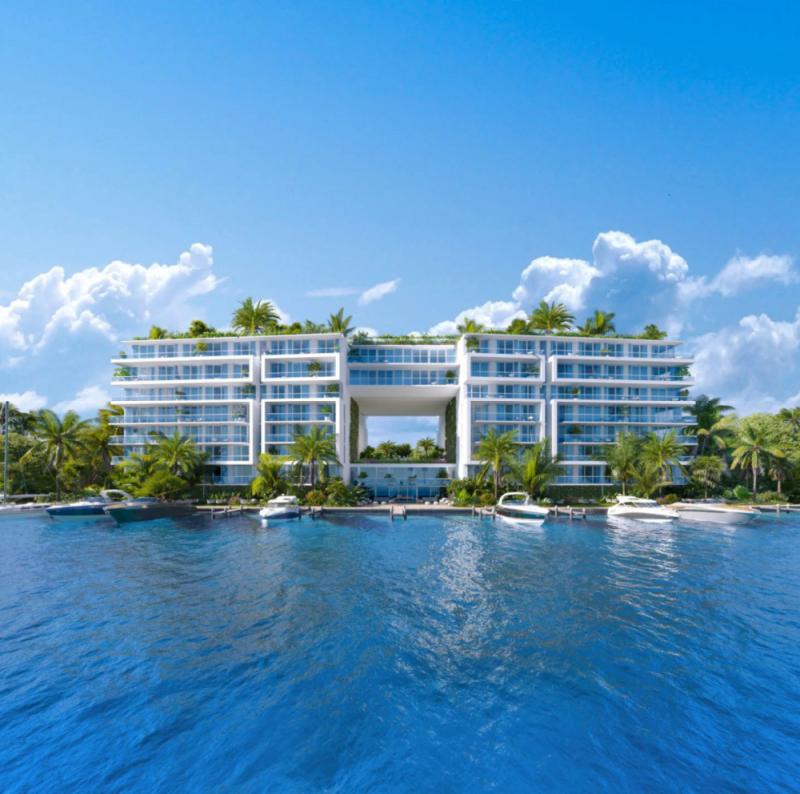 Number of units: 68 condos
Price range: Starting from $810,000, with penthouses starting at $1.9 million
Developer/Architect: Ian Bruce Eichner of the Continuum Company/Revuelta
Residence sizes: One- to four-bedroom units ranging from 1,100 to 2,500 square feet, two-story duplexes featuring three bedrooms and three-and-a-half bathrooms, and penthouses featuring three bedrooms and three-and-a-half bathrooms.
Amenities: The amenity package includes a 6,000-square-foot roof deck with a pool, a children's splash pad, an adult soaking spa, an outdoor bar and panoramic views. The marina will have 20 boat slips, pick-up/drop-off for boat rentals and a water sports launch dock for kayaking, paddle boarding and other water activities. Other amenities include a ground-floor wood deck terrace with hammock coves, a third-floor deck with outdoor lounge seating and a stretching/meditation lawn, a fitness center, a pet washroom and a residents club room.
***As always, please contact us for all your buying and selling needs in Miami. We have an amazing team of agents that work all of South Florida.